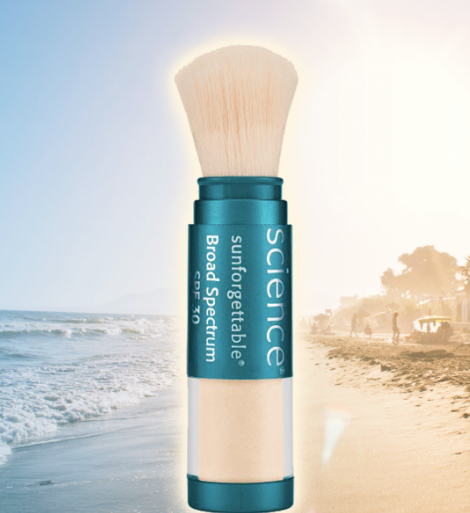 Of all the skin-care products we use, sunscreen is the most powerful — and perhaps the most scrutinized. To pass the basic buy test, it must be broad spectrum, SPF 30 or higher, and absorb without feeling greasy. One must decide between physical and mineral options and think about water resistance, too. And those considerations are just the start — after all, sunscreen is one of the only shields we have against premature aging from sun damage and skin cancer. But there's one thing that even the most discerning of beauty nerds don't know about SPF: which formulas the top dermatologists use on their own complexions.
So we polled a few of our favorites, and we were surprised by what we found. For one, the priciest sunscreen isn't necessarily the best sunscreen. In fact, a few of our pros swear by easy-to-find drugstore brands. Another big reveal? Derms are just like us — they want tinted, quick-to-absorb formulas that look and feel as good as they perform. See their favorite picks, along with a few of our own, ahead.
*All prices listed are in CAD.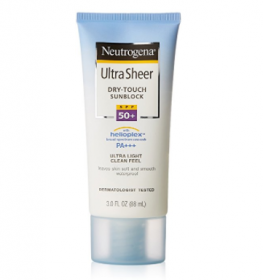 "Believe it or not, my favorite sunscreen is Neutrogena Ultra Sheer Dry-Touch SPF 55," says Jessica Krant, MD, dermatologist and assistant clinical professor of dermatology at SUNY Downstate Medical Center. "The texture is rich enough that it keeps my skin moisturized but dry enough that it applies with a matte, almost foundation-like finish. I can use it alone without additional moisturizer or makeup, and it has Neutrogena's high-quality, stable Helioplex formula that I trust."
Neutrogena Ultra Sheer Dry-Touch Sunscreen, $18.24, available at Amazon.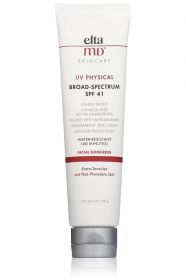 "I use EltaMD UV Physical Broad-Spectrum SPF 41," says Debra Jaliman, MD, dermatologist and author of Skin Rules. "It is lightly tinted, contains antioxidants, and has a high concentration of zinc oxide (9.0%). Plus, it's water resistant for up to 40 minutes."
EltaMD UV Physical Broad-Spectrum SPF 41, $41.89, available at Amazon.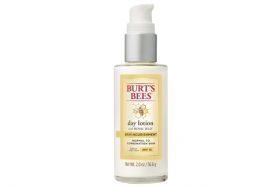 "Due to my acne-prone skin, I need an SPF that's lightweight and doesn't clog my pores," says Audrey Noble, Refinery29's associate beauty editor of brand experiences. "This lotion hydrates my skin without making it oily, which is a huge win in my book."
Burt's Bees Skin Nourishment Day Lotion SPF 15, $17.00, available at Amazon.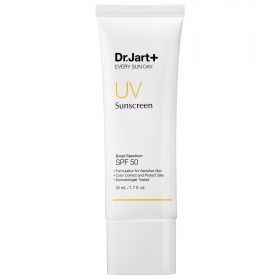 "I like this fella from Dr.Jart+," says Mi-Anne Chan, Refinery29 beauty writer. "It's oxybenzone-free (meaning it won't contribute to the downfall of our coral reefs) and protects with an SPF of 50. The best part? Most sunscreens feel like, well, sunscreen (read: greasy, thick, and generally unappealing), but this one feels like moisturizer and sinks in super fast."
Dr.Jart+ Every Sun Day UV Sunscreen Broad Spectrum SPF 50, $91.08, available at Amazon.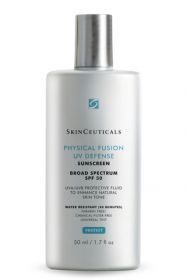 "I love that this is a high-SPF physical blocker that gives you the heavy-duty protection [you need] daily, yet at the same time is so lightweight you hardly notice it's on," says cosmetic dermatologist Shereene Idriss, MD. She also notes that the formula absorbs quickly and doesn't leave a white cast or residue. "Unlike chemical blockers, it doesn't aggravate and irritate your skin (always a plus). Finally, it comes with just enough tint to help even out my complexion while giving me a hint of radiance. It's just enough for me to start my day without a drop of makeup."
SkinCeuticals Sheer Physical UV Defense SPF 50, $44.20, available at Amazon.
Click here for more of our picks!