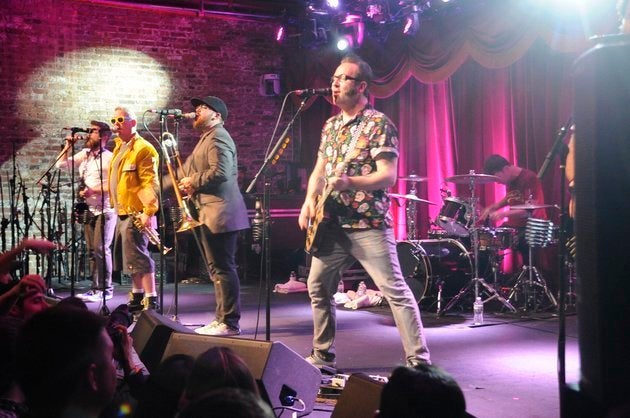 Reel Big Fish's "Turn the Radio Off," the unofficial soundtrack to every SoCal party in the 1990s, turns 20 this year. Lead singer and guitarist Aaron Barrett continues to play packed shows across the world ― all thanks to an ironic twist of fate.
So how exactly did a 20-something Subway sandwich artist from Orange County become a fixture of the '90s ska-punk scene?
"Sell Out," a high-octane track on "Turn the Radio Off" that poked fun at nobodies trading in their fast food jobs for record contracts with greedy music mega-corporations, allowed Barrett to pretty much do just that. As their album title pleaded with listeners to turn the radio off, "Sell Out" ironically enjoyed major radio airplay success and unexpectedly thrust them into stardom.
Now, nearly 20 years since third-wave ska reigned supreme on MTV, Barrett sat down The Huffington Post before the band's show at Brooklyn Bowl this year to talk endless touring, Netflix and, well, getting old(er). Sporting white Doc Martins and his quintessential mutton chops, Barrett certainly hasn't shed his '90s persona ― not even close.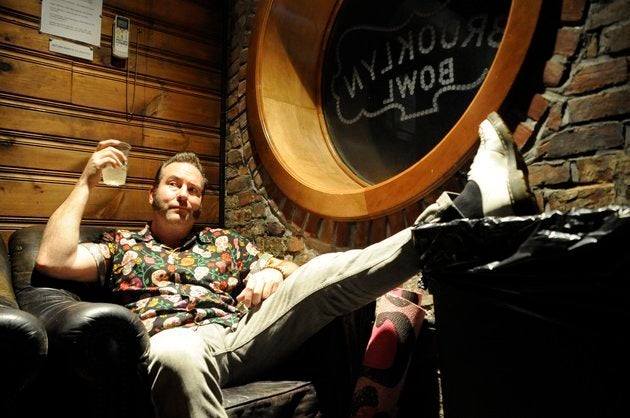 Selling Out
Like the sellout in their iconic single, Barrett worked at a local Subway and lived in his mom's house before he signed a record deal and was able to rely solely on music for income. 
"You always got that dream, but actually seeing it happen is crazy," he recalled.
Still, the record deal Barrett eventually signed wasn't the endless financial gold mine he had been banking on.
"I couldn't just live off my royalties. Let's put it that way," the 41-year-old said, with a guarded smile. "If we were independent, the money could have actually gone to us. But whatever... we have it pretty good."
Endless Touring
Barrett turned 22 on the band's first big U.S. tour back in '96. None of the band's subsequent albums came close to matching the success of "Turn the Radio Off," but they quickly developed a cult following and haven't stopped touring for nearly 20 years.
"I still love playing shows,"  Barrett said. "We've made it our job. It's great."
This is my life's work. These songs are my babies.
Barrett's life continues to revolve around six-week touring sprints, with a few weeks off in December and a month-long break in the spring. But he's not ready to give up this lifestyle quite yet. And he doesn't want anyone to feel bad about his demanding tour schedule.
"I'd love to still be playing music when I'm an old man," Barrett said. "Just maybe not touring as constantly."
Though a few of the original bandmates drop in for surprise performances from time to time, Barrett doesn't see a 20th anniversary show with the original "Turn the Radio Off" lineup happening.
"I don't know if anyone would actually want to go on tour," he said. "I know Dan [Regan] misses it. Scott [Klopfenstein] misses it sometimes. But everyone else is like 'I'm done.' ... Being on the road, it's hard. It makes you crazy sometimes."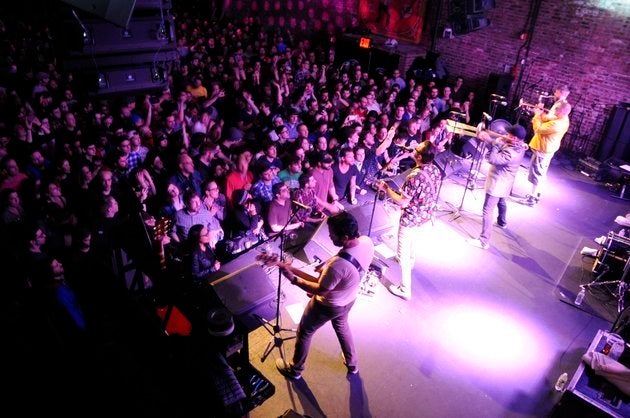 The Lineup
The band has seen a rotating cast of players, with Barrett as the notable exception.
The lineup on "Turn the Radio Off" was a hodgepodge of musicians Barrett knew from other Orange County ska bands and friends from high school, including Klopfenstein, the group's original trumpet player, whose surprise appearance at the Brooklyn Bowl show had veteran fans freaking out.
"For most of the people who left the band, it wasn't hard feelings," Barrett said, though he added he doesn't maintain contact with all of the original members. "There's been times when people in the band didn't get along though. A lot of fighting, a lot of negativity."
Most of the former members left the band because they were sick of touring or wanted to start families, or both, but Barrett doesn't think the procreation ship has sailed for him yet.
"I'm not that old," he said. "But this is my life's work. These songs are my babies."
Barrett did admit that he can be territorial about the band's direction and sound, which can rock the boat at times.
Being on the road, it's hard. It makes you crazy sometimes. ... There's been times when people in the band didn't get along.
"I guess I'm... what's the word when you won't let anyone have a say and you make all the decisions? A dictator?" he says half-jokingly. "But I'm a nice dictator."
Barrett said the members of the current lineup are "all here for the right reasons." 
Albums
"'Turn the Radio Off' is the album everyone knows. It's going to be really hard to top that," he admitted.
While that album is certainly Reel Big Fish's most recognized one, it isn't Barrett's favorite.
He calls "Our Live Album Is Better Than Your Live Album" something of "a masterpiece." The album, a compilation of eight live shows, was the band's first record released without the backing of a major label.
"I wish I could be that funny in real life," he said, referencing his onstage banter highlighted in the live album. "Now I just yell funny things."
Though he was never much of the throw-the-TV-out-the-hotel-room-window type, Barrett described a low-key and "boring" post-show routine compared to the first few tours.
"The show is like the highlight of the day. It's the fun part," he said. "After that you just kind of want to relax and hang out on the bus."
The band's bus is equipped with satellite TV. Most recently, they binge-watched "The Sopranos" gangster television series during their Europe tour.
"We're the life of the party," he said. "But not the after party anymore."
The Future
Barrett recognizes the irony of "Sell Out" being the harbinger of Reel Big Fish's success.
"A lot of songs are like that ― I'd write it before it would actually happen," he said. "So I need to write some songs that are like 'Millions of Dollars Falling From The Sky' and 'Someone Get Me A Beach House For Free.'"
But for now, Barrett is content with the way things are. Reel Big Fish hasn't produced an album with as much mainstream notoriety since "Turn the Radio Off," yet they continue to amass a growing number of dedicated followers.
"We are so grateful [our fans still] buy or illegally download our music," he said. "Especially now, in my old age, I appreciate everything I've got ― and what I have is the fans.
For a list of Reel Big Fish's upcoming tour dates, click here.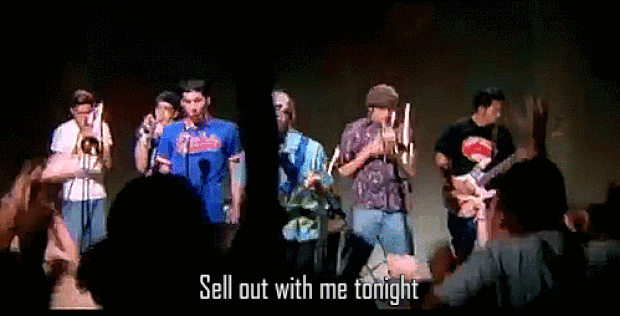 Hit Backspace for a regular dose of pop culture nostalgia.
Calling all HuffPost superfans!
Sign up for membership to become a founding member and help shape HuffPost's next chapter
BEFORE YOU GO
PHOTO GALLERY
Reel Big Fish @ Brooklyn Bowl on Feb. 2, 2016