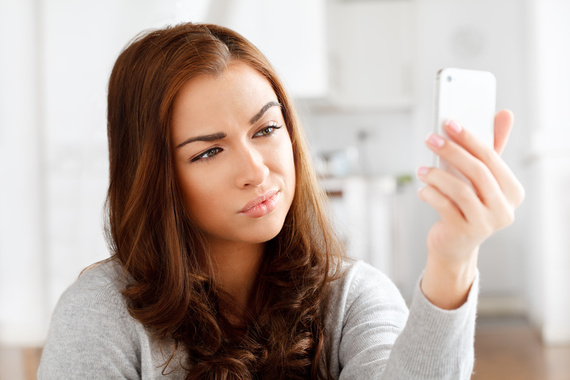 To Swipe Left or Right...That is the Question
Let me start by openly admitting this, I have a love/hate relationship with Tinder (which I'm on), Hinge (which I'm on), JSwipe (which I'm on) and the list continues. I've basically dabbled in almost every dating app out there. As a newly single woman, I thought I would give them all a try. Why not? Seemed like a good way to meet my future husband.
However, after spending the weekend with my loving, yet outspoken mother and showing her all these dating apps, the words that uttered out of her mouth were, "Your generation is so superficial. I feel bad for you. Back in my day, men actually met you in person, called you on the phone and asked you out on a date." And that's what got me thinking..
This myriad of online dating apps have given rise to a pick and choose shopping behavior that emphasizes looks more so than ever. We now browse potential suitors as if we're looking through a catalog, or better yet.. window shopping.
Online dating apps appear to have been stripped down peoples' most superficial qualities. Look at Tinder for example. The premise is simple-- swipe left if you don't like someone's picture, swipe right if you do. Don't like the fact that some guy has a receding hairline, swipe left, and you're onto the next, don't like that girl's teeth, swipe left, and repeat.
If you and another person both happen to swipe right on each other's picture, congrats- you are a match OR as Tinder says, you can "Keep Playing." Has dating become some sort of a game? Keep playing what?
Are we all guilty of playing into this so-called game? I know I am!
Unfortunately, it feels like most of these dating apps are all following this same trend, encouraging people to pay less attention to the written portion of someone's profile. Oops, did I fail to mention that you can write up to about 200 characters or less about yourself on Tinder?
Again, most of these online dating apps seem to be all about your photos and a few stats. If you're not photogenic, chances are you'll probably be rejected. The problem with judging a book by its cover is you're most likely choosing people for all the wrong reasons and missing out on all the possible matches for all the right reasons. You can't possibly look at a book cover and know how good the content of the book is going to be, just like you can't possibly look at someone's picture and know how good the chemistry will be. And truth be told, attractiveness and appearance are important, but it's probably not a good foundation for a long term successful relationship.
So, maybe my mom is right. So far, these online dating apps haven't worked for me. Maybe it's time to do things the old fashioned way. Maybe it's time to actually go out and meet someone in person- face to face.
Or... maybe not, this new Tinder match looks promising.