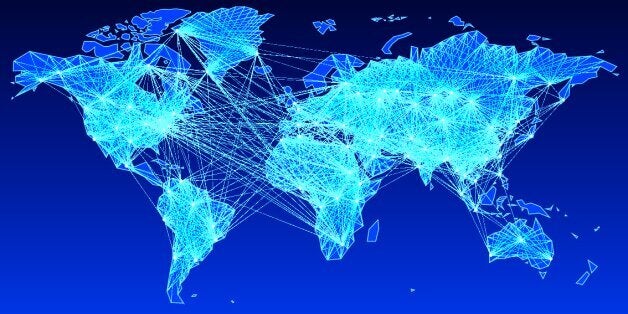 Long gone are the days of AOL chat rooms and Instant Messenger. Dominated by giants like Facebook, Twitter and Reddit, social media has grown to become a massive, sophisticated driving force in our culture. And with more than one quarter of the world's population using social media, we're now seeing organizations tapping that global digital connectivity to address some of the most urgent health crises of our time.
The vast majority of these pressing health issues -- like the global climate crisis for example -- are not easy to map out. They are driven by a complex web of social, political and financial factors and as a result, its is impossible to develop linear, one-size-fits-all solutions. What works with a particular population in one part of the world might not work elsewhere.
Social media opens new doors. It offers opportunities to build connections, share successes and explore opportunities that are difficult to map out in a linear world. Unfortunately the light-touch nature of the big social platforms can prevent the kind of interaction with an engaged audience that is needed to generate meaningful action.
To get around this, organizations are bypassing social media's big box stores, taking the concepts and technology that drive traditional social media to build new platforms that connects their audiences in new ways. The end result is not the number of likes or followers, but measurable impact on the health of individuals and communities worldwide.
Several health organizations have already launched tailored social platforms that target very specific audiences and are designed to identify and share context-specific solutions. Here are three notable examples:
A handful of smart, passionate students and young professionals saw there was no opportunity for them to participate in the global discourse on Non-communicable diseases (NCDs) and health policy. NCDs are slowly evolving to be the next big public health catastrophe. So in 2009, they launched the Young Professionals Chronic Disease Network on a simple premise: create an online platform for idealistic, motivated young folks from multiple disciplines to come together and influence that global discourse. The platform has been a launchpad for careers and initiatives (such as NCDFREE), and is now recognized as the voice of young professionals in international health policy circles.
Ben and Jamie Heywood's founded the online patient portal, Patients Like Me after their brother passed away from ALS. With 300,000 members, Patients Like Me enables patients to share their experiences, compare symptoms and treatment, lend support to other patients, and track their health statistics. The platform also provides health organizations with access to specific patients, giving these organizations insight into how to best serve their patient communities.
In an effort to address the health and environmental harm brought on by climate change, Health Care Without Harm's Global Green and Healthy Hospitals initiative recently launched GGHH Connect. The multi-lingual digital community connects hospitals, health systems, and organizations worldwide to collaborate on sustainability efforts. Developed in partnership with Cisco and the Skoll Foundation, GGHH Connect enables hospitals to virtually meet, teach, and learn from others as they work toward their sustainability and environmental health goals.
These platforms are taking the core concepts that have made social media so successful and are creating innovative approaches to old problems. Rather than identifying the solution, they set out to find a solution by enabling their targeted audiences to explore new approaches, learn from one another, and adapt to meet the specific needs of their environment.
When we think about the daunting health crises we face, how do we begin to define the players, machinations and tectonic movements that produce the results we need? Our solutions cannot be one-size-fits-all, so the way we create those solutions must be equally diverse and tailored. How can we leverage these new social platforms to forge unique opportunities that bring the right people, resources and strategies into a conversation that will create new and needed solutions?