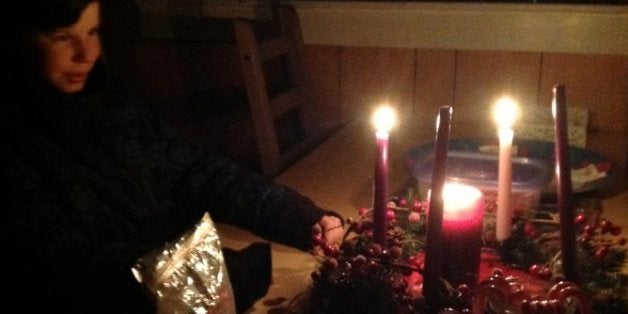 Icepocalypse arrived north of Dallas late Thursday night. I woke up to the sound of what I thought was gunfire. It turned out to be trees, breaking under the weight of ice half an inch thick. We still had power. I rolled over and went back to sleep. What? School was cancelled for the day. If you think I wasn't going to take advantage of not having to get three boys out the door, you're crazy.
The backyard was a popsicle when I looked outside our kitchen window Friday morning. Everything was encased in ice. The trees drooped. One of our peach trees still stood proudly, the other looked like a wilted house plant someone forgot to water. Our driveway, covered by arching limbs that provide shade, had become an icy tomb for my car. Limbs hung heavily, inches away from the car's roof. Other limbs had snapped, blocking the way. I wouldn't be going anywhere.
I walked up and down our street, mug of coffee in hand, astonished at the number of ancient oaks that had split under the weight of ice.
I tried to talk a neighbor out of driving to work and discovered that the rest of the street had been without power all night. I felt lucky. Neighbors came over and warmed up in our still-cozy house. I made a pot of chili. Just as I finished, we lost power. I didn't feel so lucky.
Our three teenage boys had been wandering the street, busting up anything encased in ice. Seriously. I had to confiscate a baseball bat from The Redhead and explain that plastic and wood will shatter if you hit it in freezing temperatures. They tried sledding down a hill with the lid from an ice chest and cardboard boxes. It worked about as well as you might think. The Redhead and Thing 2 talked me into walking with them the few blocks downtown to buy sleds at the only store that was open: The Ski Shop. They were doing a brisk business selling all things winter while everything else was shuttered. I had no idea that, for $30.00, I was buying my sanity for the next 50 hours.
And that brings me to the things that became absolutely essential to surviving Icepocalypse 2013 with three teenage boys. I've listed them in order of importance.
Worth every penny and the dangerous trek downtown over icy sidewalks. Sleds saved me. The boys were completely entertained, flying down nearby hills on plastic saucers. They stayed out for hours with other kids from the street, leaving me to fret over how to keep the pipes from freezing as temperatures hovered a few degrees above single digits. Thing 1 made a modified snowboard by removing the wheels from his skateboard. Genius. They came home only when they were too cold to stand it any more and wanted to eat. Which brings me to my next item.
I can't tell you how grateful I was for the cans of beans we had stocked in our pantry. We ate baked beans, black beans and refried beans. We ate them in chili, with cut-up hot dogs and cheese, and plain. They're easy to heat up (we had a gas stove that we could light with matches), allergy-friendly and filling. There were consequences as a result of our legume-exclusive diet that could not be avoided. It was worth it.
I had forsaken our fireplace last winter because it didn't draw correctly and we got smoked out of our living room. It was a frivolous item in Texas, I had decided. We didn't really need it. I cleaned that sucker out this spring and threw away the bulky fire screen and log grate. I thought about decorating it with pillar candles. And now I was kicking myself.
It was our only source of heat, smoky or not. Aquaman had carefully stacked logs he'd collected on the side of the house in various places. They were covered in ice now and I didn't know if they'd burn. But I thought back to our days in Alaska where we heated our home with a wood stove. We had cords of wood stacked up outside and it was certainly exposed to the snow and ice there. So I went and dug under the top layer of wood and found dry logs and hauled them in. I opened the flue all the way, crumpled up old paper grocery sacks underneath the wood, and lit a match. It burned the paper and went out. The Redhead wandered in and -- get this -- brought me a Duraflame log from his room. I'm not kidding. You never know what those boys have in their room. He said it was left over from a camping trip. A kind neighbor also brought me a bag of Pinon wood. We soon had a roaring fire, which I tried to sit in front of nonstop over the next two days that we were without power.
When the power goes out and school is cancelled and your car is frozen and everything is closed and it's too dangerous to travel on the icy roads, you have a lot of free time. I used it to catch up on reading. It was quite pleasant under piles of blankets in front of the fire. I finished Joan Didion's The Year of Magical Thinking. At night, we all huddled as close to the fire as we could and I read aloud with a flashlight. It got dark by 5:30. After we ate our beans, there wasn't much else to do while we tried to stay warm. I am a huge proponent of reading aloud -- not just to children, to everyone. Icepocalypse gave me a captive audience. We breezed through Lois Lowry's Gossamer, a lovely book. Thing 1 and Thing 2 are reading The Giver in their seventh grade English class, so it was nice to read something else from the same author.
Yellow Dog was in heaven. There were no cars going up and down our street and few people, so she was free to be off leash, pursuing boys on sleds. She was exhausted each night. The ice took a toll on her paws and nails, but she's recovering. She was more than willing to snuggle up with me in front of the fire and help keep me warm.
Other things that were pretty nice to have? A gas stove, gas water heater, sleeping bags rated to -20F, awesome neighbors, batteries and matches, flashlights and candles and a hand crank radio.
At the height of the storm, there were 250,000 people without power. So I was very glad to see the line truck outside our door Saturday night.
The power came back on and I jumped out from underneath the blankets and ran around blowing out candles and turning on lights. I was just about to start the dishwasher when it went out again. This was hard on my fragile psyche. The thermostat in the hall read 35 degrees. That's right. Inside the house it was close to freezing.
We ended up in another heap in front of the fire, but I migrated to my bedroom with a sleeping bag. Sleeping inches away from teenagers full of beans is not ideal. Around midnight, friends out sledding showed up on our porch and insisted that we come stay with them. They had never lost power. I was cold. And tired. I gave in. I left the fire to die and faucets dripping and hoped for the best. I slept great at their house and had a hot shower the next morning. We went to check on our house Sunday at noon and found the power had just come back on.
We had survived. The boys said it was just as well that the power was back because it had warmed up enough that the sledding was no longer any good. Thing 2 plopped himself back in front of the xBox, Thing 1 in front of the laptop and The Redhead in front of the iPad. Back to normal. School was cancelled again Monday. When Tuesday rolled around, I was willing to dig my car out of the ice to get them there for the two-hour delayed start. I didn't care how icy the roads still were -- I was getting them back to school.
I think it's safe to say that I have forgotten all my Alaska survival skills. It makes me a bit nostalgic, but also thankful that I no longer have to work so hard just to get through daily life. I don't even have the right gear anymore - no Sorel boots, no North Face jacket and pants, no proper socks and gloves. If I'm really honest with myself, I might admit that what I thought were my Alaska survival skills are really Aquaman's Alaska survival skills. He was stuck out on a shrimp boat while we were in Icemageddon, but I know if he had been landside, he would've excelled at keeping the fire going, wielding a chain saw to clear limbs, and holding his own sledding with the boys. Most importantly, he would've kept me warm.
Four days, three teenage boys, one dog, no power and no husband. That's one for the record books.