What do you do when a lone protestor shows up outside your house of worship preaching hatred and bigotry?
That was the treatment a woman who came to protest the cultural center received on Saturday.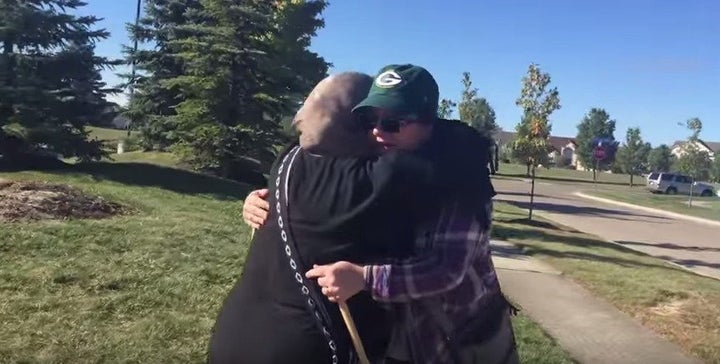 The woman, identified as Annie from Lancaster, Ohio by the center's leaders, was responding to the "Global Rally For Humanity," a grassroots Facebook campaign that called for protests at more than 30 mosques and Islamic centers around the country on Oct. 9 and Oct. 10. The majority of these rallies were canceled in the days leading up to the event. The Facebook page promoting the protest around Noor Islamic Cultural Center had been disabled by Monday morning.
But Annie showed up, brandishing two homemade signs and plenty of anti-Islamic rhetoric. She seemed bewildered about the fact that she was alone.
In the video, it soon becomes clear Annie has concerns about Islam and American Muslims in particular. She had no problem expressing these worries to the Muslims and local interfaith allies who had gathered outside the center, which houses a mosque, social event spaces and rooms for religious education.
Annie revealed that she's been carrying a mixed bag of misinformation about Muslims. Annie decried the actions of ISIS and repeatedly claimed the Quran encouraged the group's violence (although she was unable to provide scriptural references). She expressed fears about Sharia law in America and seemed convinced that President Barack Obama was not a Christian.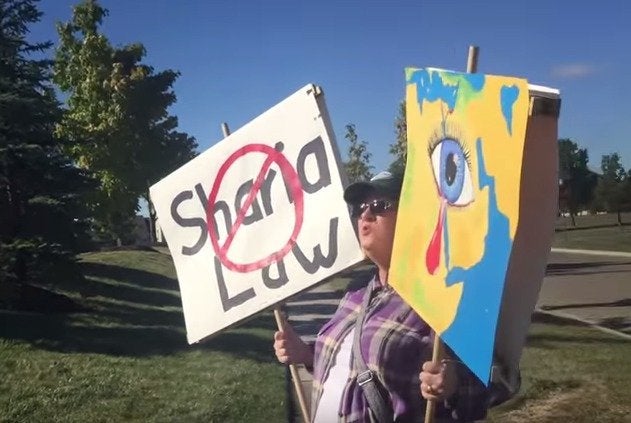 The counter protestors from the mosque, joined by their interfaith allies, offered her water and invited her to come inside for conversation.
She was adamant about not stepping into the center -- until one member of the mosque closed in on her for a hug.
Cynthia DeBoutinkhar wrote about the experience on Facebook.
Something came over me and I went up to her and asked if I could give her a hug. I wouldn't let go of the hug. I felt her body go from tense to soft and I asked her to please come inside with me. She was actually AFRAID! I asked if I look scary to her. She said I didn't. I promised her I'd stay right by her side the whole time.

When we walked in, me carrying one of her two signs, everyone was waiting for her in the lobby. We all began applauding. I stayed by her side as I promised.
Imran Malik, president of the center's Outreach Department, said that Annie was given a tour of the center and a copy of the Quran in English before she left.
"We felt bad for her," Malik told The Huffington Post. "When you're single and facing so many people, you go on the defensive. But love won."
Before departing from the mosque, without her signs, Annie reportedly told Cynthia, "I had no idea Muslims could be nice to me, even after I stood out there with those signs. Sorry."
Malik hopes that Annie will continue to engage with Muslims.
"I'm hoping this will be a journey to friendship, rather than further disorientation," he said. "My hope is that she'll be able to relay this message to the other groups that she's associated with."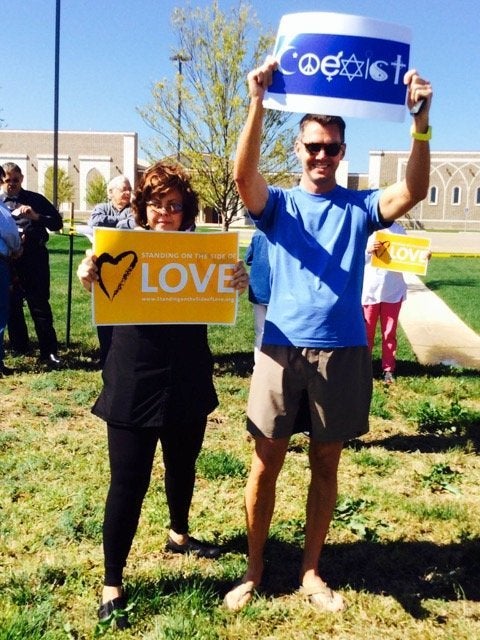 Interfaith Community Stands In Solidarity With American Muslims
Popular in the Community