When I was a kid, I had a number of very important goals: expanding my newspaper route to earn some extra cash, raising the funds to go on school trips, and convincing my parents to get us a hamster. When faced with any such task, I started out by writing down an action plan in my little green notebook, outlining each step I'd need to take to make my goal a reality. As it turns out, I was on to something, and making written plans can actually make a big difference in achieving your ambitions.
When it comes to investing, for example, research shows that people who create written financial plans are more confident and more engaged with their wealth – and they show more positive saving and investing behaviors – than average Americans.* This is especially evident when it comes to the way people engage with their workplace retirement plans.
According to a recent survey, 54 percent of those with a written financial plan increased their 401(k) contributions in the past year, compared to just 33 percent of those without one. Increasing your contributions over time can be key to meeting long-term retirement savings goals, since the default rates at which many people start contributing may not be enough to help them accrue the money they'll need for a comfortable retirement.
Likewise, people with a written financial plan were also more than twice as likely to have rebalanced their 401(k) account in the past year as those without a plan (50% compared to 24%). Periodic rebalancing is an important part of 401(k) maintenance, since fluctuations in the markets can change the balance of assets, like stocks and bonds, in your account. At certain intervals, or after periods of volatility in the markets, you may want to rebalance your assets to ensure they're still in line with your risk tolerance.
Unfortunately, just 24 percent of the Americans surveyed said they have a financial plan in writing. My colleague Terri Kallsen, executive vice president and head of Schwab Investor Services, says, "We know planning is one of the most fundamental factors of successful investing. But there is a clear need to make planning and professional advice more accessible and engaging for people, because not enough Americans have written financial plans."
Terri makes a good point about financial advice. Many of today's 401(k) plans offer some form of professional investment advice, managed account services or financial wellness tools. These services can help 401(k) savers put pen to paper, designing a plan that reflects their unique financial situation and maps out things like contribution level, risk tolerance, asset allocation and savings targets. If this kind of assistance is available as part of your 401(k) plan, I'd highly encourage you to take advantage of it.
I know that saving for retirement can be a daunting task, but there are concrete steps you can take to ease the burden. If you're not sure how to get started, you can always take advantage of the myriad online resources and planning tips available these days. Whether it's availing yourself of professional investment advice and financial wellness programs, or simply just putting your goals and objectives down on paper, you can better position yourself for a brighter financial future. Now get writing!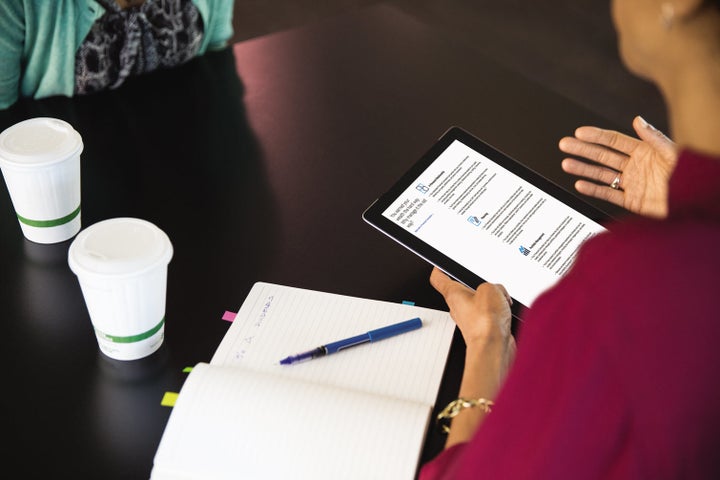 * The Modern Wealth Index, developed in partnership with Koski Research and the Schwab Center for Financial Research, is based on Schwab's Investing Principles and composed of 60 financial behaviors and attitudes – each assigned a varying amount of points depending on their importance. The Index broadly assesses Americans across four factors: 1) goal setting and financial planning, 2) saving and investing, 3) staying on track, and 4) confidence in reaching financial goals. Based on the total number of points received, respondents were indexed on a 1-100 scale for each of the four factors and an overall score.
The online survey was conducted by Koski Research from April 12 to April 20, 2017, among 1,000 Americans aged 21 to 75. Quotas were set so that the sample is as demographically representative as possible. The margin of error for the total survey sample is three percentage points.
The information contained herein is proprietary to Schwab Retirement Plan Services, Inc. (SRPS) and is for general informational purposes only. None of the information constitutes a recommendation by SRPS. The information is not intended to provide tax, legal, or personalized advice. SRPS does not guarantee the suitability or potential value of any particular investment or information source. Certain information provided herein may be subject to change. 0817-7WTB
Popular in the Community