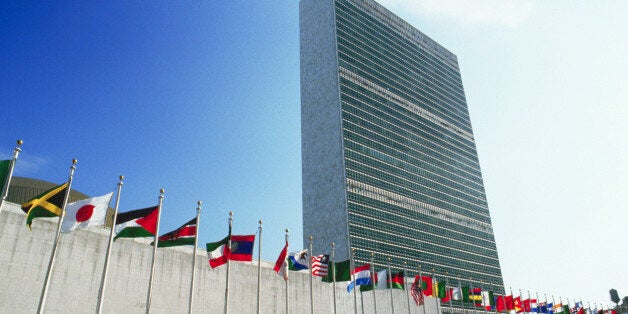 In the weeks leading up to last year's United Nations General Assembly, world leaders and activists were united in their optimism about launching a new set of global goals that would set a bold direction to 2030. One year on how are we doing? In short, not well enough. These inspirational goals require us all to stretch, but far too many are hunkered down in business as usual.
While celebrating the successes of the Millennium Development Goals (MDGs), we knew that we could do better. MDG achievements were impressive, but generally limited to those groups who were easier to reach. MDG progress was based in averages and masked inequalities. Less privileged groups did not see the same improvements, excluded from progress by their gender, ethnicity, caste, and place of birth, among other factors. Countries in conflict also saw few improvements. According to the World Bank in 2011, "No low-income fragile or conflict-affected country has yet achieved a single MDG."
Recognizing the need for bolder action, the UN orchestrated one of the most participatory projects in its history to define 17 ambitious Sustainable Development Goals (SDGs) designed to move everyone, both in developing and developed countries alike, toward a better future by 2030. Embedded in this new framework was the transformational commitment that "no one would be left behind."
One year on, overall progress toward the 17 goals in support of reaching everyone is already off track. Research from the Overseas Development Institute suggests that only three of the goals, including ending extreme poverty, are on a path to success with some additional effort, while nine goals, including many affecting children such as reducing maternal mortality, ending hunger, ending child marriage and boosting secondary school completion, are progressing much too slowly and require a major step change. Five goals, including reducing income inequality, are moving in the wrong direction. The Inter-Agency and Expert Group on SDG Indicators has yet to approve a set of global indicators to measure progress on the SDGs, and the promise to disaggregate data by gender, age and ethnic group - so critical to the goals' transformational impact -- does not appear very high on countries' priority lists.
After their strong launch a year ago, world leaders have missed opportunities to throw SDG implementation into high gear. The World Humanitarian Summit, the High Level Political Forum (HLPF), the Financing for Development Forum, and the recent G20 Summit were big opportunities for pushing the SDG agenda forward, yet failed so far to trigger concrete action accelerating progress. As one UN representative said during the HLPF in July, "Leave no one behind isn't something that will happen by everyone just repeating that phrase again and again at the UN." The SDGs need to be taken more seriously if the world is to be successful in delivering on these goals.
While most countries have been slow to begin implementing the goals, there is good news: some have confronted the challenge and begun to design plans for achieving success. Twenty-two countries agreed to participate in national reviews at the High Level Political Forum in July. Colombia and Sierra Leone are examples of countries that have already worked to orient national institutions toward meeting the SDG goals. In addition, both countries have made monitoring and improving data a priority. These examples underscore the fact that with political will and determined effort, progress is achievable.
Meanwhile, Germany has worked to position itself as a leader in the process of achieving the SDGs. Not only did the German government note its need to address goals that were relevant to the country's highly developed context, but it has also taken steps to address the goals in its distribution of international aid and by wielding its influence in the European Union.
In recognition of the fact that inclusivity is at the heart of the SDGs and indispensable to achieving them, such as ending preventable child deaths or ensuring all children learn, Save the Children launched in April the Every Last Child Campaign. This campaign shines a spotlight on groups of children excluded from progress to date because of who they are or where they were born. In every country where we are present, Save the Children is working to galvanize the necessary political will, resources and innovative programs and policies that will accelerate progress and bring "leave no one behind" to life. Our campaign recognizes that the SDGs will not be achieved without ending both poverty, but also discrimination against excluded groups of children. We set out three categories of initiatives - fair finance, equal treatment and accountability - which could turbocharge SDG implementation by overcoming barriers of exclusion.
The SDGs could be transformational but with 14 years still to go, they have yet to generate sufficient urgency. There are opportunities on the horizon to bring forward the magnitude of those goals so leaders feel the weight of their responsibilities to act now to fulfill them. We see the September 19 high level meeting at the United Nations on refugees and migration and President Obama's September 20 summit on refugees as two such moments to tackle an unprecedented crisis of forcible displacement involving 65 million people, half of whom are children. This crisis has to be resolved if SDG implementation is to get on track. We have called on leaders to commit to provide access to quality education for all 3.6 million refugee children out of school in the near future, in keeping with the SDGs. Making these calls are in the context of defining and agreeing to national interim "stepping stone" targets, such as child survival or learning, will generate urgency by showing the trajectory required in 2020 that is necessary to reach the 2030 goal.
As new leaders take office in coming months in the U.S., at the UN, and in other countries, we will work to promote increased political attention to SDG implementation, improved data and accountability, institutional changes, and a priority focus on excluded groups. The ambitious commitment "to leave no one behind" cannot wait.
Related
Popular in the Community