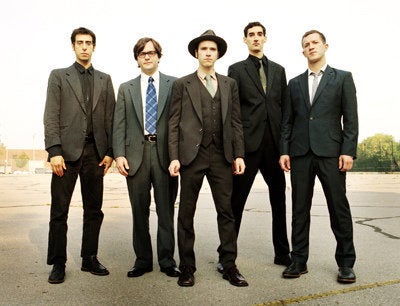 The Touareg people, nomads from the south of the Sahara in Northern Mali, West Africa, have a longstanding tradition of coming together for annual meetings called Takoubelt. These congregations allow them to reconnect with each other, have fun, resolve conflicts between individuals or groups, and exchange ideas about the challenges that they were facing at the moment. These gatherings are what "Le Festival au Désert" is built upon.
Every year since 2001, amidst the sweeping barren landscapes of the Sahara Desert, artists, nomads, patrons, musicians, tourists, and traders converge to create, share, and celebrate. On January 7-9, 2010, the tenth edition of The Festival in The Desert will take place featuring an all-star lineup of musicians from all over Africa, Europe and The United States, including The Sway Machinery.
The Festival Au Desert seeks to combine modernity and tradition, simultaneously opening its doors to the outside world while still preserving the cultures and traditions of the desert. It is in that vein that The Sway Machinery were invited to perform. For a band based out of Brooklyn, NY, The Sway Machinery have a decidedly desert sound. The group's leader and songwriter, Jeremiah Lockwood, descends from a familial tradition of Jewish Cantorial music to which his grandfather introduced him at a young age. He was also indoctrinated into the American blues when he met piedmont blues legend Carolina Slim at a music festival and went on to play with him in the subways of New York City for several years.
Lockwood's deeply personal relationship to these two musical traditions helped him to forge a unique musical language of his own fostering a unique blend of deeply moving sounds and concepts, bolstered by a powerful horn section featuring members of Afrobeat collective Antibalas such as Jordan McLean on Trumpet and Stuart Bogie on Tenor Sax. Add Colin Stetson rounding out the bottom register on Bass Saxophone and Brian Chase of the Yeah Yeah Yeahs on drums, and what results is The Sway Machinery's rich, other-worldly sound that fuses influences and traditions from divergent cultures and places. Powerful and dynamic, yet entrancing and captivating, The Sway Machinery have a presentation that communicates on many differing levels.
"We have always strove with our music to connect seemingly disparate worlds--the past and the present, the secular and the profane, the obscure and the populist," Lockwood describes the opportunity The Festival Au Desert provides, "In this latest journey I see a wealth of connections opening up between cultures and between musicians and between individuals that would never have been otherwise possible."
Malian music is and has been for some time a source of inspiration for Lockwood, "I've been heavily into Malian music for the last five years or so, initially having gotten excited about the music through hearing records of Boubacar Traore. I immediately heard in it connections to the early Blues records that have always been a central part of my musical life. This connection between the old world and the new also resonated with me deeply--it felt connected on a deep level with the process I am going through in trying to delve into my family's Jewish musical heritage."
The connection Lockwood identified is one many European and American artists have sought out in the past. In 2003, Robert Plant (lead singer of Led Zeppelin) performed at the festival and described it as one of the highlights of his career. The music of West Africa has had a global impact on many levels. Not only do contemporary African musicians like Vieux Farka Touré and Toumani Diabaté tour the world and enjoy widespread acclaim and success, but American blues and rock 'n roll descend from West African musical traditions carried over through the Atlantic Slave Trade. Those musical traits have permeated contemporary musical trends all over the world several times over.
As part of their pilgrimage to Mali, The Sway Machinery plan to record an album in Bamako, Mali's capital city, at the legendary Studio Bogolan, which was founded by the late African guitar legend Ali Farka Touré. The album will feature Malian musicians including Khaira Arby, "The diva of Timbuktu." They also have enlisted eight-time Emmy Award winning documentary filmmaker Jonathan Hock to follow the band through their journey and document their experiences.
A journey such as this is not inexpensive. Transportation costs for both getting across the Atlantic as well as maneuvering within the country will be substantial. Recording an album as well as filming a documentary will place an even greater burden on the band's monetary limits. Over the past six months, Jeremiah Lockwood has undertaken the massive effort of raising funds for their journey, but they are still in desperate need of donations. Lockwood describes their situation eloquently:
"I am a strong believer in the ability of the powerful emotions present in the aesthetic experience to enact deep change in the lives of those who are open to them. It has always been my goal with my music to create moments where this kind of change can take place. It is my deepest hope that our performance at the Festival of the Desert will bring this goal to its highest point yet. The recording and documentary film we will make about our experience will allow us to share this experience with all of the world!
"The missing ingredient is not passion or artistic achievement or even opportunity. The missing ingredient, sadly, is money. At this moment, I come to you all with open hands, wishing that you will open yourselves to our passionate desire to see this project to fruition and that you will help us in any way you can!"
If you are able and willing to help fund The Sway Machinery's pilgrimage of cross-cultural exchange and artistic ingenuity, please do so through this website:
Calling all HuffPost superfans!
Sign up for membership to become a founding member and help shape HuffPost's next chapter