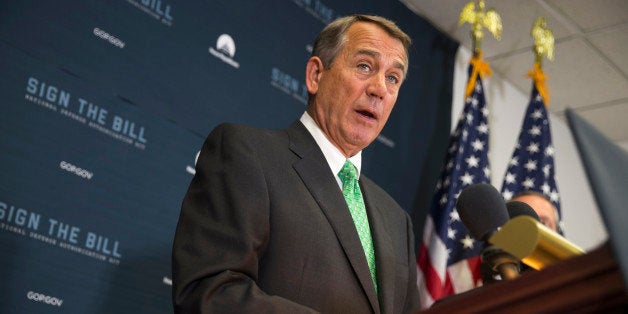 With Speaker Paul Ryan's recent announcement of his hesitancy to support Donald Trump -- occurring just as we're entering Veepstakes season -- I find myself eager to play yenta, ready to make a perfect match between the Donald and a certain other Speaker of note -- and, no, not Newt Gingrich.
It may seem a joke, and it might seem a long shot -- but I haven't come up with a pairing which I feel could be more effective than an All Orange "Syracuse Ticket" of:
- East Coast tough meets Midwest nice
- The new guard receiving counsel from the old guard
- The outside negotiator and inside negotiator -- making deals, deals, deals
- Media magician and seasoned sausagemaker, together resurrecting Congress
- He with no political experience wed to he who has known the heights (and lows) of it
...and, of course, Ohio, Ohio, Ohio.
An added benefit is that they would be harmonious in appearance -- not unlike Bill Clinton and Al Gore were -- and in a way that might help Donald look a little less orange in the juxtaposition.
The biggest downside, of course, would be the Oompa Loompa jokes, the boner jokes, and the Oompa Loompa boner jokes -- which could just as easily prove to be endearing in this already off-kilter cycle.
Besides which -- if I get my wish for a CLINTON / FRANKEN ticket -- just add the "stein" and there'll be plenty of fun to be had by all.
Calling all HuffPost superfans!
Sign up for membership to become a founding member and help shape HuffPost's next chapter