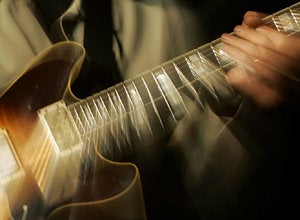 The Tallest Man on Earth is the appellation Americana's finest Swedish singer-songwriter-guitarist has chosen in hopes of attracting your attention. His name is actually Kristian Matsson and this not-so-tall 27-year-old is the most astonishing folk artist to appear in perhaps a decade. He and his guitars are playing many more dates in the U.S. and Canada in support of his just released EP Sometimes the Blues Is Just a Passing Bird before October 3rd when he returns to Europe.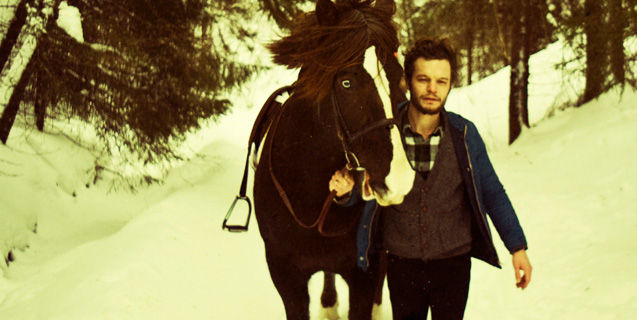 His first EP, yes, The Tallest Man on Earth, appeared in 2006 and was followed the next year by a debut album, Shallow Grave. Now his growing legion of fans can savor a second full-length album, The Wild Hunt, as well as the above-mentioned EP.
There is nothing downbeat, awkward, or twee about TTMOE's energetic, luminous songs. His set juiced the whole theater when he performed live in Hollywood on Tuesday, September 14. The spare template of man and guitar gives off radiant heat and light when this artist gets to work. He's charismatic live, batting back shouted offers of marriage and more from a devoted crowd of twenty-somethings, with humility wrapped in aplomb.
He's a wickedly adept guitarist, whether picking or strumming. He's even drop-dead fascinating just tuning his guitars. Numerous numbers feature exacting open tunings. He's been avalanched with Bob Dylan comparisons but his songs spin their anecdotes and omnipresent observations of the natural world -- birds, birches, snow, flowers -- in narratives that have more in common with the Joni Mitchell of "River" or "Carey" or "All I Want." His lyrics have sprawl and insight and feverish emotion. Fans of Tumbleweed Connection-era John and Taupin have someone new to check out. Fans of Deer Tick, Avett Brothers, Bon Iver, Monsters of Folk, Jónsi, already know.
The distinctive vocal croak some have imprecisely labeled Dylanesque is less vehement live, except on a masterpiece of a song called "Like A Wheel." When he asks, "Oh Lord, why am I not strong?" the plaintive appeal of the eccentric part of his voice muscles in on a kind of sanctity, the holiness of stable beasts around a manger on a December night. This voice both delivers and flees from a sort of honey mustard hybridization. (In an earlier meditation on TTMOE I bowed down before this croakiest part of the voice, calling it "Carol Channing meets Eeyore meets an Angel." Fans revere it as wholly original and expressive. And it is different from Dylan's sandpaper.) And this vocal shading doesn't always operate when he sings: sometimes he just sounds like the rockabilly Wanda Jackson of "Mean, Mean Man" if she were an English-speaking Swedish guy telling you a whole lot about what the struggles for love and identity and a place in this world are for thinking people in 2010. Add in the Carter Family, Woody Guthrie, Leadbelly, Harry Nilsson...
The Tallest Man on Earth's songs evidence a scrappy bravura that isn't cloying because his words and music, his intelligence and his artistry, combine to make the subjects he considers, love, passion, loss of love, insecurity, solitude, flush with life-force, animated always with what poet Gerard Manley Hopkins praised in nature as "a freshness" that is "never spent."
TTMOE goes electric in "The Dreamer." Listen to it at The Music File's "song of the day" here. This gorgeous tune was part of his encore at The Music Box. New folk, Americana, Roots music, are in a state of vibrant health when so many elements of our world seem hobbled or broken. Glory be for these blessings.
S. Carey, Bon Iver touring percussionist, opened with a well-received dreamy set. For tour info and more about The Tallest Man on Earth, visit myspace.
Popular in the Community