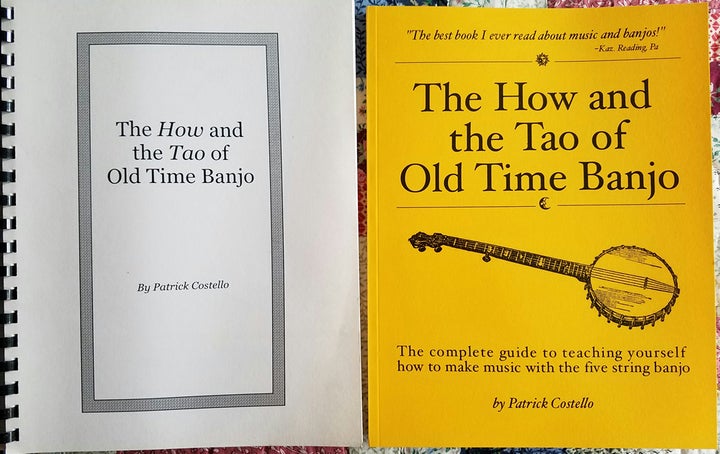 It came as no surprise to my friends and family that I wrote my first book entirely by accident.
Here is what happened: A friend of mine was teaching at a middle school in Maryland. He mentioned to his students that he had been using my online workshops to teach himself the banjo. Much to his surprise, the kids were interested. The next thing he knew the kids were starting an after-school banjo club.
He contacted me asking for a good banjo book to share with the kids. I could not think of anything to recommend, so I offered to throw a few pages together that he could print out and share with the kids.
I sat down at my computer with a calico cat in my lap on a cold winters night in 2003 intending to write a few paragraphs. I was excited about the project because I clearly remembered how difficult it was for me to find reliable information when I was a young banjo student.
I thought for a bit about how to begin and quickly decided to start things in the same manner as the musicians who taught me. With a story. I wrote about the day I attended my first fiddler's picnic carrying a banjo I barely knew how to play.
A few days later I sent my friend the handout for his students – but instead of two or three pages there was over a hundred. After starting things off with a little story, I covered everything from picking up a banjo for the first time to advanced playing techniques. I ended the project with more stories about the adventures and lessons that tend to happen when you start wandering around with a banjo.
My father edited the project for me. I don't know how he did it, but he managed to wrestle my stream of consciousness writing style into something intelligible. When he asked me if I had a title for this massive collection of banjo knowledge I jokingly said, The How and the Tao of Old Time Banjo.
After all, it didn't really need a title. I wasn't writing a book. Just an after-school handout.
Not long after I sent the project out to the kids, word got out. I started getting emails from banjo players all over the country asking where they could get a copy of my book.
The one you wrote for the kids.
I was going to laugh it off, but my father – who is also my business partner and best friend – decided to print copies at the Kinko's fifty miles up the road from Crisfield. I posted on my web page that we had a few copies available and things got crazy fast. We wound up getting more orders than we could print.
My father contacted several publishers who specialized in music books. They did not turn us down, they laughed at us.
Laughing at an Irishman is never a good idea. We decided to start our own publishing company.
Just a few months after sending the handout to the kids my father and I launched Pik-Ware Publishing. Our first title was The How and the Tao of Old Time Banjo.
Seeing my first book . . . holding the professionally printed copy in my hand . . . that was an amazing feeling.
The entire experience inspired me to write other books. An advanced banjo workbook titled A Book of Five Strings came next. This was followed by The How and the Tao of Folk Guitar. We hit the road doing book signings – but rather than stand at the podium to talk about my books we turned each signing into a free banjo workshop. We would take over Barns & Noble stores and encourage people walking by to sit down with us and learn to play the banjo.
All of this was wonderful, but I wanted to take things a step farther. To reach more people, I decided to release The How and the Tao of Old Time Banjo under a Creative Commons license.
My father told me I was out of my mind. We were working so hard to make this book profitable and now I wanted to give it away.
We argued back and forth for a bit until my best friend and business partner decided to trust me. We released the book as a free download. I was excited to see what would happen next. My father got himself ready to shut down our fledgling business.
Practically overnight people started discussing the free banjo. A lot of people who were not particularly interested in music downloaded the free book and then called us to order a printed copy.
More than ten years have passed and people still call us after finding the free download of The How and the Tao of Old Time Banjo. I have no way of knowing how many copies were downloaded, but the number is large.
I put myself into service with no thought of gaining anything and no thought of personal cost. There was no grand plan. I was acting out of love for my craft and love for a handful of kids I will never meet. There was no profit or goal in mind. Only love. By taking a couple of days to write down a few thoughts I created something. That creation sent me off on an adventure with my father that is still going on to this day.
Being a musician means that we work in moments. Our hands manipulate strings that vibrate and resonate for a just a moment. Notes drift out into the air and fade away. If we make a mistake it doesn't matter. If we play perfectly (as if that were possible!) it doesn't matter. The only thing that really matters is that we act in that moment without thought. Without hesitation, so that the notes flow in rhythm and the chords ring out in harmony.
The same is true with life. When you see a need, fill it. Don't weigh the cost or the possibility of profit or loss into your action. Just help in the manner that your heart and intuition guides you.
I am not saying that helping somebody will result in a book and the beginnings of a career, but you never know. Acting out of love and kindness has a funny way of taking you not to the places you want to go, but where you need to go.
This week we have more music lessons for banjo, guitar and harmonica!
Harmonica Lesson Five: We play the old folk song Shenandoah.
Frailing Banjo Lesson Five: We discuss volume and dynamics.
Easy Folk Guitar: We learn the C and D7 chords.
Advanced Frailing Banjo: We discuss discovering fretboard patterns.
Folk-Blues Guitar: We explore boogie bass!
Until next time, keep on picking!
Popular in the Community