Because I love Willie, and because we could all use a little Willie in these crazy times...
I am 100% committed to voting in this Presidential election, but Sunday night - because I really needed some love, music and wisdom in my life - I skipped the debate for an amazing Willie Nelson show at ACL Fest, and a fresh reminder of why Willie has been my deepest source of wisdom and love for so much of my life.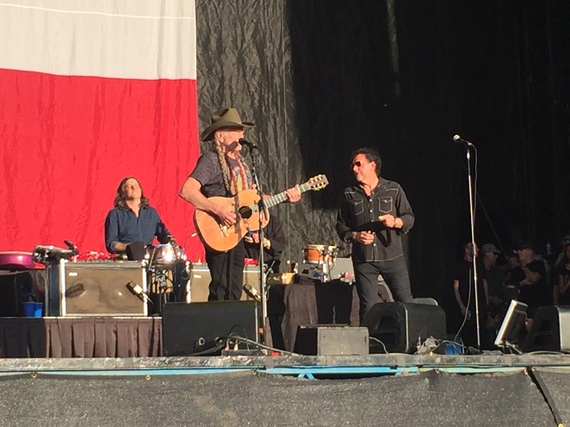 A few years ago, when Willie and I were writing our book The Tao of Willie, I felt that many people would be referring back to the book over the coming years to get a fresh dose of Willie's Baptists/Buddhist outlook on life ("Bootist" as Willie called it). But I'm not sure I realized that I'd be one of those readers, coming back again and again to Willie's words in our book during my own times of need.
First the concert. Sunday was a beautiful day at Zilker Park. As I looked out from the stage at 75,000 fans and blue skies smiling at me, Matthew McConnaughey came onstage to intro Willie, and the roar from the crowd was the loudest I've ever heard at an Austin show, at least until the roar for Willie one minute later. I have no idea how many Willie shows I've seen - a couple of hundred or more - and somehow every show still ends up being fresh and amazing in wonderful ways.
Last night was much more than that. The joy and connections Willie puts out from the stage are always palpable but for his first ACL fest show in years, 83-year-old Willie was in fine voice (as good as I've heard in a very long time), in beautiful spirit (practically shining) and playing Trigger like the true rock-n-roll/country/blues/jazz Zen master than he is. Eight (?) years ago at Willie's last ACL fest appearance, I stood next to the late, great Willie road manager Poodie Locke, and Poodie and I talked about the magic of Willie and how it all comes together when it needs to.
Last night, I thought about Poodie's spirit floating around that stage, about the spirit and love of Bee Spears and other Willie family band members that have moved on, and I thought how their spirits are part of what makes the ongoing family band so wonderful and strong and full of love. Consider Sister Bobby, still sounding great and looking beautiful at her giant grand piano, despite the fact that she and her little brother Booger Red, aka Willie, have been playing music together for nearly 80 years.
I was particularly taken with Willie's ACL version of "Angel Flying Too Close to the Ground", and thought of all the people I've met for whom this song has great meeting (if you have any biker friends, ask them what Hell's Angels think the song is about).
"I make it a point not to disagree with any of the interpretations," said Willie in our little book, "as long as you're not trying to sell your junk food or your god or your war with my song. It's not up to me to tell you what my songs mean. The meaning is already in the song. And the song is the meaning."
Later in the book, we came back to "Angels", a little like how Willie keeps coming back to "On the Road Again" in his concert. Here's a clip of Willie's ACL version:
"Angel Flying Too Close to the Ground" IS the Tao of Willie," he wrote (or we wrote, anyway this is all from the book.) "It and a whole bunch of other songs I've written are the reflection of what I've learned on a really great ride on the merry go round called Earth."
I felt blessed to experience the ACL show from the sound board, with a great view and surrounded by a huge audience that was soaking up the love, and I was moved to tears as I watched how Willie soaked it all in.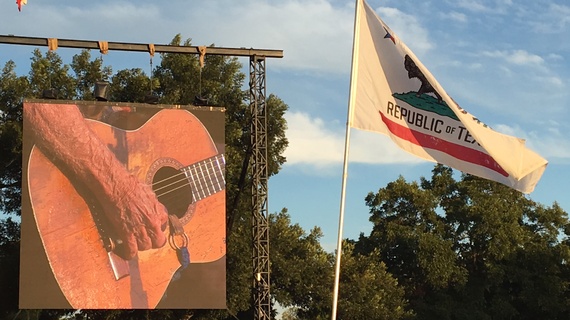 Here's another passage from our little book, in Willie's voice, as is the entire book except for my short introduction.
"Sometimes in my concerts, I find that I've slipped outside of myself to the same place that I find in meditation. Like the audience, I can see myself on stage. I can see my band behind me and all around me. I can see Poodie and David Anderson in the wings, and Budrocks and Bobby Lemmons, Josh the sound guy on the light and sound boards. All of us are connected to each other and to the audience, and whether we're all caught up in "Angel Flying to Close to the Ground, or just rocking through "Whiskey River" for the third time of the night, that's the kind of moment that keeps me coming back on the road again and again. In that moment, I see myself, my family band, and the audience -- all of us are a part of one joyful whole.
It's like the eye of a hurricane, I'm connected to everything."
Towards the end of his set, I saw Willie pause a little longer than usual between songs and watched him look from face to face in the front rows then lift his gaze up and up to the crowd that seemed to stretch all the way to the sun setting in the beautiful hills he calls home. There was a long history of music and musicians in Austin before Willie, but much of what is great about this city's love of music and film and arts flows stems from forty-plus years ago when Willie decided he didn't want to be what Nashville wanted him to be, he wanted to come home to Texas and be himself.
Looking out at the crowd at Zilker, Willie didn't seem to want to end his set at all. If Mumford and Sons hadn't been coming up later, he might still be playing.
"I didn't come here," Willie is fond of saying, "And I ain't leaving."
I've known Willie for much of the time he's been in Austin. In the 70s, I was fortunate to be his opening act on Auditorium Shores not far from Zilker Park, and Christy was a producer at the 1990 Willie picnic in Zilker Park, one of those 105 degree marathon concert days when you wish you were dead and thank God that you're alive to see it all. We made some movies together and played a lot of golf and poker, all times that I loved and still love, but what I cherish most is the way Willie helped open my heart to the world, and how Willie (and Annie who is a great, and tireless rock of support and inspiration as well) enabled Christy and I to do more with our lives by believing in us and supporting out idea that individuals and couples who want to change the world and are willing to work for their vision can have great impact. There are countless others out there like Christy and me.
If nothing else, Willie helps us know who we are.
So once more from The Tao of Willie, this time from end of the book, Willie's words again, taken from my journals and scraps of paper where I had noted things Willie said to me over the years.
"Since we know so little of the whole, it's all the more important to know yourself. That brings us to the last question, the question that will best start your day, possibly every day, of your life.
The question is, "Who am I?"
Within the answer to that question is the thing we call happiness.
As for myself, I am just a troubadour going down the road, learning my lessons in this life so I will know better next time. I believe the lessons are out there waiting to be found, and waiting inside me to be found as well.
As the miles and miles of miles and miles roll by, I try to listen to the voice inside me as it offers advice, tells tales and whispers the melody to what will be my next song.
Depending on the time of day, and what's been bouncing around in my life, those voices may not always be in my best interest. If an inner voice says, "Tell Gator to stop the bus on the next overpass so I can determine whether I can fly or not," then I'll probably have a cup of coffee and choose to listen to some other voice.
I like it when the other voice reminds me that I am the luckiest man on earth, that I am surrounded by a very large family of people I love and whom I love, and that as long as my body and this bus will carry me, I can step on stage and lift my heart in song that will carry me and my audience through the worst that life has to offer.
Knowing this may not spare me from the sorrows of life and the troubles of the world, but together -- myself, my family and my friends and fans -- we use that common song in our hearts to carry on.
In the end, all of us are just angels flying close to the ground.
Returning to the words of Kahil Gibran that I first read so many years ago, I am reminded that in our quest to return to God, each of us, in our heart, carries a map to that quest, a map that is made of love.
Love is what I live on. Love is what keeps me going.
So all I can say to you is what I've said to myself a thousand times.
"Open your heart, Willie, and give love a try. You'll be amazed at what happens."
So far, it's worked pretty well."
Thank you Willie. In this crazy election year, I think we could all use a little move love. And a lot more people voting.
Calling all HuffPost superfans!
Sign up for membership to become a founding member and help shape HuffPost's next chapter