ABC's The Taste Pits Home Chefs Against Top Chefs
The Taste debuted on ABC Tuesday, January 22 to more than six million viewers as it takes its place as one of the few primetime shows that are cooking competitions on a broadcast network. Part The Voice and part American Idol, it pits home chefs against top chefs in a competition not about presentation or flair but, well, the actual taste of the dish.
The judges: chef-turned-best-selling-author and world-traveling TV star Anthony Bourdain, Los Angeles' favorite chef français résident Ludo Lefebvre, British food writer, TV personality and celebrity chef Nigella Lawson and San Diego chef/restaurateur Brian Malarkey, who may soon be expanding to Los Angeles.
So why will this show succeed? What sets it apart?
"Because it puts aside all the bullshit," the always outspoken Bourdain told me on the Disney studios lot for a Meat and Eat to debut the show.
I'm not just a judge, I'm an Executive Producer. When they told me I could use Nigella, Brian, Ludo... I knew it was a no-brainer. But this show is about food, the taste of the dish. We get a bite. We don't see the plating, the hoopla which can bog down a show. And, we don't know whose dish it is, so we can't have favorites. It really is all about the taste.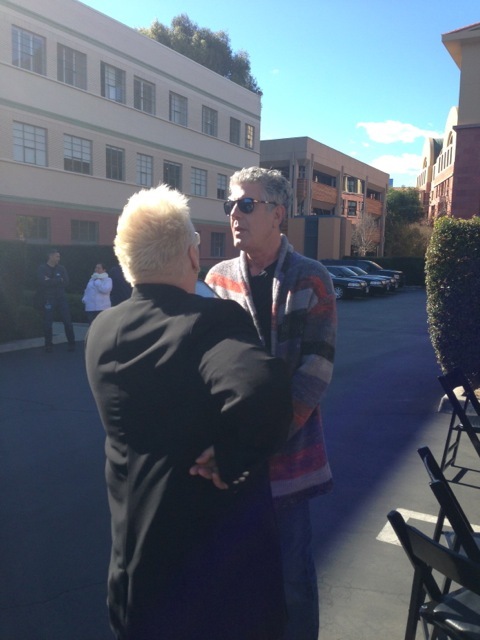 On the backlot with cast of ABC's The Taste Photo: Bert Critchfield
And Bourdain should know. He came on the scene with a basic French restaurant in Manhattan but his career exploded when he authored the explosive Kitchen Confidential and then headed for several wildly popular food-focused TV shows on the Travel Channel.
"We are letting on professionals compete right up against the pros," he continued.
And I must say, it's the pros that tend to overpaint the dish while the home cooks concentrate on flavor more. Things can be overdone. Like an oyster, when you look at it, you have a serious decision of should I simply eat this thing as it is, and it's delicious, or, do something with it. Some times less is so much more.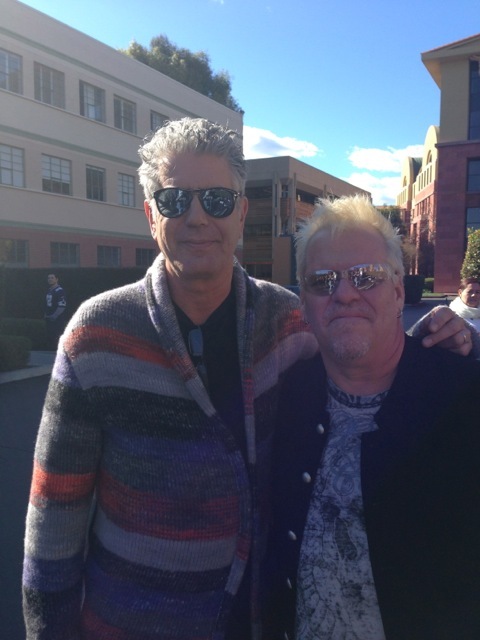 Anthony Bourdain and Karel Photo Bert Critchfield
Lawson's career is the reverse of Bourdain's. The pedigreed Brit (her father is the former Chancellor of the Exchequer and her mother's family owned the J. Lyons empire) was an accomplished journalist before penning the best selling How To Eat cookbook, which led to the "queen of food porn" becoming a bombshell on television. She's in it as much for the fun as the food.
"When they said Tony Bourdain, of course, I immediately said yes!" she exclaimed, looking stunning in a sleek black dress (albeit a bit cold). "And we had so much fun. I, of course, became more of consoler or actually mother figure between Ludo and Malarkey, they were always causing a row of some sort," she laughed.
And Tony and I had a trailer-off, decking out our trailers. I did disco queen and he did white trash... I had mirror balls and feathers galore while he had beer cans strewn about and all sorts of, well, white trash! We even did our wrap party as a theme where you could come either disco queen or white trash. These guys were incredible to work with.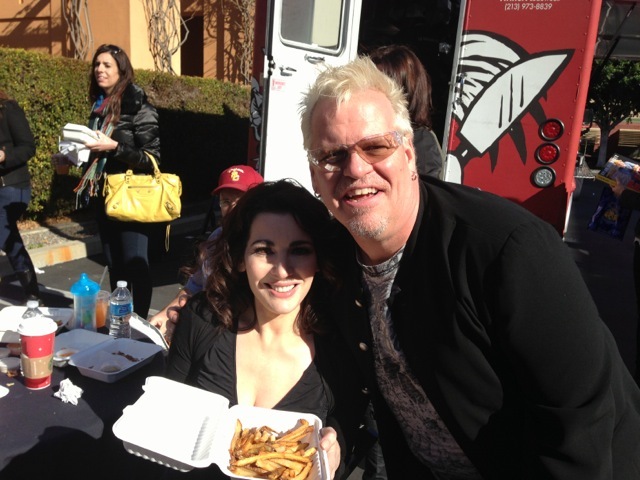 Nigella Lawson and Karel Photo Bert Critchfield
"But it is about the food, isn't it," she went on.
Some flavors I just didn't understand and the guys kept saying 'You're not from America, you just don't get it' and I know that flavors can be regional. Some things I grew up with wouldn't fly over here. But sometime you have to question why some people put some spice combinations together, or why on Earth they'd use a green pepper. All kidding aside, I was so impressed with the level of quality of the home cook's, some were absolutely incredible. Recognizing them, discovering them, that's such a treat
There's no doubt the Nikki Minaj and Mariah Carey of the group are Ludo and Malarkey. Malarkey is a successful restaurateur from the San Diego area who is rumored to be coming to the Los Angeles scene as well. As executive chef at Oceanaire in San Diego, Malarkey garnered over 60 industry awards in five years. He opened his first restaurant to raves (Time named it number two in the country) in San Diego in 2010 and has since added four more with others in the pipeline. He's a veteran of Bravo's Top Chef Miami, TLC, Travel Channel, Bravo and OWN.
Malarkey often bumps heads with Ludo Lefebvre, who has a rabid fan base in L.A. and starred in a successful reality show of his own with his wife and partner, Krissy. His first job in Los Angeles was at the exclusive L'Orangerie, where he was soon elevated to head chef. After a couple of other high-profile stints he started Ludobites, a revolutionary pop-up which he followed with an even more revolutionary food truck.
"We're both very passionate about food," Malarkey explained as we both ate the boneless buttermilk chicken from Ludo truck on the studio lot. "And when two very opinionated chefs meet, there's bound to be friction," he added. "But it's because we both care so much about the dishes and our teams. Some of these people have never competed and they accomplish so much, it's remarkable," he stated.
Lefebvre agreed.
"We fight because we care about the food, the taste, if you will, so much," he chimed in his heavy French accent.
So why a famous French chef with a food truck?
"To make the food accessible to the people," he added. "You come to the restaurant, you spend $40, $50 or more per person, some people, they cannot afford that. This way, they get to have fabulous food at a much less expensive price, so everybody wins," he concluded.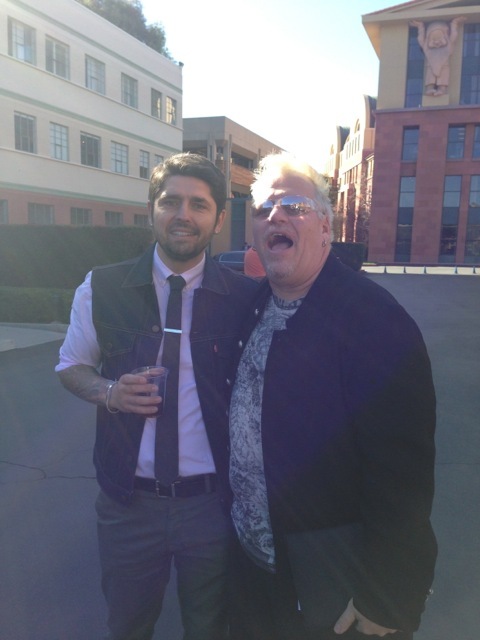 Chef Ludo and Karel on the lot at ABC's The Taste Photo Bert Critchfield
But in a nation that's food obsessed, is it wise to have yet another mainstream cooking show, this one in prime time on a broadcast network?
"We're hoping that this show inspires people to get up off the sofa and actually cook something. Look, I'm a cheap date," Bourdain laughed, "just about any mother's meatloaf, some bread and drippy cheese, I'm there.
We can all cook, and should all cook. America is just catching up the rest of the world where sitting around a table and having great food is a birth right. You can't just shove your pie-hole full of junk to fill some spiritual void or something without repercussions. Talking about food, showing food and food sourcing, treating food like movies, music, art, that can only be a good thing.
Lawson, who really is her Highness of Home Cooks among the group, agrees.
"We can all go a bit mad with food at times," she added.
Like right now, you should go over and get the dark meat off the Ludo truck, to go along with that breast meat there, it's so very good. But, we don't want to do that every day. Cooking is about controlling what and how you eat, how it tastes, presented. It makes you part of the eating experience and opens up so much.
"Hell yes!" exclaimed Malarkey when asked if he'd be up for a season two. "This has been one of the best experiences of my career, Ludo and all," he laughed. "I love being in the kitchen, don't get me wrong, but mentoring these chefs, tasting this food, and hanging out with these guys, all while still able to concentrate on my own restaurants, well, it really doesn't get much better."
Disney/ABC believes in the series enough to have a full season ready to go and while the audition phase, like any show's audition phase, can be tedious, once through it what emerges is a reality show steeped in traditional TV contests traditions while blending a few of the hottest concept going. Over six million viewers tuned in to see the debut, up five percent from Dancing With The Stars, according to Deadline. It has great ingredients in its mentors and a nice finish in its uniqueness, so America audiences should devour it. (And that's enough cooking references for a lifetime!)
REAL LIFE. REAL NEWS. REAL VOICES.
Help us tell more of the stories that matter from voices that too often remain unheard.