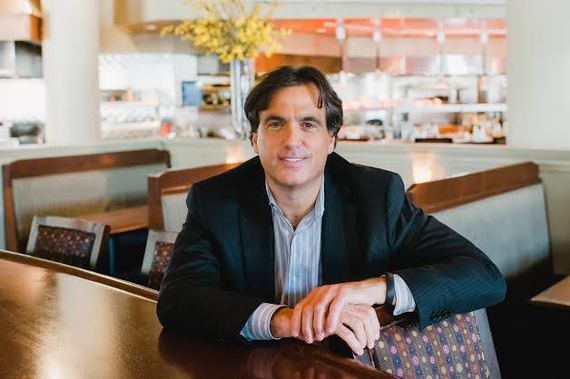 Entrepreneur, restaurateur, family man - I recently had lunch with Steve DiFillippo, the man behind the award-winning empire known as Davio's Northern Italian Steakhouse, with restaurants throughout Massachusetts, Pennsylvania, New York, Atlanta, and now expanding into California. If you aren't lucky enough to have a Davio's nearby, you can experience the mouth-watering pleasure of some of his dishes which are now available in 300 stores across the country. As well, you can find him demonstrating his 12 minutes to ready spring rolls on QVC. He's a culinary artist, celebrity business tycoon, author, and a fanatical purveyor of unforgettable dining experiences. You've read that correctly. For all the things that Steve DiFillippo is amazing at, the one thing he's absolutely compulsive about is creating an unforgettable experience for every guest from the moment they step foot through his doors.

If you are interested in building an unforgettable business, better serving your clients, or getting a behind the scenes glimpse of a culinary empire, here are five simple strategies for getting a taste of success the Steve DiFillippo way:
It Starts With Your Guests: Both in his book, It's All About the Guest, and during my interview, Steve talked first about how he defines a customer, or as he prefers to call them, guests. As he sees it, the first guests he must serve every day are the ones who come in through the back door, his employees. He notes that too many businesses focus all of their attention first and foremost on the outside customers who are buying their product or services. The problem with this says Steve, is that you will need to rely on your people to serve those outside guests and the best way to make sure they know how to take care of a guest is to make sure that they are well taken care of too. Ever since he became owner of Davio's more than 25 years ago, Steve has offered strong compensation plans backed by amazing benefit packages. As well, every employee (now more than 850 of them) accrues vacation time increases each year and he makes sure that every employee is well fed. The Davio's kitchen is stocked with the best foods, not just for the patrons, but for the employees who usually eat more meals at Davio's than they do at their own homes. The employees eat together each day, and when Steve's in town he joins them. I met with Steve at his Boston restaurant located on Arlington Street in The Back Bay. While we were having lunch, he'd call over members of the staff and introduce them. Many of his employees have been with Davio's for more than a decade and some have been with him since the beginning. Steve personally reaches out to his employees on their birthdays and makes sure that everyone signs a card for their special day to accompany a cash gift from the restaurant. Provide a world class experience for your employees and not only do they stick around for the long haul, but they also go out of their way to provide an amazing experience for your guests.
Align Yourself With People Who Get You: Steve says that building a business, especially in the hospitality world, is a calling. It means working 24/7, canceling plans when there's an issue, and always being available for your people. Steve says that when you are in business for yourself it is imperative that you align yourself with people who understand. Your closest friends and your family need to understand your priorities. Steve credits his success to Pamela, his wife of 19 years. He says that it takes someone special to realize that Mother's Day is your busy day at the restaurant. You need a spouse who realizes that when the rest of the world is celebrating holidays, you are working them. Steve admitted that the schedule of any restaurateur, never mind one with multiple restaurants, a contract with QVC, and a celebrity speaking schedule that takes him across the country, is grueling on the whole family.
Get Out of the Office: Steve says that he chooses not to have an office. He says that offices are stupid. If you want to build an awesome business, says Steve, you need to be boots on the ground working it. Steve says that when he's not traveling, he's at one of his restaurants and he's working. He greets customers, he makes food, and he works in the trenches with his people. Steve says that there's no way he could constantly be finding ways to improve his business if he were holed up in an office taking phone calls and working on the computer all day. He has built an amazing business by talking one on one with his employees and with his guests.
Check Your Ego at the Door: The biggest obstacle to success in most businesses, notes Steve, is ego. It takes practice, he says, to leave it at the curb. Steve shared a story about how one night he was working at one of his restaurants. He was greeting and seating customers. It was a weekend and the place was packed. There were no seats available. A guest came in with his date. He was told that there was a long wait for a table. The guest then proceeded to tell Steve that he was good friends with Steve DiFillippo, the owner of the restaurant, and that Steve would be disappointed if he couldn't be accommodated. Obviously the customer didn't know Steve at all, or he'd have realized he was talking to him. Steve held his tongue and then went out back to see if the team could figure out a way to squeeze a table in for this customer. They did find him a table and the customer was able to impress his date. Steve says, in situations like that, it's easy to let ego get in the way. He could have called the guy out and embarrassed him, but that's not how great companies are built. He requires that his employees check their ego at the door when they start work each day, and he requires the same of himself.
The Secret of Great Employees: Steve DiFillippo now employees more than 850 people. His turnover is low. Many of his people stick with the company for long periods of time. I asked him how he finds great people. Steve says that the most important question they ask any applicant for a position is, "What kind of philanthropy are you involved in?" That's it, he says. That's the secret sauce. Steve employs people who believe in giving back to the world in some way. He says that some volunteer time, some give money, but all of his people are somehow making a dent in the world. When you find people who care about others, you find people who care about your guests.
Steve DiFillippo is a visionary who is building a massive brand built on a simple premise: Be good to people and people will be good to you.
Calling all HuffPost superfans!
Sign up for membership to become a founding member and help shape HuffPost's next chapter