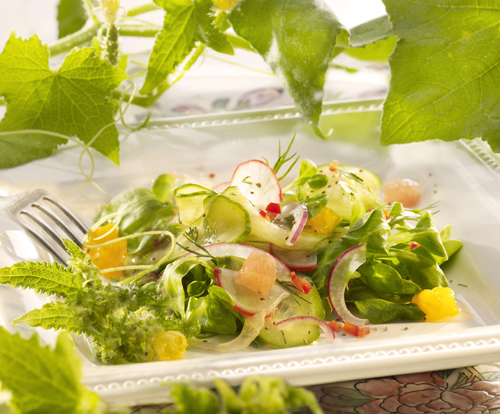 Photo by David Bishop
Visit his website at www.dbishop.net
With the bounty of the summer harvest in full swing, it is easy to delight in the splendor of its fruits. One of my fondest childhood memories is of sitting in the garden eating cucumbers right off the vine while Nani, my maternal grandmother, speaking only Italian, plucked ripe fruits for the evening meal, depositing them in her apron-cum-harvest sack. No need to wash these organic lovelies, void of petro-chemical fertilizer and pesticides. Butterfly regaled marigolds bordered the garden keeping them safe from pests while chicken droppings and fish emulsion nurtured the bounty's growth.
Wherever you procure your fresh produce, salads festooned with leafy herbs and fruity vinegars are a no fuss, low calorie answer to light and flavor-filled summer eating. The refreshing incorporation of citrus further brightens the fare while layering in more flavor, color and texture. Slicing or shaving the vegetables to paper thinness both renders them more absorptive of flavor from the marinade and easier to chew.
This scrumptious dill-laced cucumber, vegetable, citrus summer salad may just become one of your new favorite recipes. Serve it by itself or on a bed of delicate greens, such as mache, baby spinach or micro mesclun.
Below is a single serving portion that can be easily multiplied for two or more people. Shaving the vegetables can be done with a vegetable peeler, a mandolin, a very sharp knife, or a food processor fitted with a very fine gauge (1 mm) slicing disk. (Note: 40 of the 57 calories come from the citrus).
Cucumber Citrus Salad on Mache
Shave thinly:
1/4 cup or 1 oz. Asian Cucumber, (Diagonals are more interesting to the eye)
1 small or .5 oz. Red Radish, (Rounds present an opposing shape to the diagonals above)
1 small inner lobe or .5 oz. Fennel bulb, (Shave against the grain for more tender slivers)
1/8 cup or .5 oz. Red Onion crescents
Mince:
1 teaspoon fresh Dill
1/2 teaspoon fresh Red Cherry Pepper
Dice:
1/4 Navel Orange and any juices released during peeling of slicing.
1/8 Ruby Red Grapefruit, saving juices as with the orange
Marinade:
1 Tablespoon Raw unfiltered Apple Cider Vinegar
1/4 teaspoon celery seeds
Sea Salt to taste, about 1/4 - 1/2 teasppoon
Freshly ground BLack Pepper to taste
Mix All the ingredients together in a bowl. Be sure to include any captured juices from the citrus. ( Do your citrus peeling and dicing over a bowl!) Let stand in the refrigerator for at least 15 minutes to let all the flavors meld.
Serve on a 1/2 cup or 1 oz. of Mache lettuce.
Add a glass of Iced Green Matcha Tea to your ensemble as a refreshing beverage accompaniment.
Also check out my first blog at foodfloozie.com and my professional website at marilinda.com
REAL LIFE. REAL NEWS. REAL VOICES.
Help us tell more of the stories that matter from voices that too often remain unheard.