Over Labor Day weekend, "the TASTE" returned to Paramount Studios. A perfect setting, the Hollywood studio lot created a feeling of an impromptu getaway for those attendees who decided to stay in LA for the holiday weekend.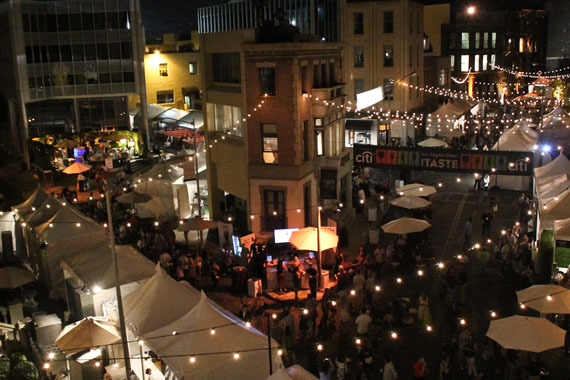 Photo courtesy of LA Times The Taste

Aptly dubbed, "the TASTE," the weekend event was just that. The popular annual food fest offered a taste of every conceivable type of food and spirit that any foodie's appetite could handle. Starting with an opening night soiree on Friday, each subsequent day (Sat/Sun) offered both daytime and evening events, complete with well-known Los Angeles culinary personalities demonstrating the art of creating scrumptious cuisine. The event also showcased popular dishes from well-known restaurants. Wine, beer, and spirits were a part of the entire weekend, featuring brand ambassadors offering tastings and pairing suggestions.

Saturday's "Field to Fork" event was hosted by LA Times Food editorRuss Parsons and culinary queen Nancy Silverton, (Chef/Co-Owner of Osteria Mozza/Pizzeria Mozza and Founder of La Brea Bakery). Four experts in the field - Betty Hallock (Times Deputy Food Editor), Jonathan Gold (Times Restaurant Critic), John Sedlar (Chef/Owner of Rivera), and Master Bartender Julian Cox - were selected as the head honchos of the evening's festivities.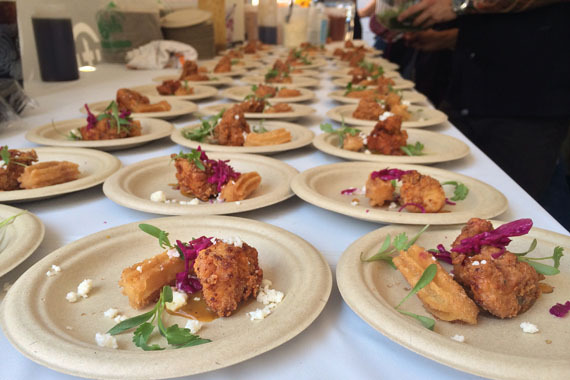 Photo by Dia de Campo; Chicken and Churros offered by Dia de Campo

Food writer & LA Times Test Kitchen Director Noelle Carter and Chef Thomas Keller (Owner, The French Laundry, Per Se, Bouchon, Bouchon Bakery, Ad Hoc) hosted "Sunday Brunch." Sunday evening's event, "Flavors of LA," featured Jonathan Gold (Times Restaurant Critic) and Restaurateur Michael Cimarusti (Providence, Chef/Partner of Connie and Ted's).
One had to pace oneself...deciding on the best choices for the most appropriate palate blending experience. Chef, Mateo Gutierrez of Santa Monica's Areal Restaurant, offered some exquisite tastes...chicken and waffles along with bacon-wrapped goat cheese dates. For the sweet lover, Areal provided its delectable homemade southern bread pudding with apricot glaze!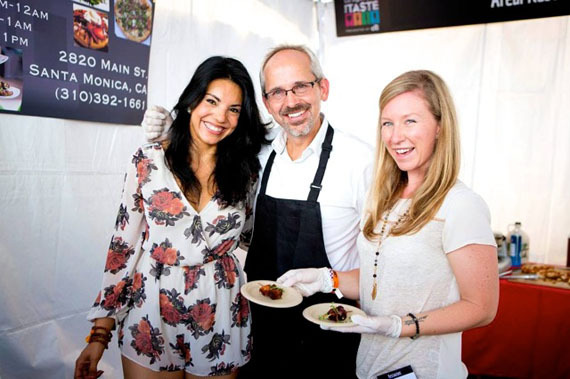 Photo by Raymond Liu, Areal Restaurant was represented by Matilda Del Toro (PR), along with managers Mark Becker, and Natalia Dodd.
Of course, the choice of wine can make or break any good meal. Gruppo Mezzacorona was represented via Prestige Wine imports, offering Pinot Grigio, Cliffhanger Rosso, and Goosebump. The Cliffhanger Rosso was quite delightful. John D'Alvia, a rep for the company, described the wine as a blend of two grapes native to Trentino-Alto Adige (Northern Italy) called Teroldego and Lagrein.

Other fine wines were provided by Palm Bay, Chloe wines, Cupcake vineyards, Mark West Wines, Russell's Reserve, and Zaca Mesa Winery & Vineyards, just to name a few.
Venice Whaler's Chef Nick Liberato served up a short rib banh mi served with pickled carrots, a sambal aioli, and Persian cucumber on a brioche bun.



Photo by Caroline Scott of Lawrence Moore & Associates; Chef Nick Liberator, Venice Whaler

The event was much more than food...Downtown LA's eatery Gorbal's knew what they were doing when they sent Chef Peter Haller to participate in the event. Playing up to the crowd, Haller kept the line of foodies in stitches with his off-the-cuff comedy routine as he served up some mighty tasty mussels.

Swimming in a green curry coconut broth, the mussels were accompanied with Korean pears, green chorizo, and cilantro. One could see that Haller was not only a comedian, but also an experienced chef as he described his dish. The chef further explained that the spicy green chorizo was made with a green paprika, created in-house (at Gorbal's) using a blend of poblano and jalapeño chilies...Delish!

Photo courtesy of LA Art Party; Chef Peter Haller, Gorbal's

Let's not forget that dessert is an essential part of any balanced meal. Stumbling onto what turned out to be my all time favorite sweet taste was an intense spirit infused truffle provided by Twice the Vice Spirited Chocolates. A charming duo, Craig Boreth and Aaron Makinen sell their delectable hand crafted chocolates predominantly online. The rich milk and dark chocolate truffles are enhanced with top shelf spirits. My favorite was the White Russian, which was made with Kahlua and Vodka.
Out of so many incredible restaurants and food establishments, our team from LA Art Party picked some favorites such as Asian Box, Ayara Thai Cuisine, Bar Pintxo, Bowery Bungalow, Chaya Restaurants, the Counter Burger, Faith & Flower, Fishing with Dynamite, Manhattan Beach Post, RockSugar Pan Asian Kitchen, SPACCA, and Urban Garden.
We also enjoyed spirits and beer from well-known brands including Avion Tequila, the Beam Family, Black Magic Spiced Rum, Distillery No 209, Goose Island IPA, Hornitos Tequila, Hooegarden, and lots more.
All in all, the TASTE was a food lover's fantasy...one that you should put on your wish list for next year! Until then...Happy Eating!
Popular in the Community