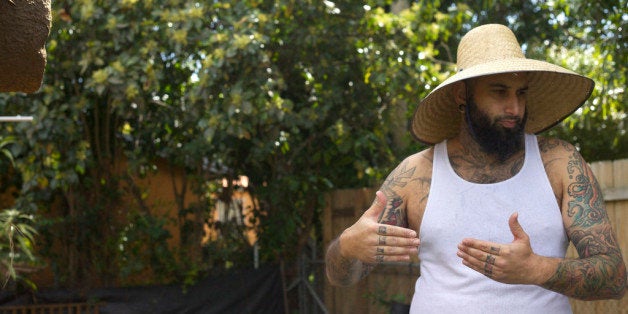 The man behind the sweetness of the zeppole dessert at Harry's Pizzeria is the Tattooed Beekeeper, a micro urban farmer who supplies the restaurant with the honey to whip with ricotta in the donut-y goodness.
He and his wife operate a lush, small farm in the middle of Flagami and supply honey to restaurants like Harry's, Michael's Genuine as well as well as to area farmer's markets and CSA (Community Supported Agriculture) programs.
HuffPost Miami spoke with the tatted up hive man to talk urban farming, bee stings, and the pleasure of showing up to La Carreta in one's PJs.
Who are you:
Rigoberto De La Portilla, The Tattooed Beekeeper

How did you get your moniker:
People had trouble remembering my name. They kept saying: "that guy with the Tattoos, the beekeeper" and the name stuck.
Years in Miami:
Born and raised

First memory of Miami?
Going to Miami Beach with my dad as a kid
Current neighborhood:
Flagami
Current gig:
Beekeeper and urban micro farmer
Favorite 'Only in Miami' moment?
I'm that guy that drives up to La Carreta in his flip flops and Sponge Bob pajama pants to get my cafecito and chat with the viejitos, I don't think I could get away with that anywhere else.

What's your idea of a perfect day in Miami?
Taking my sons and the wife to breakfast to Luis Galindo's Latin America on 57th and 8th street before hitting the Pinecrest and Southwest Community Farmers' Market. Then visiting the abuela's and ending the day with a nice backyard barbecue.
395 or 195?
Neither, Traffic in Miami blows. I prefer to stay on the micro farm.

Where do you take out-of-towners visiting Miami?
Depending on the season, I will take them to Knaus Berry Farms for a strawberry milkshake and cinnamon rolls or to visit other local farmers like Siggi's Organic Farm.

How did you get your start as a beekeeper?
When the economy turned, so did my mindset. I started researching sustainable living and stumbled onto the stories of the old victory gardens during the Great Depression. I started tilling my backyard and planting everything I could get my hands on. After harvesting some watermelons and tomatoes, I was hooked and started to research how to get more out of my tiny plot and the first answer was pollination.
I was lucky enough to find a mentor who was willing to teach me the basics and got me started with my first hive.
Ever had any bad stings?
My hand swelled up to almost twice its size when I first started. But these days, I get stung almost every day for some reason or another. You start to build up immunity and get used it to it. My record is 18 in an afternoon.
How many hives do you maintain on the farm?
We are always rescuing hives and host them before relocation. We currently have 16 hives on our urban mirco farm, plus many more in our network of local apiaries around the city.
How much honey does that yield?
We are nearing 1,000 pounds of honey a year just from the micro farm, plus thousands more from the local apiaries.
Describe your backyard farm.
There is a buzz of activity. We have bees, composting worms and black soldier flies. We have a few older fruit trees and some newly planted ones, as well as a rotating veggie and herb crop areas. Our end game is developing a self-sufficient, self-sustaining ecosystem, using square foot gardening, pallet gardening, and vertical growing.
What else do you harvest?
The bees give us honey, but they also provide us with propolis, pollen and beeswax. My wife also has herbs for teas, salves and soaps. We've also got avocados, moringa oleifera, dulci berries, papayas, bananas, sugarcane, the list goes on and on.
How much land do you have?
We live on .20 of an acre.
(Story continues after slideshow.)
PHOTO GALLERY
The Tattooed Beekeeper
What are some of the hassles of having an urban farm in the middle of Miami?
Neighbors. We've had mixed responses from the neighbors. Some people aren't fully on board with growing your own food. They don't understand why we don't go get our food at the supermarket. They haven't experienced walking out into their backyard and grabbing fragrant fresh herbs and vegetables that just ripened to make for their dinner, it's an amazing feeling.
What are people most surprised to learn about beekeeping?
Most people are surprised to hear that the hive is made up of 99% female worker bees. The males are only for procreation and die once the deed is done.
Are there other Miami artisanal food makers that you respect in the local scene?
Roc Kat Ice Cream Company
Last big project you did:
Rescuing seven colonies from a wooden home, consisting of an estimated 300,000 bees, all of which were rather upset at me for relocating them.
Upcoming projects you're working on:
Building our aquaponics setup, adding additional habitats for Bats and Mason Bees, and starting a movement for the acceptance of backyard chickens in Miami-Dade County.

Why do you hate Miami?
There is way too much politics and not enough "Live and Let Live" going on.
Why do you love Miami?
It doesn't get cold.

What are three local meals you can't live without?
Cafe Cubano, when made correctly can fuel space flight; Casola's Pizza, my guilty pleasure; and anything grown in the garden, always tastes amazing.
In a word or two or three, Miami is...
Busy as a bee.
REAL LIFE. REAL NEWS. REAL VOICES.
Help us tell more of the stories that matter from voices that too often remain unheard.