Recently I was invited by the California Writers Club to attend a talk at their Long Beach location. This club was founded in 1909, is one of the oldest clubs in the nation, and some of its honorary members include: Jack London, John Muir and Joaquin Miller. The scheduled speaker was Hector Tobar, who would be presenting and signing his most recent work, The Barbarian Nurseries, a book about class and conflict in contemporary Southern California. His previous works include: Translation-Nation and The Tattooed Soldier, and he is currently a book critic for the Los Angeles Times.
I first came across his work in 2005 at Libros Revolucion/Revolutionary Books in Downtown Los Angeles around the time renovation construction began in the area. The bookstore focuses on scientific and poetic radical literature that revolves around building a grassroots movement that challenges the current political agenda. At the heart of the bookstore is Bob Avakian's work, Chairman of the Communist Party USA since 1975, and whose Marxist work has been defined as a "new synthesis," which is a new theoretical framework for carrying forward a communist revolution.
I used to frequent the bookstore regularly during those days. It was something about the propagandist element of anarchist Spanish Civil War posters, Russian militant imagery and literature, and Latin American heroes of the left that always seemed romantic and that have always influenced my work. The bookstore has since relocated to Hollywood.
That being said, I stumbled upon Hector's The Tattooed Soldier one afternoon because the cover and title grabbed my attention. Like I've mentioned previously...do judge a book by its cover, since it is the first impression and often its the only opportunity you get. I liked everything about the book when I first saw it. It was a Penguin edition, it had Americana-style tattoo images, the size and it was written by someone whose name sounded like mine. I found out he was the son of immigrant parents, like me, and was a Los Angeles native, like me. So when I got on the metro that evening and began reading the story, I connected to it at once for several reasons. One of the main character's had my mother's surname, the lyrical poetry of the way Los Angeles was described, the Spanish-speaking immigrants and their relationship with the city and above all the '92 Los Angeles Riots.
In all my years in the public school system, I had never read a novel so pivotal, dramatic, realistic and captivating. We read Shakespeare, Mark Twain and Poe, but never any work with a Latino spirit, or whose names sounded like ours, or with protagonists that looked like us. Moreover, I had recently graduated from college, had been reading mostly political science and public administration reference books and had just finished writing my Urban Politics civil philosophy book. When I finished the book, it influenced me to see literature in a different way and I knew instantly that I could write novels too. For us writers, we read and analyze others' work and are inspired by such, thus taking our style in different directions. The book was gripping throughout the whole process.
From the romantic relationship, to the stories in Latin America, to the death squads and military abuses in Central America, to the symbiotic relationship and conflict of the main characters, to the burning of Los Angeles. I took the book with me to the talk to get it signed and I found that Hector and I shared a lot of similarities. Afterwards, upon reflection, I understood with the utmost simplicity that the writer writes because he or she has no choice. It is what we do, even when we sometimes don't want to do it. The Tattooed Soldier helped me see that the majority of my work should be centered around my city, to let others view it from a landscape that's on the bottom, and from a perspective that represents common people from the abyss.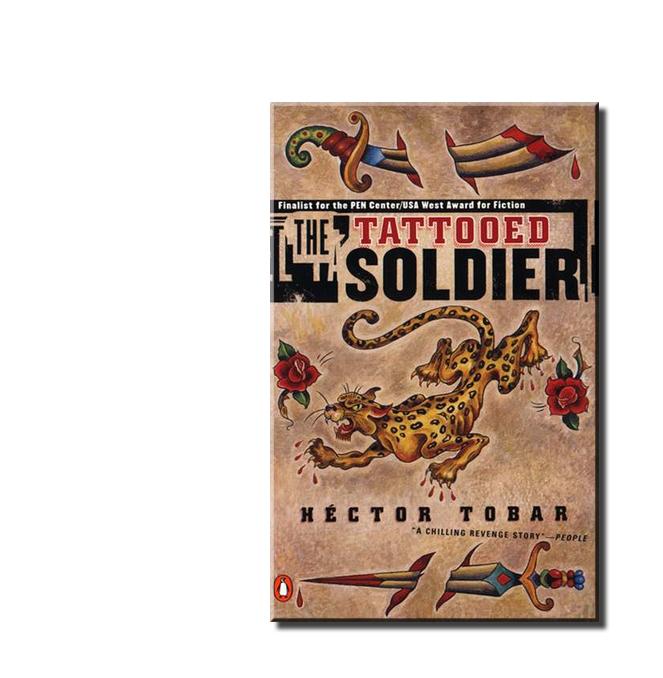 REAL LIFE. REAL NEWS. REAL VOICES.
Help us tell more of the stories that matter from voices that too often remain unheard.