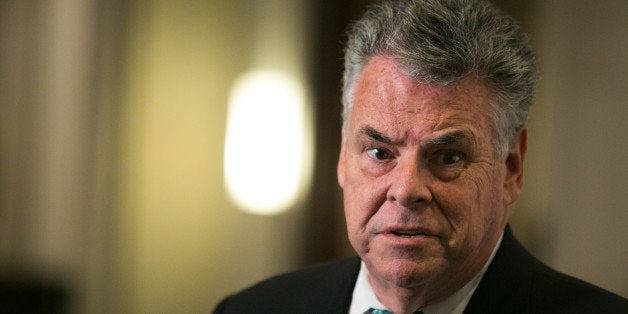 GOP Reps. Steve King (Iowa) and Peter King (N.Y.) couldn't be farther apart on the Republican ideological spectrum, yet the Tea Party Express accidentally sent out an email blasting the former, a Tea Party favorite, instead of the latter, a moderate.
Peter King recently launched a political action committee called American Leadership Now which will support Republican candidates who are hawkish on foreign policy issues but moderate on domestic issues. In an interview with Politico, he criticized Sen. Ted Cruz (R-Texas) for supporting the government shutdown and Sen. Rand Paul (R-Ky.) for "being isolationist."
The Tea Party Express called Peter King's efforts a "small tent approach."
After sending an email naming Steve King, the Tea Party Express followed-up with a correction:
"CORRECTION: We sent out this email earlier and made a glaring error that we apologize for," the email said, this time naming Peter King. "We mistakenly wrote Steve King when it is Peter King that we have issue with. Unlike Peter King, who has been attacking the Tea Party with lies and smears, we hold ourselves accountable for the inaccuracies we make. We are sorry to you and our friend Steve King for the mistake."
In the initial email, the group had sided with Cruz and Paul:
"Senators Ted Cruz and Rand Paul, who Congressman King likes to criticize, are exactly the kind of conservative leaders we need more of in the party."
Targeting Peter King, the email added, "at a time when the Republican Party's priority should be embracing the conservative Tea Party movement in order to take control of the Senate and White House, efforts to attack grassroots conservatives are destructive."
The group will have to keep in mind the distinction between the two Rep. Kings in the future - Peter King has said he "would consider" a presidential run in 2016.
REAL LIFE. REAL NEWS. REAL VOICES.
Help us tell more of the stories that matter from voices that too often remain unheard.
BEFORE YOU GO
PHOTO GALLERY
Tea Party Statements