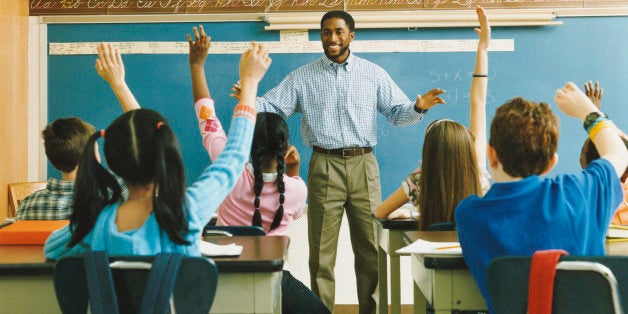 The final installment of The Hunger Games will be in cinemas soon. Many, including myself, have enjoyed the dystopian series about a government that forces its districts' children to compete for survival. The book series is widely read by young adults and has even made its way into classrooms.
Speaking of classrooms, have you heard the news? The National Center for Education Statistics reports that the U.S. student-teacher ratio is now 16 to 1. While it may not be as low as 2008's 15.3 to 1 ratio, it is certainly better than 1990's 17.2 to 1 and decimates 1965's 24.7 to 1. Even better, the NCES predicts that this ratio will continue to decline over the next five years.
But this ratio is perplexing when juxtaposed to the education headlines of the summer. Many districts were experiencing a "massive teacher shortage."
If this is true, why does it conflict with the dramatic improvement in the student-teacher ratio over the last 50 years?
This can be explained by adjusting the focus -- it's not about how many teachers we have, but rather where they are.
Indeed, some districts are struggling to find teachers. Arizona still had 1,000 available teaching positions just before this school year began. One North Carolina district reported 200 open teaching jobs. Some schools have as many as 35 students per teacher -- a far cry from the recommended 18 to 1 ratio and even further from the national average.
Yet in stark contrast, some schools have no teacher shortage at all. Private schools have an average student-teacher ratio of only 12.5 to 1. The state of New York, known for paying its teachers quite well, has the opposite problem -- teacher supply actually outpaces demand.
When it comes to recruiting teachers, the odds are in the favor of schools that can pay them.
This means the odds are against poor schools, and the evidence mirrors just that. For example, schools in low-income areas lose 20 percent of their faculty each year, according to one study by the Harvard Graduate School of Education. That's twice the national average.
The current system of funding education, one that primarily relies on state and local property taxes, is the culprit here. Because of it, poor districts receive substantially less resources to recruit more teachers. And the situation is only getting worse -- since 2001, the funding gap between the richest and poorest quarter of schools increased 44 percent across 30 states.
Today, a teacher earns more in a suburban school than any other locale. Yet it's inner-city and remote rural schools that need teachers the most. Unfortunately, these schools have to focus their resources on other necessities, like free lunch programs or disperse transportation routes. Even if schools could offer comparable salaries, it would not be enough to entice teachers to move to impoverished areas. To accomplish that, low-income districts would need more funding than the others.
Some school systems have caught on to this. Finland, a country often perceived as an educational beacon, nationally funds its schools based on their number of students. Even more extraordinary is that schools in Finland are given additional funding if they have a higher proportion of immigrant and/or impoverished students.
If Finland is too homogenous for you, then look to Massachusetts and New Jersey. Not only did Education Week rank their school systems 1 and 2 respectively, but they are also two of only four states that supply "a sufficient overall level of funding and provide significantly higher amounts of funding to high poverty school districts," according to researchers at the Education Law Center.
In New Jersey, the per-pupil funding gap between districts in the 5th and 95th percentiles was $10,000 -- in favor of low income districts! Unfortunately, most states are far below this standard of education equality.

For now, the system will continue to force districts to compete against each other. Naturally, the stronger districts will continue to win. And even worse, this competition will continue to put our children's lives at stake.
Calling all HuffPost superfans!
Sign up for membership to become a founding member and help shape HuffPost's next chapter