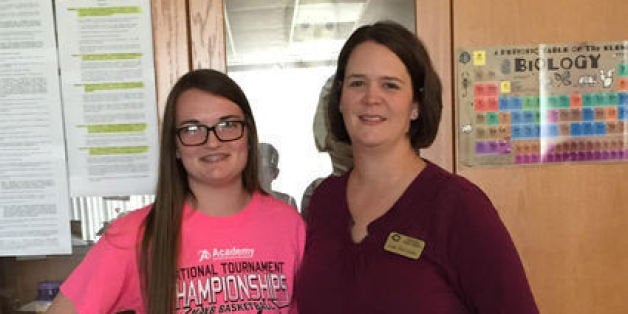 Mrs. Lori Pettijohn is a science teacher at Chickasha High School in Oklahoma. I have had the pleasure of having her for a year to study Biology. And in just one short year, she has become my all-time favorite teacher.
Science has always been one of my weakest areas in school until this year. Mrs. Pettijohn changed that for me. Mrs. Pettijohn teaches in a way in which you hang on to her every word, or at least I do. It is a rarity to find such a high quality teacher in schools these days, but I would say she is of the highest quality. Not only does she know what she is supposed to teach, but she knows way more. I've learned a multitude of things: genetics, the difference between acclimation and adaptation, the classification of organisms, the difference between prokaryotic cells and eukaryotic cells and all about invasive species. However, this alone does not at all give justice to what I have learned. Even more importantly, she has taught me how to be a better student, friend and person, and for this I will be forever grateful.
Mrs. Pettijohn is one of those teachers who truly cares for you. As a student you are not just another kid who fills one of her seats. She makes you feel as if you are a human being who has so much more to offer in life than 45 minutes of your attentive ears a day. She is like a mama bear to each of her students and each day she asks us what "good thing" we want to share; she doesn't ask just to be polite, she genuinely wants to know. I don't know if she will ever know how much she has positively impacted my life and so many others. Mrs. Pettijohn is someone who I never want to disappoint. It is evident in her's and each of her student's eyes that she loves teaching.
One of my favorite things about her apart from her teaching is that she is very sarcastic. Mrs. Pettijohn loves to joke right along with you as if she sees you as one of her friends. She makes science fun.
Mrs. Pettijohn changed my outlook on school in two ways. One: never again will I approach a class just to get the AP or Honors credit. She taught me to go through life striving to learn and find opportunities to teach others. Two: science can be exciting. You just have to have the right person teaching it and always have an open mind.
William Arthur Ward once said, "The mediocre teacher tells. The good teacher explains. The superior teacher demonstrates. The great teacher inspires." Mrs. Pettijohn falls into the latter category. She inspires me daily to never settle for anything but my best. She inspires me to fiercely care for and love others. She inspires me to be great.
In ten years when I'm looking back, if I am half the example she is to me today I will count myself lucky.
Become part of the conversation and tell us about your own favorite teacher using the hashtag #HPHeartsTeachers on Twitter and Facebook.
PHOTO GALLERY
Gifts For Teachers
REAL LIFE. REAL NEWS. REAL VOICES.
Help us tell more of the stories that matter from voices that too often remain unheard.