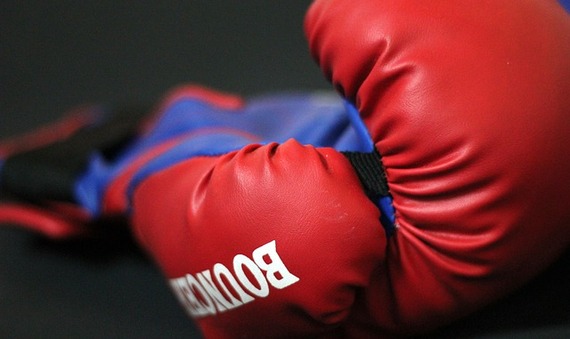 As the world awaits the awe inspiring "Fight of the Century" between Floyd Mayweather, Jr. and Manny Pacquiao on May 2, techie's are focused on another crucial battle. We aren't chanting a name per se, but for more online storage, easier access and reliable security.
The top contestants - Google Drive and One Drive

Whether defending those treasured family moments or shielding those vital business documents, cloud storage has become essential. We are the generation of content that seeps through every electronic device that we own. We have come to know the cloud as the perfect match for our ever ending obsession with photos and mp3's.
For information technology organizations, content is the bottom line. There is of course much more data and more concerns regarding content management. Microsoft's 2014 mantra "cloud first, mobile first" is still ringing in our ears. In this day and age you've got to know what you're up against. How do you select the right online storage provider to secure your most prized digital possessions? How do you understand it all without visiting Wikipedia all day?
Google Drive
In one corner you have a household name. From medical terms to mysterious bugs, you can find it all with this strong arm search engine. We've all heard of Google and its storage capabilities are as expansive as Mayweather's career. Google Drive offers 15 GB free online space to store photos, stories, designs, drawings, recordings, videos and more. You can access additional applications for documents, sheets, slides and forms. If your storage needs involve multiple parties, you can also share and collaborate.
With over 271 million mobile subscribers in the U.S. alone, according to Forbes.com contributor Cheryl Conner, access is in demand. But you won't need Pay-per-view to easily revisit that million dollar photo that you took over the weekend with a smartphone, tablet or computer. Best of all you can expect safety and security with SSL encryption.
The new Google drive boasts of advanced features, including the ability to create new items expeditiously, select your visual preference, and an option to use the grid view to streamline documents. You can secure 100 GB for $1.99 and up to 30 TB for $299.99, but don't ring the bell just yet.
One Drive
With the growing popularity of Office 365 and other Microsoft products, One Drive is gaining momentum. It also allows you to access documents from a smartphone, tablet or computer. You can easily upload documents from the Microsoft Office Suite or create Folders, Word documents, Excel workbooks, and PowerPoint presentations.
Its user friendly interface leaves room for another round of comparison. In addition to being able to upload files or folders as fast a right jab, you can also gain a better understanding of your storage space through multiple viewing options. This includes a simple details view, a thumbnail view and an exploratory details pane.
From a business perspective there are additional benefits. While the mounting data breaches leave many discontent, users can expect extensive cloud security and 99.9% uptime. One Drive is built according to ISO 27001 standards, an information security management standard highly recognized in information technology.
And The Winner Is...
From a bird's eye view, it can be difficult to make a decision. There are several key differentiating factors. One Drive may be seem more easily accessible because of its Windows 8 and 8.1 integration. If you typically utilize Hotmail or Live email services, you arbitrarily have a box waiting for you. For many loyal techies who are in a committed relationship with Microsoft Office, One Drive may be a more comfortable choice. It may be readily available on your desktop or a toggle away on your Windows phone.
Although Google Drive offers similar tools for document creation, it is more widely known for its email service and search engine functions. Yet, it is easily linked to popular websites like YouTube and complimentary applications like Google Voice. Both services are competitive in pricing, free storage allotments, operating system compatibility. In the end, this battle may be left to the judges. The victory is in the freedom to try them both risk free.
Popular in the Community