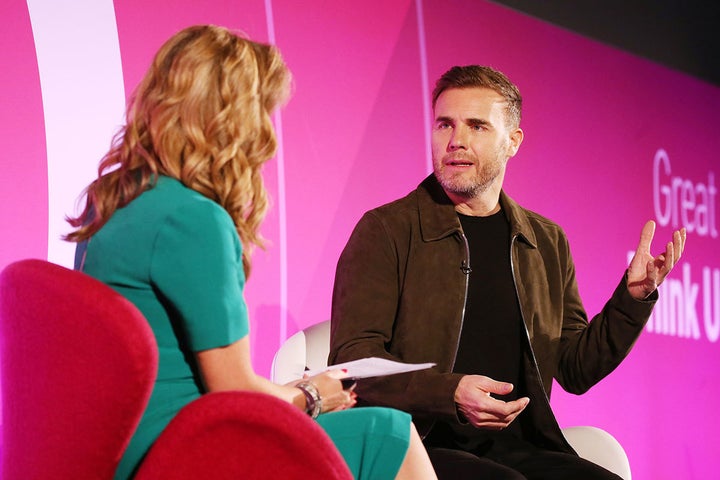 Much of what we do in our daily lives has been seismically changed, challenged and transformed by technology, whether it's the way we communicate with each other or the way we purchase a new pair of shoes. And while music is no doubt a huge part of the technology equation, rarely do we get an insider's look behind the scenes at how the music industry has been evolved by new technology today.
During Advertising Week Europe, Gary Barlow, famed producer, songwriter and lead singer of Take That, sat down with Nicola Mendelsohn, VP EMEA for Facebook, to discuss the evolution of his career and the impact technology has had on the industry in the time since he first took an interest in music at age 10.
Barlow, who credits artists like Elton John and the Beatles for inspiring him to take to the piano at a young age, spent much of his early career performing as a solo artist before a manager recommended he join a band. However, even in the company of bands like New Kids on the Block, the taste in music at the time made finding musical direction for the band, later called Take That, increasingly difficult.
"In the late 80s, it was a lot of faceless dance acts, and everyone wanted something else. Pop music and pop stars, they just weren't in fashion at that point – nobody wanted it," Barlow said. "And neither did the labels, because they do what the people want."
After struggling to find their footing and enough of a following to spark real interest in their music, the band went to their management with a simple request: provide us with some time and a decent van. They did, and Take That traveled throughout the UK performing their music night after night.
"We had these cards where people could write their names and information on them, and at every show we would throw these cards into the audience in the hope that kids would fill them in and put them back in this big yellow box," Barlow said.
After months of performing gigs, the band brought the collection of information cards back to their label to input into a database. Within six months, Take That had accumulated over 400,000 names in the system.
"When it came time, we mailed these people with our single, and it went right to the top because we had established this immediate following," Barlow said.
The yellow-box method stands in stark contrast to marketing methods for pop-stars today, Mendelsohn notes. Now are the days of Facebook and Instagram, the modern-day yellow boxes that intimately and directly connect artists with consumers to develop a relationship, and in turn, a loyal following.
"Today there are more mobile phones than there are people," Mendelsohn told the audience. "The phones in our hands right now are more powerful than the computers that first put a man on the moon."
Barlow said the ability to interact with fans, followers and supporters over social media is what he loves most about being in the industry today, particularly as his day-to-day grows more interesting with each new business venture he takes on. On any given day, Barlow travels between speaking appearances, music meetings, work for his new play on the West End, The Girls, and more.
"I'm blessed to have such a diverse life doing cool things. Like on days like today, for me to be able to have a phone in my pocket to capture it, that's an amazing thing," Barlow said. "I love that I can talk to whoever I want, whenever I want, with nobody in between. And they love it too."
About Advertising Week Europe
Now in its fifth year, Advertising Week Europe is a hybrid of inspiring thought leadership, entertainment and special events celebrating the industry and its people. For one week, from 20–24 March, the brightest leaders from the marketing, advertising, technology and entertainment industries join together in London to share their visions, passions, and best practices. From seminars and workshops led by some of the greatest minds in the industry by day, to world class entertainment in London's most iconic venues by night – Advertising Week Europe's premier roster of events is like no other.
Related
Popular in the Community