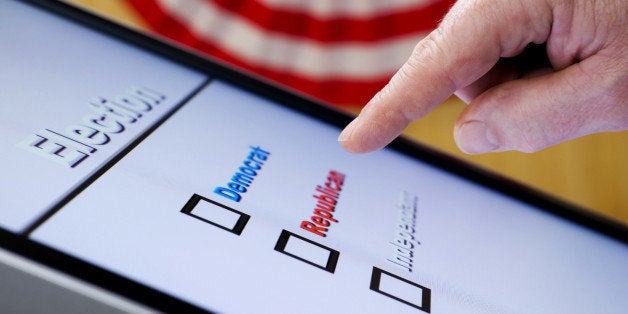 This fall, most of us will likely be casting our ballots on a machine running some version of Windows 2000. These 1990s machines were rushed into the market in the wake of the Bush v. Gore election of 2000 and paid for under the Help America Vote Act of 2002 (HAVA). In 2014, those machines are now obsolete, breaking down, and survive only on a steady diet of spare or cannibalized parts.
State and county elections officials know that the state of elections is facing an impending crisis. We saw a preview of this in 2012 with long voter lines and numerous glitches. The question is how can we improve this technology to bring our polling places and voting experience into the 21st century? And how do we pay for this technology?
Last week, a group of investment firms offered one pathway. These mostly-U.S. venture capitalists put a total of $104 million into a small Spanish election technology company that has its eye on the U.S. market. That's an awful lot of money and a high degree of risk to put into what is essentially a small and not expanding market -- state and county elections officials in the U.S. These local boards and officials literally cannot afford multimillion-dollar purchases of new elections technology and can't afford to wait while new machines go through the long process of federal certification.
A larger concern -- an issue that should resonate with every voter -- is whether our elections technology should be the domain of a foreign and private company using proprietary "black box" technology that we can't shine a light on to see if it's working. The most critical parts of our country's physical infrastructure -- roads, bridges, highways, dams, airports -- are subject to frequent and regular inspection to see if they'll stand up. We would be hesitant to get in our cars and drive to work if we weren't assured that the bridges we cross would be in good condition, accessible and safe. Why is our elections infrastructure any different when it is the conduit by which we maintain our democracy and way of life?
There is another path to solving our elections technology crisis. It's an American path using American know-how. We've witnessed enormous innovation over the past 20 years thanks in large part to the concept of freely available, non-proprietary, computer software commonly called "open source." Most websites in the world run on open source software, including the best-known mix of Linux as an operating system and Apache as web server. Open source is not free, but it does several important things. First, it makes the ownership of the technology public. Second, it removes the proprietary nature, making technology glass box rather than black box. Third, it dramatically reduces the total cost of ownership, placing real innovation within reach for those on restricted budgets.
Consider the seven-year-old American non-profit TrustTheVote Project in the Silicon Valley, which is led by many of the same technologists who have brought us innovations such as the World Wide Web and smartphones (Disclosure: I sit on the board of directors of the TrustTheVote Project's parent foundation). Work is underway now (with portions of it already deployed in the Commonwealth of Virginia). It is freely available and will run on "off-the-shelf" computer hardware. The inherent transparency means total visibility of all potential issues and their resolution. Integrity of the technology is made possible by the glass box nature of open source -- criminal hackers can't lurk in an environment where there are no shadows.
A Silicon Valley-built, open-source solution is the right path forward to building a publicly owned, critical democracy infrastructure. Washington cannot lead this charge. The current commercial environment cannot deliver what is required. Yet, the Silicon Valley has never stopped innovating, and innovations born in this hotbed have improved every aspect of everyday life. For our critical democracy infrastructure -- our voting process -- a publicly owned, open-source approach may be the kind of 21st-century innovation necessary to avert an impending crisis in American elections. It may be the real solution for the technology of democracy. And it won't cost over a hundred million dollars to build.
Calling all HuffPost superfans!
Sign up for membership to become a founding member and help shape HuffPost's next chapter