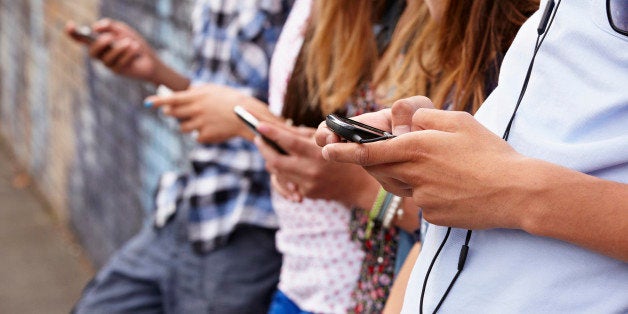 The insults kept pouring in, the middle schooler told me, until she read one that made it nearly impossible for her to concentrate on her schoolwork.
'U should die,' an anonymous poster had written.
She had stopped me after a presentation I'd given at her school about social media, and explained the nightmare she suffered the previous school year after creating a profile on Ask.fm, a social media site that allows people to leave nameless, faceless comments on other's profiles. At least seven teen suicides have been linked to Ask.fm in the last two years.
Hours later I presented to 200 parents at the same school. When I asked how many of them were familiar with Ask.fm, only two hands went up.
For the past few years, I've seen teens shift their social media habits to apps and sites that provide illusions of ephemeral and anonymous interactions -- illusions that are quickly eroding their social and emotional well-being, and can be deadly.
Earlier this month, Snapchat announced it had turned down a $3 billion acquisition. In less than three years, the mobile messaging app has exploded in popularity, with 400 million messages and photos sent through its system each day. Snapchat's main audience is between thirteen and twenty-three years old, and at least 13 percent of teens admit to using Snapchat regularly.
At a technology conference in Berlin last month, venture capitalist and Snapchat investor Bill Gurley explained his theory why so many children gravitate towards the app:
For kids, the Internet is increasingly becoming a place that you can't have fun, that you can't socialize in the way you want to. I think that is the essence of Snapchat. It's a platform where they can communicate and have fun without any anxiety about the permanence.
Recipients of Snapchat messages have up to ten seconds to capture a screenshot, so those who use it "without any anxiety about the permanence" are sorely mistaken. Numerous Snapchat hacks allow users to save screenshots without even notifying the sender, and the FBI warns that pedophiles use Snapchat to lure young victims. A quick web search of "Snapchat screenshots" reveals photos and messages clearly unintended for public viewing, and begs the question: Who really believes in this online ephemerality?
The fixation with online anonymity is not limited to Ask.fm -- Vine. Instagram. WhatsApp. Frankly. Skim. Ansa. The list goes on and constantly evolves. Whisper, a mobile app enticing users to "share secrets, express themselves, and meet new people," allows users make confessions or pose a question in hopes of getting an online reaction from others. Posted statements range from the innocuous ("Disney Channel should have a throwback week") to the far more alarming ("I want to commit suicide").
While some teens go online for support with issues they feel uncomfortable discussing with family or friends, many experience how quickly these apps can become an outlet for aggression and hostility. One in five teens say they have been harassed within the last 12 months, and 16 percent of them were tormented online or via text.
We're Having the Wrong Conversation with Our Kids
Bill Gurley is right: Many kids feel the Internet isn't fun any more. We've created so much fear around getting caught that we're pushing them into hiding. A 2012 McAfee study revealed that 70 percent of teens actively attempted to conceal their online behavior from their parents. Students I speak with admit to creating multiple Instagram accounts or disguising their identity on Tumblr to hide their postings and photos.
We need to realize what we are really glorifying when we let kids buy into these illusions of ephemeral and anonymous interactions. Adolescents who are still building social and emotional resilience are often unable to cope with the onslaught of anonymous online interaction, and yet many of these latest apps target them as the key demographic. It is also far more difficult for kids to develop empathy skills when they hide behind a computer screen -- and nearly impossible when they falsely believe photos and messages will disappear and/or remain anonymous.
To be sure, there is no simple solution to the complex world of teen online socialization. And just as with alcohol and sex, adolescents often look to their painfully uninformed peers for social media guidance when they could really use some adult supervision and support. At the same time, most adults remain utterly unaware of the nuances, in part because they never experienced it for themselves. Even those who try to stay informed face an uphill battle as popularity constantly shifts. Teens are fickle -- as noted in the recent Pew research study suggesting that teens' enthusiasm for Facebook is fading. Though 94 percent of the teen users still had Facebook accounts, many admitted that they now focus their online efforts on other sites like Twitter, Instagram, and Tumblr.
Changing the Conversation
The seventh grade girl ultimately deleted her Ask.fm profile altogether. In less than a week, she felt a monumental difference. "I feel like a weight has been lifted from my shoulders," she said, relieved. "I'm going to have a really great year this year."
Teen online socialization is not going away. We -- and by "we" I mean parents, educators, and young people -- need to build a better level of awareness, set increased guidelines around use, spend time learning how each app using really works, and understand the consequences. Get online and build a profile on certain apps and learn how they work. Ask kids what their friends are using -- children may not be as initially forthcoming about their own habits, though most will talk openly about their friends.
Teachers also need to have a bigger role in the discussion, as classroom culture is remarkably affected by underlying social media interactions. Many teachers have no idea what apps their students are using, even though many of them are accessed in the middle of class. Having students reflect on how each app or site benefits or hinders them can be a meaningful starting point for classroom discussion.
It's no secret that adolescents also should spend more time offline. A 2012 Stanford study found that too much screen time could be detrimental to the social and emotional development of teen girls, and that the powerful antidote was simply spending more time having face-to-face conversations.
The ultimate danger of this vanishing act trend that we'll overlook the online whispers until we have so many IRL disasters they will be impossible to ignore -- but, really, aren't we already there?
Popular in the Community