There are so many reasons I feel lucky to have grown up in the low-tech generation that was the late '70s/early '80s.
I love the fact that my music came from vinyl and cassette tapes and that the only thing I was able to do on my telephone was talk on it.
And blogging was done the old-fashioned way, handwritten in one of these relics:
I was a little fanatical about writing in my diary. I got my first (and still my favorite) Hello Kitty Friendly Diary when I was 7, and I talked to it like it was a person. A friend. A confidant.
But it's the books from my pre-teen/teenage years that tell the best (and worst) stories -- love, lust, passion, fashion, music... it's all there in these volumes.
The books are like little time capsules; open them up and find much more than you ever could from staring at a computer screen. Feel the pages and feel the love (and angst) of childhood.
Here are five reasons I am so grateful that I never pitched these precious books.
1. Handwriting
Childhood scrawl and my big, bubbly handwriting take me screaming back to high school.
2. The Occasional Collage
Jason should feel pretty special that I've hung onto this homage to him since 1987.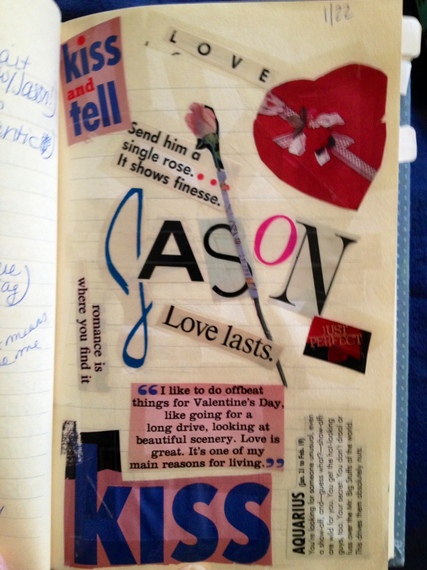 3. Mementos
Matchbooks, ticket stubs, napkins, notes and photos are all stuffed within these pages.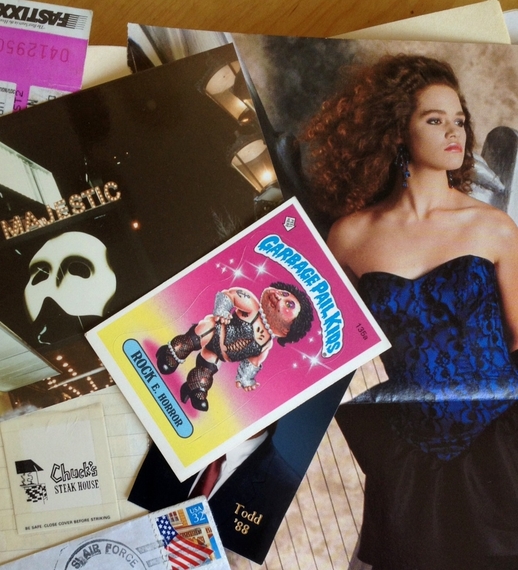 4. Song Lyrics
I painstakingly wrote out the lyrics to a Richard Marx song -- what is more dramatic than that? NOTHING.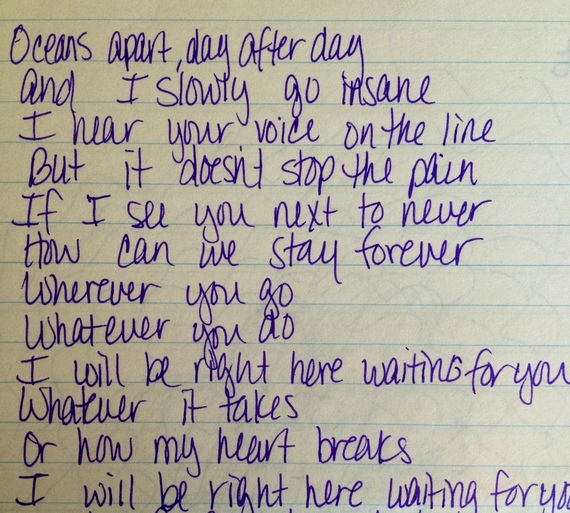 5. What I Wore
The outfits! Day after day of all the the outfits!
These are the books of my life. From the mundane, like "today in class we had a "subatoot," to the major "today we are moving, they are coming to take everything away and I don't want to be here and Brian asked me to marry him."
In retrospect, it was all very sweet.
It's all there in these pages. If there was a fire, yes, I would grab these.
As I get older, I want to continue to turn the pages, to touch the napkin from my prom night and get all nostalgic.
I want to show the R.E.M. ticket stub to my children and tell them how it was one of the best shows I ever saw and show them the entry where Mom took me out to brunch so we could talk because she knew I was struggling in school and in life. I want to smile, wince, laugh and cry as I remember who I was.
Lori's website, Drawn to the '80s, is where her 5-year-old draws the music hits of the 1980's. Her blog, Once Upon a Product, is where she writes about food, the '80s, beauty products and her Mick Jagger obsession.
REAL LIFE. REAL NEWS. REAL VOICES.
Help us tell more of the stories that matter from voices that too often remain unheard.