It's been a fascinating ride living through the evolution of TV as networks and content creators continue learning how to adapt to the advent of and advances in digital media. Additionally, the trend for more millennial-based content is on the rise, as more and more millennials enter the market and shift demand. Surprisingly however, digital media companies are finding new and financially fertile ground levering their web content where they may have least expected it…on TV.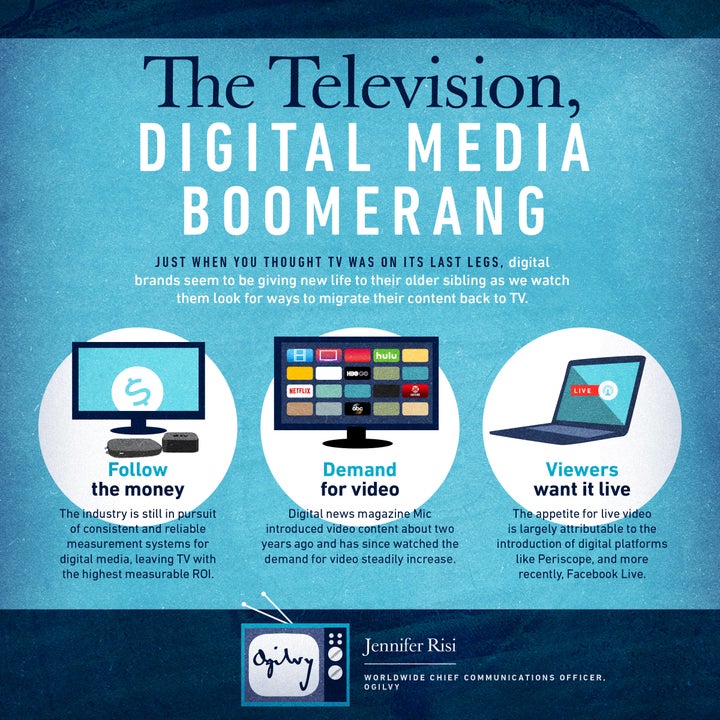 I recently attended a dinner hosted by SYPartners where I had an opportunity to talk with a leading voice in the digital media space, Chris Altchek, CEO and Co-Founder of Mic, a digital news magazine that covers international news and politics, culture, business, science, media, and technology. Altchek and his partner, Jake Horwitz created Mic specifically for college-educated millennials as an alternative to cable news. Mic has amassed more than 10 million unique visitors per month on their digital platform in just six short years. Today they are among a number of other digital media companies exploring video growth opportunities, including with TV.
I know what you're thinking: What about cord cutters? Don't millennials prefer digital content over TV? Yes and no. Take the live streaming and on demand video news network Cheddar for example. The fledgling digital network dubbed the "CNBC for millennials" is a success story for how a digital platform can replicate the look and feel of a traditional TV cable news show, without the cost and limitations of cable network. In fact, the brand coins itself as "the leading post cable network" and currently has more than 10 thousand unique visitors per month -and growing. Brands like these continue to tout their ability to quickly accumulate audiences large enough to rival those of traditional TV to entice advertisers to spend more money in the digital space. And just think, Cheddar only has one-tenth the reach of Mic.
During our conversation, Chris mentioned that Mic introduced video content about two years ago and has since watched the demand for video continue to steadily increase giving, rise to the notion that TV is still an extremely viable content platform. Mic's video debut included short videos with overlaid text that ran on Facebook for free. Yet Mic clearly understands the growth opportunity for models similar to Cheddar, and is knee-deep in their journey to expand video and leverage the growth potential. Other trusted brands, like BuzzFeed and Mashable also are jumping on board the digital-to-TV train, securing investments from the network giants, NBCUniversal and Turner Broadcasting respectively, to create video content. Unlike Cheddar however, these brands come to the table with a much larger audience familiarity and reach, and built-in brand loyalty.
If digital media is the wave of the future, why the migration back to TV, you ask? Follow the money. When it comes to advertising revenue, TV is still king. The industry is still in pursuit of consistent and reliable measurement systems for digital media, leaving TV with the highest measurable ROI, and digital brands know this. What's more, a large portion of advertisers' digital spend actually promotes TV content. If we've learned nothing else from models like Netflix, Amazon Prime, and Hulu, it's that millennials not only seek convenience, but they also are willing to pay for the content they want. Mic, among other digital brands, are primed to take advantage of the new landscape by broadening access to their video content. The idea is to take advantage of revenue streams from both advertising, as well as the purchased or subscription video content.
The international cable TV newcomer, Viceland is probably the best example for where Mic and others seem to be headed. Similar to Mic, VICE (Viceland's parent) entered the market with short news videos that ran on Facebook for free. Fast forward a few short years, and the brand has grown into an entire cable network with content reflective of VICE's digital brand. VICE also parlayed their video success into an HBO series, "Vice News," which airs daily on weekdays. No doubt Chris heard VICE CEO Shane Smith loud and clear when he confidently told The Hollywood Reporter last year that, "12 months from now we'll be on the cover of Time magazine as the guys who brought millennials back to TV."
Mic shows no signs of walking away from the digital print model where it has found great success, rather they are looking to elevate the brand and take advantage of the obvious, enormous growth potential. Another driving factor behind the trajectory of digital brands is the appetite for live video, largely attributable to the introduction of digital platforms like Periscope, and more recently, Facebook Live. Digital brands like Mic are keeping this in mind as they continue writing their next chapters. And they are not alone.
In addition to new brands entering the scene, established brands also are part of the migration back to TV. For example, YouTube recently launched a new subscription app called YouTube TV, which offers live streaming TV with the look and feel of traditional TV, as well as a cloud-based DVR service, and a link that directs viewers to YouTube content similar to those TV shows saved on their DVR. Facebook also is getting in on the action, announcing in February that the brand is developing an app for cable set-top boxes and streaming devices, including Apple TV, Amazon Fire TV and the Samsung Smart TV where the viewer experience is slated to include live and prepackaged video shared by friends, published pages, as well as videos recommended by Facebook. However, unlike the newer brands in the space that produce their own content, reports indicate that the social media behemoth is in talks with other media companies to license TV shows for their new platform.
Just when you thought TV was on its last legs, digital brands seem to be giving new life to their older sibling as we watch them look for ways to migrate their content back to TV. And we get to watch it unfold in real time. It's all very exciting!
* NOTE: Shareese Thompson contributed to this article.
Related
Popular in the Community