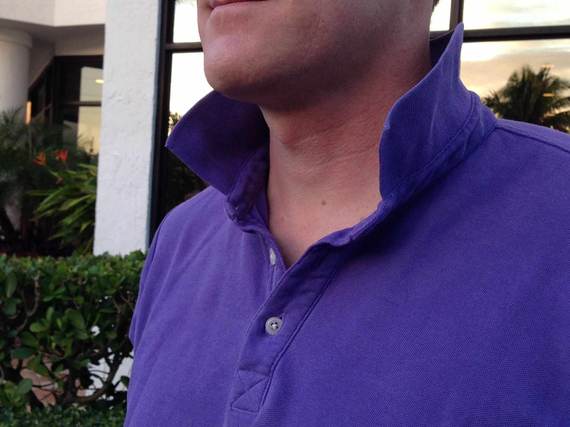 Have you ever wondered if there's something you're doing with how you dress -- either consciously or unconsciously -- that might be causing women to react less favorably to you than you'd like? Humans are visual creatures, and first impressions matter quite a bit. With Valentine's Day coming up, and with it the possibility of romance (or attempts at romance on the horizon) this is an especially key time to be sure not you're not making any style mistakes.
I wrote a piece a while back on how to look irresistible to women, and now I'm sharing my list for what not to do. You know the obvious don'ts, like pleated pants, clipping your phone onto your belt, skinny jeans, and boxy suits, right?
Below are ten more nuanced don'ts that you may not have previously thought of (and that you may even have been thinking of as do's).
1. Shiny black leather shoes with jeans
2. Suit jacket with jeans (as opposed to sportcoat/blazer)

3. Wearing the same thing to work as you do going out

4. Popped collars

5. Overfilling your pockets
6. Running sneakers and gym socks with nice shorts
7. Untucked dress shirts that are too long and were not designed to be untucked

8. Saggy, wide-legged work pants
9. An entire wardrobe consisting of shirts with writing or logos on them

10. Overt branding (spending all of your money on items with prominent logos and branding gives off the unsexy and arrogant message that you have something to prove in terms of achieving a certain status. You should buy brand names only if/when you like the quality, fit and look).
Does anything surprise you on the list above? Have you noticed anything else that seems to turn women off? Let me know in the comments below!
Related