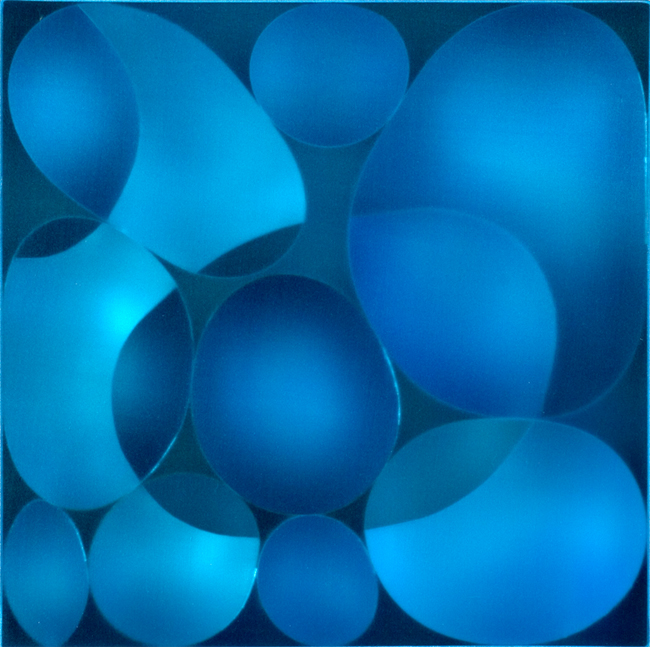 Carrie Seid: Animal and Mineral | Made primarily of metal, wood, and silk, and incorporate illumination and pattern investigation to conjure various states of being, Seid describes her work as an "...attempt to convey the anatomy of human emotions and sensations through form, structure, and the glow of saturated color."
"The human experience of being simultaneously tenacious and vulnerable is referred to through the use of silk, a material which is delicate yet possesses a tensile strength greater than steel. Tension is built, both physically and metaphorically, as two elements quite opposed in character meet to form the surfaces and contours of the work. By combining these translucent and reflective materials, I am able to solidify and objectify ephemeral qualities of light."
"The tension between geometric and biomorphic forms in my work allows me to explore the tension between order and chaos, constancy and change."
Carrie Seid: Animal and Mineral opens June 25 at Lora Schlesinger Gallery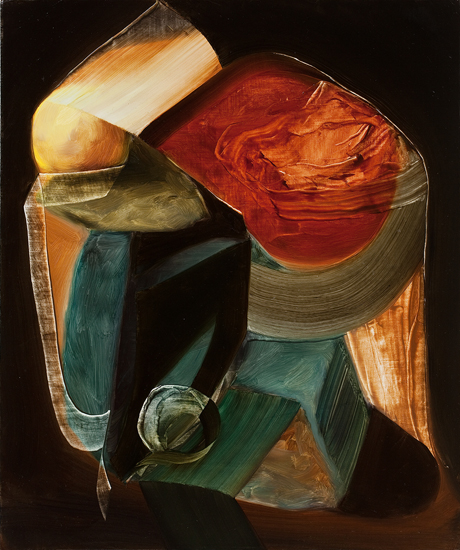 Lesley Vance | Each painting makes use of a full range of effects associated with oil paint. Their compositions, activated by illusionistic plays of light and wet-on-wet brushwork, function as vessels for the movement of paint itself: for hue, viscosity, and the relationship between hand and medium. The work is defined by this simultaneous action, one in which paint can be seen both for its intrinsic properties and for its ability to imply fictive spaces.
While Vance's process begins with the observation of actual objects that she arranges and lights in the studio, the paintings are records of an evolution of materials, and of the transformation from one set of objects and light effects to another. In Vance's work abstraction is a force that establishes alchemical relationships between artworks and the circumstances that give rise to them.
Lesley Vance opens June 25 at David Kordansky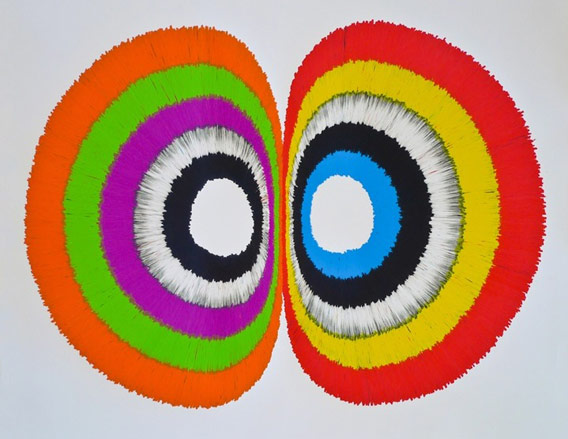 Dennis Koch: Standing Waves | Here is a collection of abstract, colored pencil drawings and sculptures that appear to resonate; dipping and shifting in patterns of motion. Exploring the fractal vibratory qualities of Cymatics, the study of visible sound and vibration, Koch uses repetition and recursion to map subsystems of lines and color. He then layers, refracts, or creates interference patterns to observe the emerging self-organizing geometric patterns.
Referencing various physics related theories, Koch challenges the on-looker to decipher a visual language and coded system found within the work. Through applying the principles of Systems Theory to his own art making process, Koch's layering of multiple steps or subsystems accumulates to create the larger superstructure. It is through the experience of the repetition of these subsystems, that Koch intuitively generates a self-correcting feedback-loop to find the solutions to the greater whole. It is also through this rhythmic interplay of chaos and reintegration, that the artist renders the cohesive energy of each piece.
Dennis Koch: Standing Waves opens June 25 at Marine Contemporary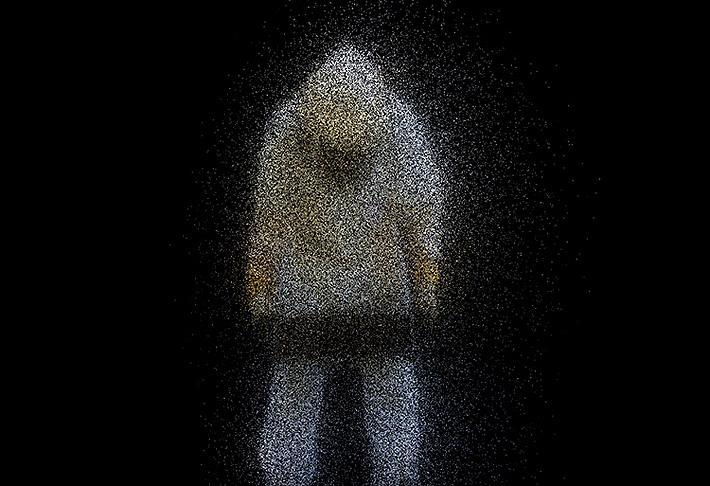 Lita Albuquerque: Emergence | Emergence examines two series of works by Ms. Albuquerque: Red Pigment Paintings and Beekeeper. Both projects began in 2005 and are a continuing series. Emergence looks at essentially two works in which complex systems and patterns arise out of a multiplicity of relatively simple processes or actions.
Beekeeper (still image shown) was created in collaboration with Jon Beasley and Chandler McWilliams. The works in this series include a computer generated digital installation and a set of photographic prints. In the installation, Beekeeper is controlled by generative computer software, creating a continuous flow of pixel movement following a unique path every time. An image of a beekeeper is in a constant cycle, dissolving from a solid form into a sea of wandering pixels, and then emerging whole again as the pixels re-condense the figure.
Lita Albuquerque: Emergence runs through October 3 at Laguna Art Museum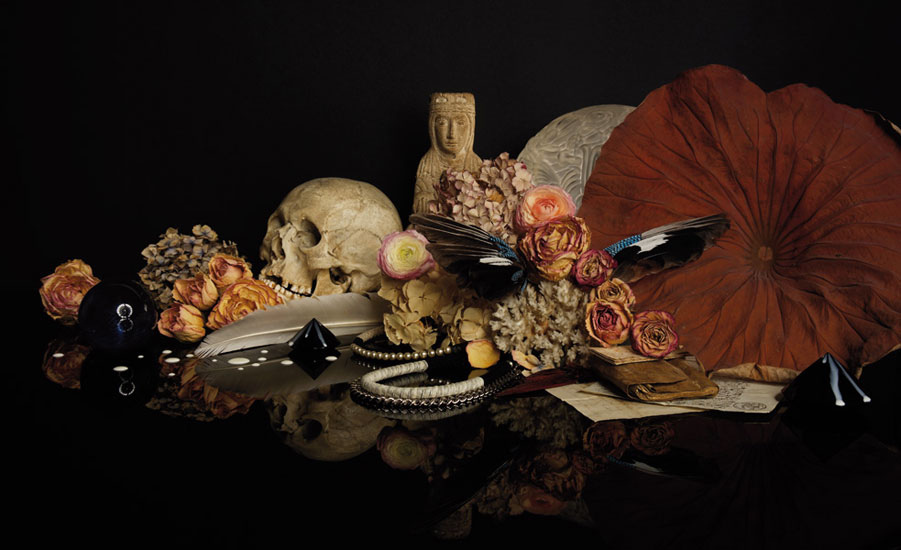 The Big Idea | With a roster of art directors, illustrators and graphic designers, Monsieur L'Agent has forged a reputation for delivering innovative graphic solutions to a range of projects and briefs. For this, their first official group show, all the participating artists were given the same brief: Design a billboard that illustrates your interpretation of "The Big Idea" - the term coined by George Lois - one of the advertising world's great art-directors.
"The search for The Big Idea: to solve a specific communications problem with words and images that catch people's eyes, penetrate their minds, warm their hearts, and cause them to act... the passionate belief that creativity can solve almost any problem - The Big Idea, the defeat of habit by originality, overcomes everything. Great graphic communication depends on understanding and adapting to the culture, anticipating the culture, criticizing changes in the culture, and sometimes helping to change the culture...." - George Lois
This exhibition can be seen as an homage to Lois' talent in visual communication, a way to evoke the world of advertising in a subtle and more artistic manner than the simple promotion of a product.
The featured artists are: Andy Rementer (USA), Anamorphée (France), Check Morris (France), //DIY (Switzerland), Douglas Lee (USA), Emily Forgot (UK), Honet (France), Ill-Studio (France), La Boca (UK), Leslie David (France), Mario Hugo (USA), Mathias Schweizer (France), Sanghon Kim (France), and So-Me (France).
Opens June 25 at the Scion Installation LA Gallery.
For more information about art events throughout Los Angeles go to Artweek.LA.
REAL LIFE. REAL NEWS. REAL VOICES.
Help us tell more of the stories that matter from voices that too often remain unheard.