"THE TENTH" is a groundbreaking new zine from a group of Brooklyn-based artists that explores the intersections of queerness, blackness and male identity.
With the first volume slated for release on April 10, the project aims to embody an expansive range of work, including fashion photography, the written word and academia, among a number of other mediums.
In order to better understand what we can expect from "THE TENTH" and the content that will be featured in it, The Huffington Post chatted with Kyle Banks, André Verdun Jones, and Khary Septh, the zine's founders, about the upcoming release of this first issue.
How did the zine begin?The concept for "THE TENTH" was born out of boredom, really. We run a creative studio out of Brooklyn where we focus on print, identity, exhibition and interactive work with clients in fashion, film and music but found ourselves wanting to invest ourselves in a creative project that wasn't seasonal, or trend based, as most of our commercial work is. We thought that perhaps we should start with an investigation of ourselves. Who were we? What things are important to us in our creative lives? We've always known that we were black and that we were gay, but the ultimate complement for many of us as commercial artists is that our work is colorless, or that we know how to play nicely with others, before we've even learned how to play amongst ourselves. "THE TENTH," is simply saying that's all fine, but, we are black and we are gay, and we are exceptional, and we wanted to bring together others like us to do work that reflects our interests as black gay men when they're free of commercial absorption and the politics of recognition.
What type of work will be featured in it?For VOLUME ONE we assorted a loose set of ideas that we threw out to our contributors and asked them to create work for us in their preferred mediums. So you have fashion photographers (Idris & Tony) and culture writers (Zach Stafford) who considered BEAUTY along with academics (Frank Roberts, Elfred Pinkard) who dissected MASTERY. We have novice and veteran playwrights (Jireh Holder & Michael Winn) writing on AGE/WISDOM through pieces they centered around drag culture and you also have literary critic (William Johnson) proclaiming NEW CANON by introducing us to a new set of black, gay writers doing dynamic work out there (Saeed Jones, Brontez Purnell, Leon Baham). We really talk about what's happening now in our culture and have no agenda to represent an image or counter any perception. We just want to play in the sandbox with other exceptional black gay boys and be faggy and angry and smart and silly and beautiful and ugly and radical and perhaps more than anything just learn to trust each other through collaboration. It really has been an incredible experience.
Who are the artists being featured?Well, collectively we are the creative directors, contemporary artists, actors, professors, designers, agents, activists, musicians and others living in worlds from art and design to academia. We cannot be clearly defined or categorized, but what we do know is that we are all in some way exceptional, taking risks and breaking norms. Some of our contributors for VOLUME ONE include contemporary art star Rashaad Newsome, fashion's hand of hip Telfar Clemens, global activist Darnell Moore, film producer Stephen Winter, rapper Will Sheridan, legendary DJ Mike Q, jewelry designer Mateo Bijoux, iconic fashion merchant Terence Bogan, and many, many more brilliant contributors. 80 in total.
How is queerness explored throughout this body of work?The work is born out of our queerness. We know that we, as black gay men will always be forced into a box. This is us coloring that box, and that is a very queer thing. Making anything beautiful, elegant, and joyous.
"THE TENTH" zine will be released on April 10 at a launch party at 355 Bowery St. in New York City from 7pm-11pm. Head here for more information and check out a slideshow of images from the project below.
Before You Go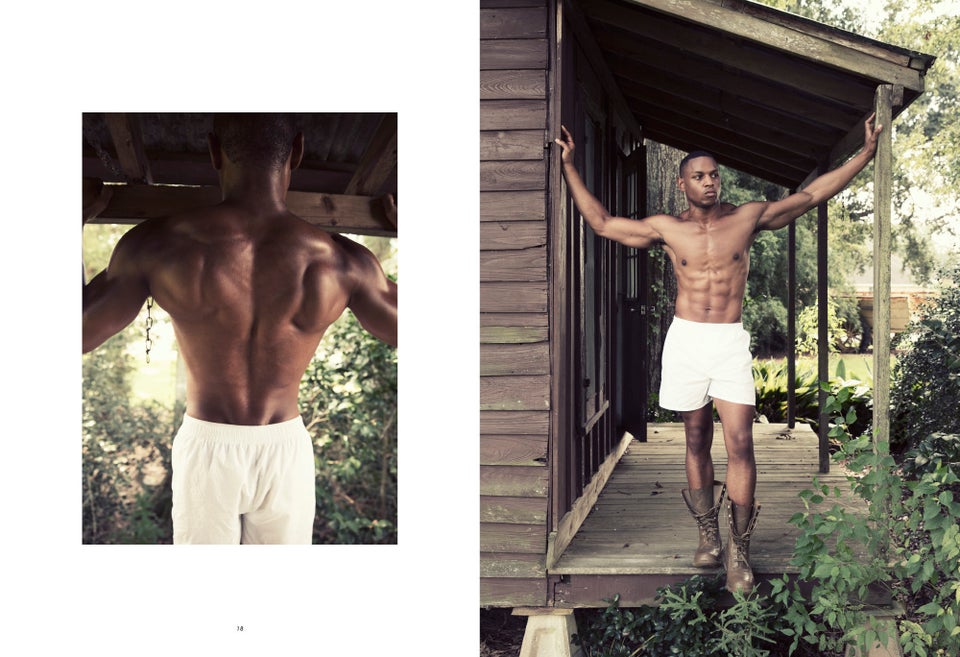 The Tenth Zine
Popular in the Community