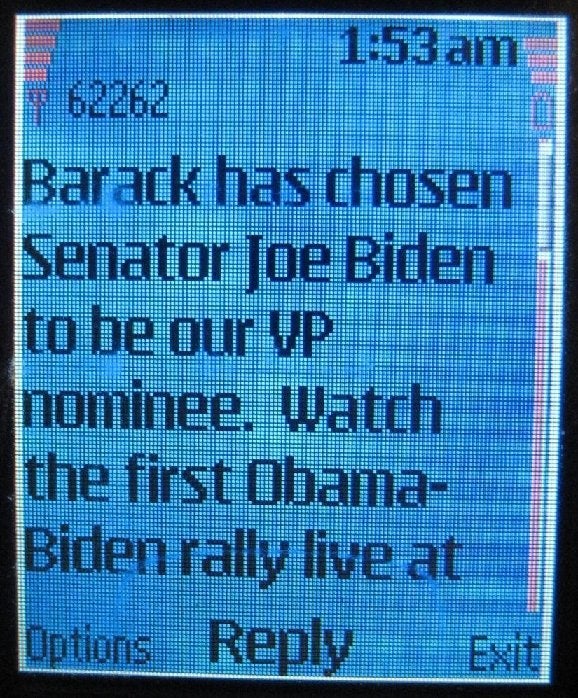 It's 3:31 a.m. EST and a text message just came in on my phone:
Barack has chosen Senator Joe Biden to be our VP nominee. Watch the first Obama-Biden rally live at 3pm ET on www.BarackObama.com. Spread the word!
Very exciting! Everyone's been waiting for this text for days, sleeping with their blackberries and on frenziedly trying to puzzle out who's been in and who's been out. Yesterday, Andrea Mitchell announced on "Hardball" that she had it on good authority that Tim Kaine and Evan Bayh were out of the running, and the Biden-for-Veep bet in the VP prediction markets was way ahead. The networks jumped on it all night, with Fox and CNN continually cutting back to the scrum of journos camped out at Biden's house (while MSNBC ran taped programming). Then it was announced that Hillary Clinton was out of it, too. (Not overly surprising.)
The Biden speculation was at a fever pitch as it became more and more obvious that it was him — a Secret Service detail was sent to his house; his office sprang to life. John King made the call first on CNN, followed by Steve Chaggaris on CBS; a CNN email alert came in at 12:53 a.m. followed by a New York Times alert at 1:05 a.m. Meanwhile, the Obama campaign was silent, at least where texting was concerned. The confirmatory message eventually came in at 3:31 a.m.
But at that point, it had blown the story: The whole point was for the Obama campaign to tell the voters directly who the VP would be (and to get their contact info, natch). Now the stunt has been a little bit upstaged — it's not such a revelation to text people three hours after the story has become basically a done deal. (Look for a little backlash on that, and maybe a little MSM gloating.) But for all their impressive leak-proofing and careful planning, they don't seem to have planned for the possibility of a leak, which might have enabled them to move quickly to release the text and regain control of the story.
Still, it's not like they needed an engraved invitation. As our friend and traveling companion Glynnis MacNicol says: "The lesson here? If you want to own the story probably best to jump on the send button once the MSM surrounds your super-secret VP choice's house with camera crews."
Indeed. Well, anyway, it's official and now we have the text to prove it. Here it is in all its LCD-powered glory below.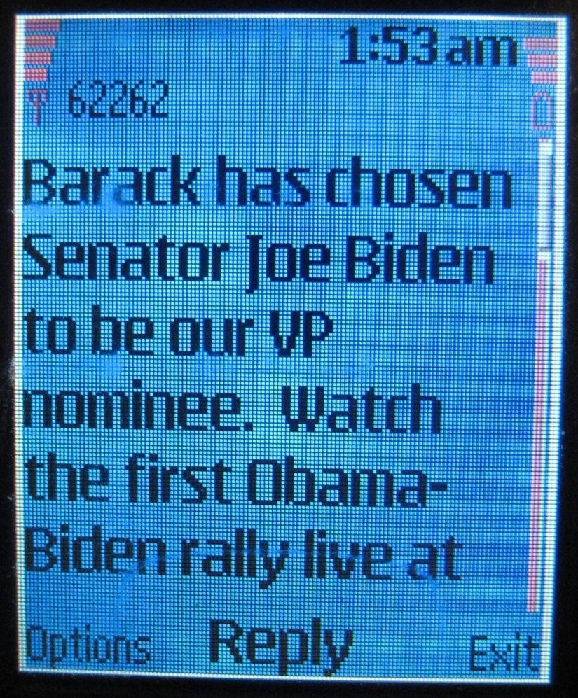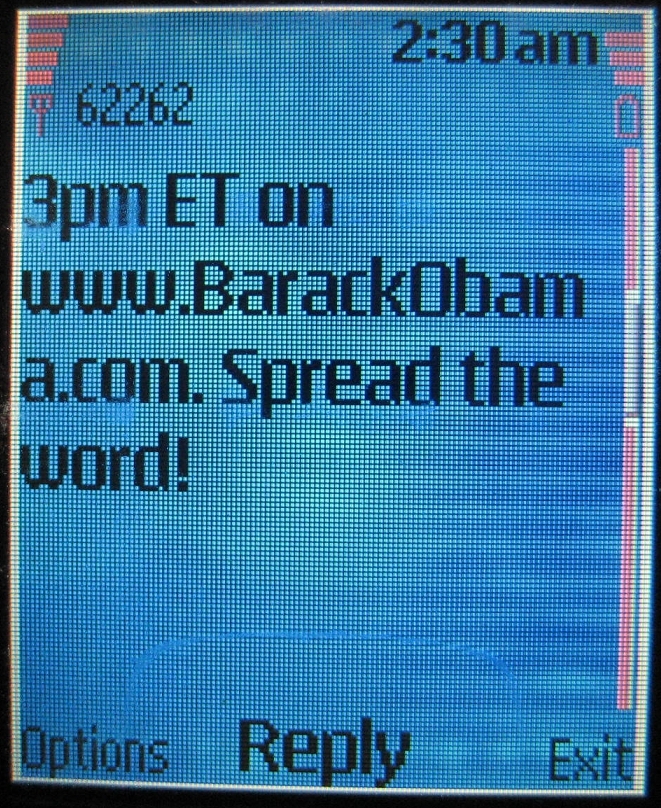 Update: Not everyone got the text at the same time — traveling pal Glynnis MacNicol of FishbowlNY received it at 9:44 a.m. ET this morning.
Also, just to clarify for some of the commenters who felt this was a small bone to pick with the Obama campaign — you're right. This text message gimmick was just that — a gimmick — and it was a smart one — but it was also specifically meant to do an end-run around the media. It doesn't mean it wasn't a brilliant strategy for getting a phone number database or generating excitement. I have pointed both out before.
But also, don't forget that midnight for the east coast is 9 p.m. for the West Coast, and there's a whole country in between that could easily have been watching the news before bed on a Friday night. Or checked their email for news alerts from CNN or the New York Times. Or been out partying and checked their Twitter and seen the news. (see here: http://www.tweetscan.com/index.php?s=Biden&u=). So the MSM did scoop the Obama campaign here, even if it was at the eleveth hour. On the whole, the idea was a great one though, and the discipline of the Obama campaign was impressive. But they did seem to have been caught flat-footed when the news finally came out.
Sending the text at 3 a.m. was sort of genius though.
Calling all HuffPost superfans!
Sign up for membership to become a founding member and help shape HuffPost's next chapter