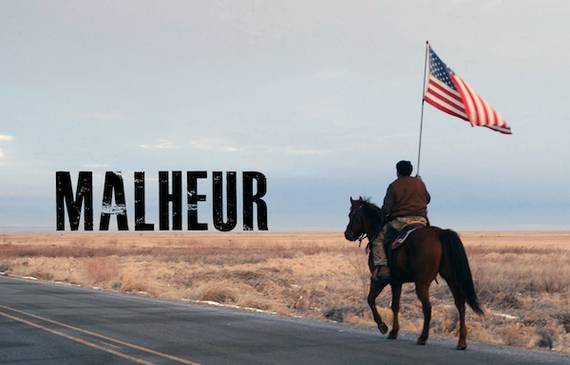 I strongly believe that fashion and film go hand in hand.
Both visual mediums to their core, they are artistic expressions that demand "usage" to fully come to life. Film by an audience, a group of people who experience the project, and fashion by a consumer, actual live people who will wear the creations.
For years, the Tribeca Film Institute has brought both art forms together, with the help of legendary Florentine fashion house Gucci. Nine years ago the Gucci Tribeca Documentary Fund was established and last week they announced their 2016 grant recipients. It is through this wondrous initiative that films like Marc Silver's 3 1/2 Minutes -- about the shooting death of 17-year-old Jordan Davis -- Beth Murphy's The List -- about the men and women the US left behind in Iraq -- and Nisha Pahuja's The World Before Her -- which deals with the different versions of being a woman in India today -- have found their wings.
The Gucci Tribeca Documentary Fund provides production and finishing finances, along with year-round support and guidance, to feature-length documentary films that highlight and humanize critical domestic and international social issues. Seven projects were selected this time around to receive a total of $150,000 in grants and 2016 also marks the second year of the AOL Charitable Foundation Award, which provides grants to three filmmaking teams whose documentaries illuminate the lives of women and youth around the globe, and spotlight the ways they are working to improve their communities and futures.
So why are film funds so essential for documentary filmmakers? Well, the short answer is the money they receive will help filmmakers of a doc finish the film. Because unlike a narrative feature film, a great documentary only takes a fraction of the cost to make, with equally haunting -- if not more so, in my humble opinion -- results.
Take An Inconvenient Truth for example. The 2006 documentary on the issue of global warming, written and narrated by Al Gore, only required a million dollar budget, and that's high for this genre. On the other end of the scale, the Matt Damon starrer Promised Land from 2012, a feature narrative on fracking in the US, needed a 15 million dollar budget. The return on the first film was more than 90 millions in box office and video sales, while the second film hardly made back its budget.
Among the jury of peers who selected this year's grantees was Oscar-winning director Sharmeen Obaid-Chinoy (Saving Face, A Girl in the River) who put it best about the strength of documentaries. "The power of a documentary film is its ability to reflect on otherwise fleeting issues that we see or hear about every day in the news," said Obaid-Chinoy. "It is their ability to draw you in -- whether through in-depth interviews or silent poetic shots that speak for themselves."
And once you are drawn in, as has been the case with past TFI documentary grantees for me, there is no turning back. That issue, those causes, became my issue, my cause.
This year's Gucci Tribeca Documentary Fund recipients are:
The Infiltrators, directed and produced by Cristina Ibarra and Alex Rivera, is a docu-thriller that tells the real -- and surreal -- story of a group of immigrants in America who got themselves apprehended by Border Patrol to 'infiltrate' secretive, for-profit detention centers, and to help other detained immigrants get free. Ribera and Ibarra admitted, "we are making a film that we hope breaks new ground, both artistically and politically. To tell this strange story we need to use both the forms of fiction and fact. It's something of an un-documentary. The validation and support of TFI will both help us get it done, and help to legitimize our efforts to others who might be afraid of the creative risks we're taking."
Malheur, directed and produced by David Byars; produced by David Holbrooke and Morgan Spurlock; edited/co-produced by David Osit. Malheur deals with bitter antagonism between right-wing militia and the federal government which has boiled over into rebellion and bloodshed. The film follows this insurrection, from inception to demise, and explores the elements that made it possible. Filmmaker Byars admitted that "the Gucci Tribeca Documentary Fund grant is improving the film in a big, tangible way." He explained that, "we were able to bolster our recent pickup shoot and add a few more weeks to the edit, both crucial to the clarity and production value of the film. Beyond that, and arguably more beneficial, is the support and mentorship that TFI is providing. Their expertise in non-fiction storytelling is invaluable to the process, and their relationships have opened many doors within the industry." Thus concluding, "filmmaking is very much a collaborative endeavor, and I'm thrilled to be a part of the TFI community."
My Country, No More, directed and produced by Rita Baghdadi and Jeremiah Hammering. This documentary delves into generations of family farming tradition gone up in flames as the North Dakota oil boom leaves human memory, culture, and identity scorched in its wake, and follows one family's path of resistance, raising a fundamental question: What are we willing to sacrifice in our pursuit of progress?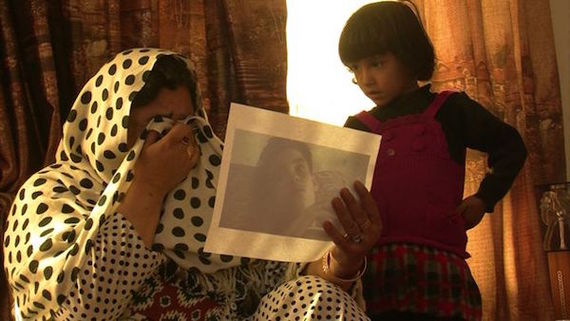 One Bullet, directed and produced by Carol Dysinger; produced by Su Kim. The documentary tells the story of how one bullet, fired into darkness, hits a boy on a residential street in Afghanistan sending him into the path of a woman filmmaker following the American military. This begins an intimate, longitudinal look at a family in crises through the eyes of its matriarch -- Bibi Hajji -- and an accidental friendship between two women, worlds apart. Dysinger probably explained it best when she said, "in a DIY universe, this is like water on dry ground. Making these docs that must be shot over long periods of time to render their meaning can be grueling... So having the braintrust at Tribeca Film Institute tracking you is a real boon." She further explained that "even in the rejections prior to this, the attention and guidance and encouragement has been a much needed touchstone. All money comes at just the right time -- but this comes with support of a wonderful creative team."
This year's AOL Charitable Foundation Awards recipients are: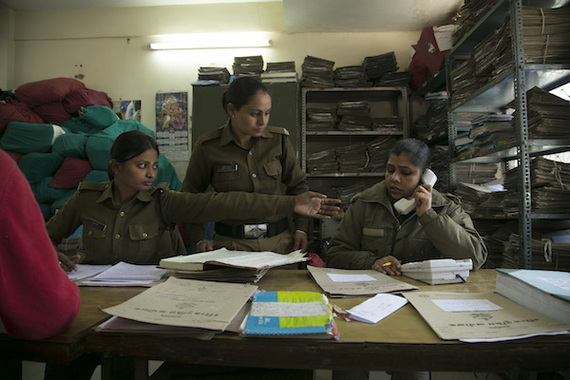 Marriage Cops, directed and produced by Cheryl Hess and Shashwati Talukdar. The film portrays a small city in Northern India where unhappy couples seek relationship advice in the most unlikely of places. When asked how this grant helps them, Hess replied, "receiving the fund is a game-changer.  It's not just about receiving the cash award -- although that will certainly come in handy -- It's also about the support that TFI offers its grant recipients.  My co-director Shashwati and I feel like we have become part of something that not only will help us with Marriage Cops but with all of our future projects." And Talukdar added, "every film is an aesthetic risk; it's very encouraging to have an organization trust your vision, and the nuanced and complex story you are trying to tell."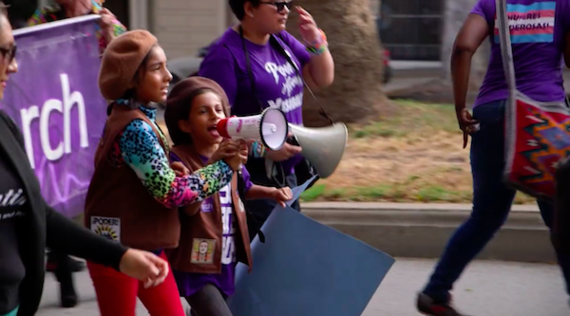 Radical Brownies, directed and produced by Linda Goldstein Knowlton; produced and edited by Katie Flint; executive produced by Grace Lee. Radical Brownies follows the creation of a troop of 8 to 12-year-old girls of color -- the Radical Monarchs -- in Oakland, CA. A social justice-oriented alternative to the Girl Scouts, the Monarchs still earn badges -- not for sewing or selling cookies, but for units on Black Lives Matter, Radical Beauty, being an LGBTQ ally, and environmental justice.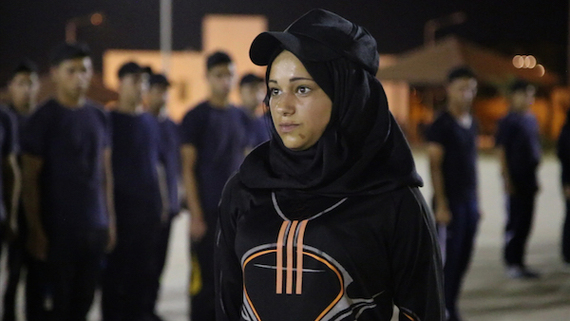 What Walaa Wants, photo by Christy Garland
 
What Walaa Wants, directed by Christy Garland; produced by Anne Köhncke. Raised in a refugee camp in the West Bank while her mother was in prison, Walaa is determined to become one of the few women on the Palestinian Security Forces -- a big challenge for a girl who breaks all the rules. Filmmakers Garland and Köhncke disclosed the importance of the award for their film, "We feel very lucky and honored to have What Walaa Wants among the high calibre documentaries supported by the Gucci Tribeca Documentary Fund. For this project in particular, it will make a huge difference in the film's potential impact, both in North America and internationally. We've been following this fascinating young woman for four years now, and getting this boost from Tribeca and AOL Charitable Foundation has already attracted the interest of other potential partners that will help us get her important story seen as widely as possible."
And that folks, is how cinema magic is made. One truth at a time.
All images courtesy of the Tribeca Film Institute, used with permission.
Calling all HuffPost superfans!
Sign up for membership to become a founding member and help shape HuffPost's next chapter