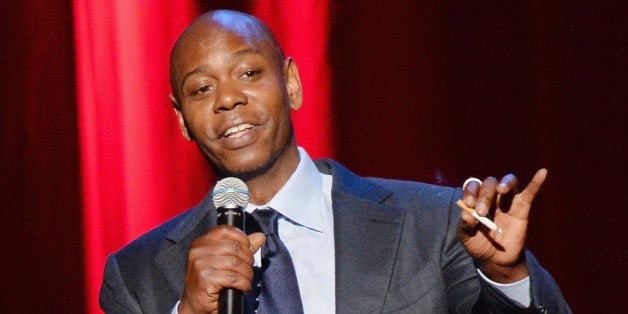 In a bit of comedy confessional ("I've had to watch the news for two weeks to catch up"), Dave Chappelle delighted the packed Radio City Hall crowd Wednesday night in his first New York City stand-up appearance in over a decade. The results were a blend of highly satisfying comedy, along with the sense that one was participating in an up-dated version of a 1960s happening, as a Chappelle "sighting" has become a thing of legend among comedy aficionados and star-fuckers alike.
And yet, the show left something to be desired, as Chappelle seemed to sense, granting the audience an additional 10, no 20, no, wait -- perhaps 30 minutes -- of extra material as he wound his way through Lil Wayne jokes in an effort to hit some elusive mark. The applause had been cascading down and around the majestic hall for some 90 minutes by then, but to one's inner ear, and indeed to the eyes -- one could sense Chappelle searching through the intervening haze from his cigarette (?) smoke for the pitch-perfect timing he had before he left Comedy Central, before his leaving became the story. Mind you, Chappelle's range of material and talent were on full display -- but this is Evel Kneivel trying to jump the Grand Canyon. At some point, you are competing against yourself. But there were surely glimpses of brilliance amid the perfunctory allusions, funny though they were, to Donald Sterling, Paula Deen, and Kim Jung Un.
The higher notes tended towards the personal and the political, as Chappelle mused on the hypothetical conundrum of being a gay black man on the day of the Million Man March and a Gay Pride Parade. How does one choose among such identity allegiances? The answer was at once profound and hilarious. "Booty shorts" were part of the resolution and, well, Chappelle could barely contain his own amusement, let alone that of the 6,000 or so packed in the rafters. Along these lines, there were other humorous allusions to sexuality, including an "appearance" by Chaz Bono, and a recent Gay in America documentary Chappelle had watched. Coupled with his confrontation with white racist kids in Ohio ("I was like Malcolm X leading the march to get Brother Johnson!") and reflections on his phone conversation with President Obama, Chappelle evidenced the type of cutting and thrilling political humor that has put him in a category of socially significant comics in a line that begins with Richard Pryor. The personal? Let's just say Chappelle's revelation of how he spends two hours at home alone when his wife and kids are out is priceless.
But there is timing, and then there is timing. Chappelle's time away from the circuit could be keenly felt, as so much of what has happened over the last 10 years has altered the terrain of his material. Think of his "Black Bush" sketch and, indeed, the absurdity is lost in an era in which the president is who he is. And, then there is just the plain old search for storytelling that connects seemingly scattered material in a way that not only resonates, but tickles. The last 40 minutes of the show was an insider's look at a maestro fine-tuning his craft before your eyes. Would you pay to see Yo-Yo Ma warm up?
In the end it was an extraordinary night if not an extraordinary performance. But Chappelle will undoubtedly get there -- and "getting there" for Chappelle is on a talent level far exceeding the vast majority of comics today. So we will wait a little longer on Dave. We've waited this long. In the meantime, it's worth a thousand and one Lil Wayne jokes (the CSI one is admittedly to die for) as we see the comedic maestro of his era rejoin the orchestra.
Where the f*** you been!?
Saladin Ambar writes and teaches about American politics at Lehigh University in Bethlehem, PA, where he is an associate professor in political science. He is the author of the newly released Malcolm X at Oxford Union: Racial Politics in a Global Era (Oxford University Press, 2014).
REAL LIFE. REAL NEWS. REAL VOICES.
Help us tell more of the stories that matter from voices that too often remain unheard.