After the telecast (discussed in my post here), Broadway is all about the after-parties. There is the official Tony Gala at the Plaza. Then each show or each lead producer usually hosts their own party. My favorite venue is the Rock Center Café, which this year went to An American in Paris. Then, as if that wasn't enough, most people head to the Carlyle Hotel, where publicity office O&M has its annual swank bash.
On a personal note, this is the third year in a row I've had some sort of bad Tony luck. This year I couldn't walk in the days leading up to the awards and missed all relevant gatherings. (Public service announcement: antibiotics can cause tendonitis and ruptured tendons. Gigi press agent Jim Byk and I are walking cautionary tales.) But how could I not get out of bed to go to at least one bash? As I could only make it to one - it had to be the one where people from all shows go at the end of the night, the starry O&M soiree, which takes place both on the Carlyle's ground level and a penthouse upstairs. Upon arriving at 2:15am, I looked up and saw Bryan Cranston, Rita Wilson and her stepson Colin Hanks pour out of an elevator, with Cranston commenting that it was so packed at the upstairs part of the party, they had waited 15 minutes to get down.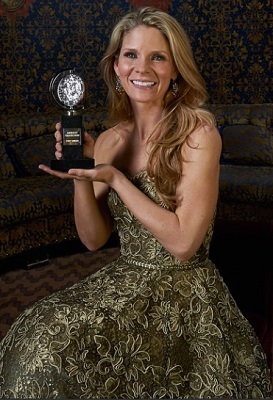 As O&M was press agent for the big musical winner of the night, Fun Home, the mood was especially joyous, as the show's entire cast, writing and producing team was there. There were a ton of comments from onlookers about Beth Malone's cheek bones. Producer Kristin Caskey held court as a parade of passersby congratulated her, as O&M head Rick Miramontez held her Tony. (I do give credit to Miramontez and Fun Home's main team at O&M, Molly Barnett and Chelsea Nachman, and I'm sure Caskey agrees, though I'm also sure she took her Tony back at some point.) And 11-year-old nominated actress Sydney Lucas partied until about 3:30am.
There was a room for "Chita's Disco" and a dance floor for same, and a room that was "Bemelman's Bar," with a piano. When I first entered the latter, I saw Andy Karl, nominated this year for the second year in a row, chatting with a winner last year, Lena Hall. (While this wasn't Andy's year, he's a talent, a great guy and a very hard worker. I do think we'll see him again as a nominee, and hopefully as a winner.) As I moved across the room, there was honoree Tommy Tune, impeccably dressed as usual.
It's always interesting who holds onto their Tonys at these things - I never saw Kelli O'Hara without hers. Clutching her award as she moved from room to room, I overheard her saying to her husband: "This is so crazy. I don't even know what we're doing." While she could have meant the party was crazy, and it was, she also might have been speaking about the night in general, which marked her first Tony in six attempts. The buzz at the party gave "Best Speech" honors to her or Best Actor in a Play winner Alex Sharp. She was genuinely surprised, and did a dance ode to 42nd Street.
Ruthie Ann Miles, who during campaign season told me she couldn't imagine a world in which Kelli did not win, on the other hand, kept handing off her award to her husband, Jonathan. (Read more about her in my other post on the night.) Christian Borle also didn't have his when he entered the room I was in upstairs, though his entrance still garnered him a smattering of scattered applause.
Other notable spottings included Joel Grey and daughter Jennifer, Tony co-host Alan Cumming in a kilt (which he never wore on the broadcast), Laura Bell Bundy, Darren Criss, Jason Alexander, Sutton Foster and more. But perhaps the best line of the night goes to Patrick Page, who, leaving with wife Paige Davis, leaned over to thank Miramontez for the hospitality, saying: "I thought my white tuxedo jacket was a good choice, until I realized the waiters were dressed the same, and people started asking me for drinks."
But, then again, I left before the sun rose, so I'm sure I missed a lot.
Photo is Kelli O'Hara striking a pose, with her Tony, at the Carlyle. The portrait is by photographer Amy Arbus from the TodayTix Photo Lounge at O+M's annual Tony Awards after-party at The Carlyle Hotel. Note: Typos in this story were corrected at 3pm, 6/9/15.
REAL LIFE. REAL NEWS. REAL VOICES.
Help us tell more of the stories that matter from voices that too often remain unheard.