If you've seen the trailer for The Theory of Everything, the forthcoming film about Stephen Hawking and his wife Jane, you may have felt your heart swell and eyes tear up. After all, their story is filled with love, dedication, groundbreaking science and inspiring teamwork. Shortly after falling in love as students at Cambridge in the 1960s, Stephen was diagnosed with ALS (which you hopefully know plenty about given all the ice buckets), eventually rendering him unable to speak or walk. With her tireless support and determination, Stephen went on to become the most celebrated physicist of our time. But real life is never like the movies is it?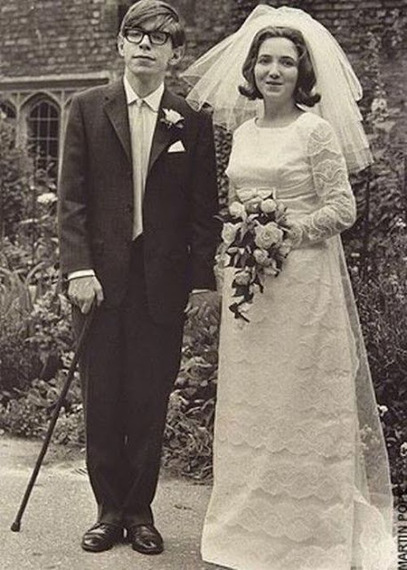 As Jane, who later received a PhD in medieval Spanish poetry, told the Guardian in 2004:
I had two tiny babies, I was running the home and looking after Stephen full time: dressing, bathing, and he refused to have any help with that other than from me. I thought that to coerce him into taking these measures would have been too cruel. One of the great battles was getting Stephen to use a wheelchair. I'd be going out with Stephen on one arm, carrying the baby in the other, and the toddler running alongside. Well, it was hopeless because the toddler would run off and I would be unable to chase. So that kind of thing made life rather impossible.
As Hawking became more renowned, and a third child was had, Jane found herself overwhelmed and having to often remind her husband "that he was not God." The marriage suffered, and Stephen eventually fell in love with his nurse, leaving the woman who once saved his life after insisting he be kept on life support during a battle with pneumonia in 1985. The film, which stars Eddie Redmayne and Felicity Jones and is based on Jane's memoir, Travelling to Infinity: My Life with Stephen, is being promoted with phrasing such as "the marriage of space and time," "the perfect couple" and "everything is possible." But how do you market a romance when in reality we know that this fairytale ended, and badly?
With a crippling disease like ALS, worldwide celebrity, a house full of nurses and assistants and religious differences (she's a Christian while Stephen is agnostic), it's really no surprise that their marriage fell apart. Perhaps we shouldn't expect geniuses like Stephen Hawking to be geniuses in their personal lives. Perhaps "everything is possible" only for a finite amount of years before things become impossible. Perhaps their story is a good reminder that even a guy confined to a wheelchair and forced to speak through a synthesizer will leave you for his nurse if he can (they later divorced in 2006.) It will be interesting to see how the film handles the end of their marriage. I still want to see the beginning.
The Theory of Everything will be released on November 7, 2014.
Calling all HuffPost superfans!
Sign up for membership to become a founding member and help shape HuffPost's next chapter