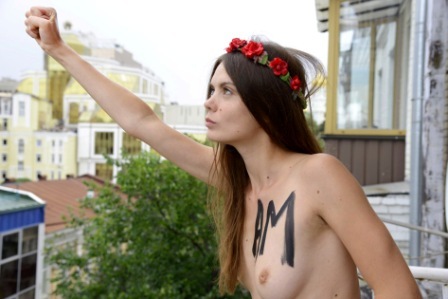 I love the Thessaloniki documentary film festival: a chance to travel far, from a gorilla reserve in the Congo (the award-winning film Virunga) to a small town in Ukraine, where FEMEN activists bare their breasts to protest Vladimir Putin. It is also an opportunity to gain more intimate knowledge about the figures who dominate our planet. One excellent documentary this year was on Putin, in fact (Jean-Michel Carre's Putin is Back). This doc shows, through interviews with Putin's close advisers and press footage, how Putin gained his power step by step by monopolizing oil and gas, endorsing corruption, rigging elections and jailing journalists, all with former President (now Prime Minister) Medvedev's slavish support. Medvedev changed the constitution to allow Putin to be re-elected, according to the film. The film also exposes the dramatic rise of collusion between Church and State during Putin's regime,as well as Putin's blatant anti-homosexual discourse: "The West is forcing its homosexuals on us!" the prime minister pontificates.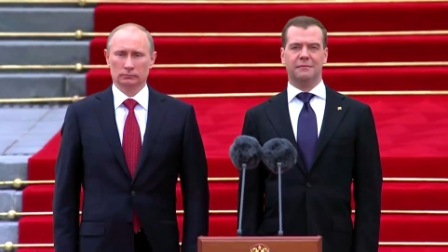 Immediately after this view of this stiff hetero-determined elegant former KGB official, I went to see Hanna Polack's Something Better to Come, about homeless children who live in a garbage dump ten miles from the Kremlin. The children smoke cigarettes in a tent listening to a radio emission about Putin's reelection. "Putin!" one child laughs, and slugs a shot of vodka.
Some of the documentaries at the festival--such as one on the exciting celebrity topic of Mariel and Margaux Hemingway (Barbara Kopple's superbly crafted Running from Crazy)--make one realize, with disappointment, that celebs are not so interesting after all. Yes, Marial draws sympathy as she explains how it felt not to be embraced as a child; and beautiful Margaux fascinates as she strains to get her cold father's attention as he strings a black fly to his hook, but one wonders, aside from being Hemingway's progeny (pace Papa!), why is this one family's pathos more compelling than any other?

On the other hand, the more humble subject of an employment agency in France, geared to teaching the most unemployable youth of the country how to prepare for a job interview, captivates. In Rules of the Game, directors Claudine Bories and Patrice Chagnard follow five disadvantaged candidates from their first encounter with an employment agent to their final interview. One introverted heavy-set girl, Lolita, with piercings all over her face, uncombed hair and downcast sullen eyes, become the star of the film. She responds in monosyllables: "Oui." "Non." She notes, in answer to the question, "Explain your faults to a potential employer" that she cannot hold her temper and once stabbed a fellow student in the eye with a compass. The agent kindly suggests: "Perhaps you should not mention the compass episode, Lolita. And try to smile! Smiling is a good technique to use in a job interview." Lolita's response: "I have a horrible life, so I don't smile."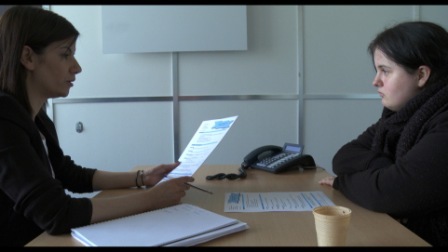 By the end -- after the employment agent has repeatedly assured the bedraggled girl that she does have qualities, and taught her how to believe in them (and how to comb her hair), Lolita has a small smile on her face and light in her eyes. The final shot (plot spoiler): Lolita at the recruitment desk, right after she has heard good news. A phone rings. Lolita answers it: "Shit." Then she stuffs the phone in her pocket. "Look," the agent smiles kindly. "Perhaps you should not blurt out 'Shit' when you answer the phone. It could be an employer on the other end."
By that point, we adore her.
The Thessaloniki Documentary Film Festival offers plenty of surprises. This year's surprises; a splurge of docs on depressed chimpanzees (three in fact), a step-by-step nervewracking look at how close Tokyo came to being obliterated by Fukushima (A Nuclear Story), a biopic of Susan Sontag, footage of concentration camp liberation, and--on a cheerful note--an uplifting music video (A Family Affair) on a celebrated Cretan family of folk musicians (grandpa, father, daughter) who croon about how the family members all connect deeply, without words, through chords.
And if the festival is not enough to intrigue, one can always walk around the port of Thessaloniki, brimming with bars and outside tables, with people enjoying grilled octopus, kalamata olives, melted feta cheese and animated conversation (where is that crisis?)
My last evening in Thessaloniki, I sipped a glass of white wine and listened to Greek rembetica music live in a taverna before five passionate musicians.
Calling all HuffPost superfans!
Sign up for membership to become a founding member and help shape HuffPost's next chapter