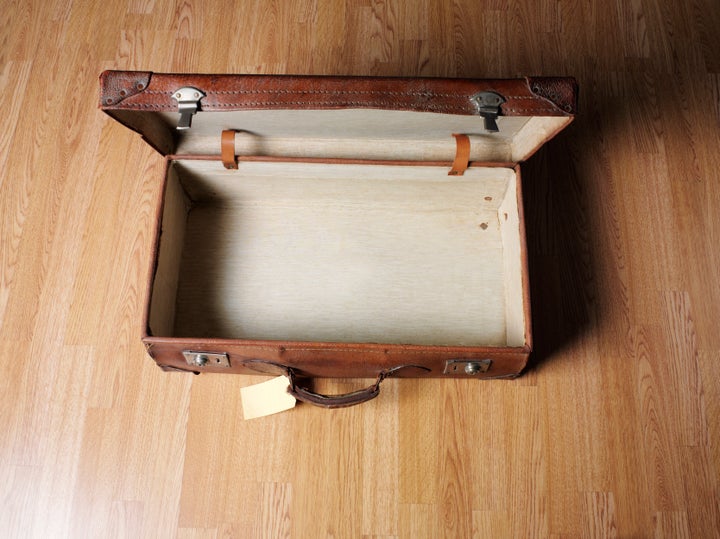 When a villainous land baron bought up a swath of my street in Toronto, changing locks and moving people's furniture onto the sidewalk in the middle of the night, I decided it was time to go.
At the end of July, I packed all my belongings into boxes and began living out of what I could fit in a single carry-on suitcase. I went to a wedding—well dressed, I think. I went to BC to visit my parents—anything goes in rural island fashion. I visited my grandmother—she's very accepting. And I went to work—I write and draw for a living. It was summer. The living was easy.
In September I still had access to my boxes, which were stored in a friend's attic across town. They were just a bike ride away. I could swap out a shirt or trade a book, as long as everything fit into that suitcase while I stayed with friends and family. Then, in October, I moved to New York.
The night before I left, I packed my suitcase so precisely there was no room for a second tie. I overdressed for the flight so I would be warm enough in the winter. I carried my umbrella in my hand, even though there was not a cloud in the sky. That kind of precisely.
The hardest part was choosing a book.
I have a policy about books. When I'm away from my library, I'm only allowed to have one book with me. Just one book. I read it every day. I become desperate for it, searching deeper and deeper in the writing for the world beyond it. I love the chance to read that closely. We learn each other, the book and me.
This time it was The Complete Stories of Clarice Lispector. It's an enormous tome, over 600 pages, hardcover. It's also gorgeous: with the jacket removed, sturdy white deco font marks the black spine. The ink is crisp, the paper decisive. Serifs are the only ornament. Clarice's writing is to be adored. All the attitudes of the world can be found in this book, I'm certain. No feeling turns her away. She is the bravest mind I've met. The size of the book should indicate its importance. It has the weight and dimensions of two blocks of butter.
The rest was practical. Four shirts, two pairs of pants, underwear, socks, a notebook, a computer, and a handful of pens. A sleeping mask (it helps). Two sweaters (one light, one heavy). A jacket, a scarf, a hat. A camera.
It only hit me after I settled into my new home in Brooklyn: I still had too much stuff.
For example, I had packed a sienna vest that my grandmother knit for my grandfather in the 1940s. I love it, the care, the history. I thought it would be part of my New York look. But I only wore it once.
Same with the camera. I took five pictures. I loathe the gesture of bringing up the lens, breaking into a moment with the bulky machine. It was just a space holder, a brick in my suitcase.
And one more thing I never used. I have always wanted to be the kind of person who has a sketchbook—a quick rendering here, a line gesture there. Every time I leave the house I have a little book and a clutch of pens, but every time I come home with the pages empty. New York was no different. I was just too shy. If someone looked at me or at my drawing, I got nervous and drew too fast. I knew, but didn't understand, that they didn't care if I was any good, they just wanted to see what I was doing. Another space widened in my suitcase of tomorrow.
Material pleasure was found in the most unlikely moments. When my shirt shrunk beyond cool in a laundry accident, I felt a thrill. One less thing! When one of my two belts broke—one less thing! When my undershirt grew tattered and I had to throw it out—one less thing!
I developed a fetish for having less just as some people have a fetish for more. I deflected gifts. I resented stores. The only things I bought during three months in New York were things I could eat. Instead I paid for tickets and passes and moments. I don't regret it one bit.
When I came home to BC to see my parents again for the winter holidays, there were big pockets of air in my suitcase. I simply couldn't imagine what else I needed. I left the sweater and the camera. I left the sketchbook, too.
Clothes, computer, book. Apparently the rest is extra. All I needed was a villainous land baron at just the right time to show me the way.
Related