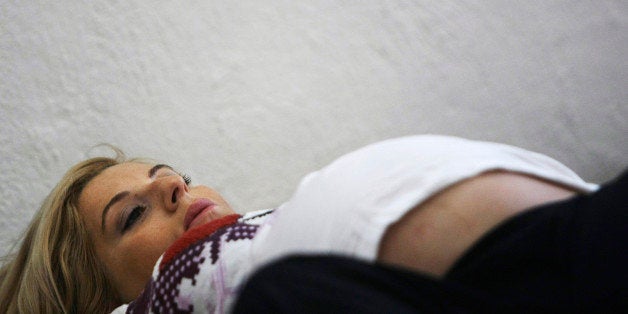 Two months after having my third baby girl, I ventured out into the world, kid-free. It was only for an afternoon of shopping -- but it felt good to be alone for a brief moment.
After having my third child, I was much more relaxed. At ease. Confident in my parenting abilities. And yet, while I felt good about my role as a mom, I also remember feeling very much like a "new mom" at times.
Once again, I was rounder. Heavier. Tired. Often sporting a messy ponytail and clothes that didn't fit as well as I'd like.
I would cry easily. I had raging hormones that caused me to sweat and lose hair and develop strange skin conditions.
Needless to say, I was once again feeling kind of crap about my appearance.
But because this was my third time around the block, I knew what to expect. I knew that I would hold onto the weight and look a little bit less like the old me and more like the moms from Saturday Night Live's "Mom Jeans" parody for a while. I knew that it wouldn't take months for me to feel and look like I want again -- it would take closer to years. And I knew that it was all okay, because I had grown a human and I was now sustaining that sweet little incredible being with my body.
But that doesn't make some things hurt any less.
That day, I ran into someone I used to work with but hadn't seen in four or five years. A woman I barely knew -- but knew she was nice enough. A working mom who I sometimes crossed paths with in the office. Pretty. Put together. Very nice smile. She asked what I was up to now and when I smiled and said I was on maternity leave, she gestured towards my body and said "I could kind of tell."
I was shocked into silence at the moment and just smiled at her awkwardly until we were able to come up with an excuse to no longer stand there making small talk. And for the rest of the day, I couldn't help but replay that encounter over and over again in my mind.
It hurt me that someone would point out to me that my body is less than perfect (something I already knew) rather than congratulate me, or even just pretend to be happy for me. It hurt me that a fellow mom would say this to me. A fellow mom, which automatically made her someone I had an unspoken kinship with.
Yes, I could give this person the benefit of the doubt and say that maybe she didn't mean it the way it came out. Or maybe she's socially awkward. Or maybe she was even just referencing my tank top and yoga pants -- widely known to be the uniform of the stay-at-home mom.
Except. I can't un-hear "I could kind of tell". And it will always be in my head that maybe she meant it the way I think she meant it. That I looked like a messy, heavy new mom.
And while I read all the articles about the importance of moms loving their postpartum bodies, I really want to believe it and live by it and pass it onto my children. I think to myself, "Yes! I am perfect the way I am."
And then someone gestures towards my round stomach that's sticking out over the top of my pants and I'm sent into a shame spiral.
Which makes me realize -- we have a long way to go yet.
We may tell each other that we have to love ourselves. We may tell each other that we need to stop judging one another. We may tell each other that we need to stop emphasizing the importance of beauty to our daughters.
But we also tell each other that we're fat.
And that makes me so sad. Not just for myself, but for all new moms who see a completely different person staring back at them when they look in the mirror every day.
I don't really know what the solution is. I don't know what I would say to that woman if I could. But I do know that when my 5-year-old asks me to go swimming with her on our summer vacation, I'm going to put my bathing suit on and go. When my 3-year-old tells me I'm beautiful, I will smile and say thank you.
I may still have hurt feelings. But I'm not going to let my little girls know. I will not let the power of words overshadow the joy of being a mom.
Rounder. Heavier. Feeling unsure of my appearance. But a good mom.
And I will always love that about myself.