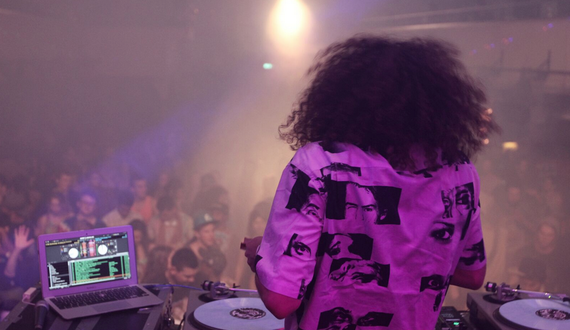 Many music festivals are located in outskirts, wildernesses and boonies with the idea of creating a relocated community away from the normalcy of city life. Even city festivals usually take place at a venue that though proximal to city life, makes festival-goers feel as if they are in a timeless and placeless dimension, an urban oasis. As music festivals have been crawling up and down the state of California, Santa Cruz welcomes back this gathering of sounds and souls for the third annual Santa Cruz Music Festival on Saturday, October 10th, 2015.
What makes Santa Cruz Music Festival special is its integration of the city into the event. Taking over the historic downtown area, the festival will link together more than 100 artists with 10 (and more to come) established Santa Cruz venues, all within walking distance. This 13 hour musical marathon will bring the community, along with its visitors, together for a day of music, art, appreciation, dancing and more.
A consciously curated lineup of both international as well as local artists offers a diverse array of soundscapes for attendees to explore. As of now, approximately 70% of the lineup are local to Santa Cruz and the Bay Area, a testament to the organizer's emphasis on the importance of community. Headliners include RJD2, PROF, Delhi 2 Dublin, Lafa Taylor, Mikey Lion and Lee Reynolds of Desert Hearts, Pep Love, Eliquate, and many more. This genre-bending and vibe-blending lineup exhibits electronic, house, hip hop, world, reggae, indie, rock, experimental and every sub-genre in between. The diverse lineup attracts an even more diverse crowd, further strengthening this community. It is through similarities that we bond, but it is through differences that we learn.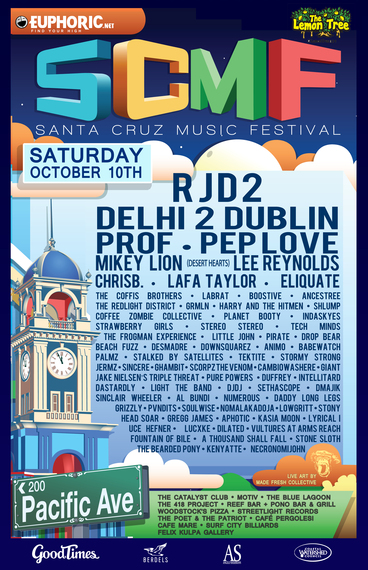 Because Santa Cruz Music Festival is a one-day, multi-venue, event located in downtown, there is no camping offered, or necessary, for that matter. The festival begins at 12:00pm and ends at 1:00am with a cumulative equivalent of over 100 hours of entertainment all packed into one day. After parties, however, are a whole other adventure worth seeking.
In addition to music, there will be interactive art walks put together by the Made Fresh Collective, late night burlesque and art shows, and for those who are unfamiliar with the area, the festival will be located just one mile away from the historic and nostalgic Santa Cruz Beach Boardwalk, a family favorite for locals and tourists alike. Some of the most popular venues that will be hosting this fresh lineup include The Catalyst Club, Motiv, The Blue Lagoon, The 418 Project, Reef Bar/Pono Bar & Grill, Woodstock's Pizza, Streetlight Records, The Poet & The Patriot, and Café Pergolesi, with many more being added soon.
By incorporating the city's culture and local establishments into the event itself, Santa Cruz Music Festival is an amalgamation of festival community and city community. It brings business to local proprietors and good vibes to attendees by creating an event that is vast, yet intimate. Since many of these venues have an atmosphere with years of history, there is a sense of home and permanence that is evoked as opposed to gathering in front of a stage that will be disassembled soon after. Instead of bringing the community to the festival, Santa Cruz Music Festival is bringing the festival to the community.
Calling all HuffPost superfans!
Sign up for membership to become a founding member and help shape HuffPost's next chapter