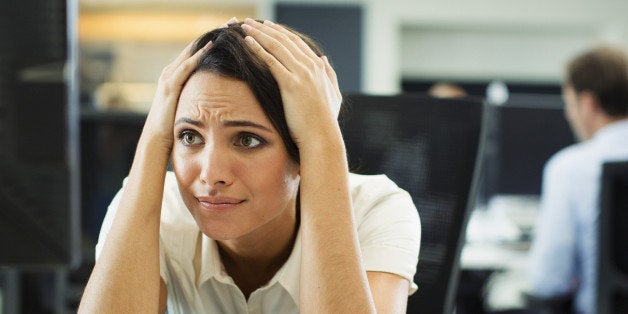 It's 5 p.m. and the onslaught continues. I'll go right after this last email. I've got to get this out. Perfect. I'm done. I can finish the rest on the train and when I get home. Did you say something? I'm just so busy, sorry. Sound familiar?
In Thrive, Ariana Huffington discusses our present need for digital detox from techno-stress in the first pillar of well-being, which encourages daily mindfulness. How many of you feel absolutely drained after an intense session of "doing work" aka drafting and answering emails? You may be suffering from the effects of "email apnea" discovered by Linda Stone. After noticing a disruption of her own breathing pattern when answering emails, Stone compiled research to support her hypothesis regarding the"email apnea" phenomenon. Email apnea occurs when there is "a temporary absence or suspension of breathing, or shallow breathing, while doing email."
Try to observe your own breathing the next time you engaging in an intense email session, you may be inclined to practice what Stone has also deemed "conscious computing." Once this awareness is awakened within you, the path to managing techno stress can begin.
Most recently, the New York Times Sunday Edition article,"Why You Hate Work" displayed the White Collar Salt Mine survey conducted by The Energy Project in conjunction with the Harvard Business Review. The results, derived from over 12,000 employees working in various industries, revealed that 66 percent of those surveyed do not have the ability to focus on one thing at work. Ms. Stone also coined the term "continuous partial attention" defined as "the state of always being partly tuned into everything while never being completely tuned into anything." Work zombies are among us.
The late Maya Angelou offered such a remedy:
If we step away for a time, we are not, as many may think and some will accuse, being irresponsible, but rather we are preparing ourselves to more ably perform our duties and discharge our obligations.
The question remains, does your CEO or middle management support this type of behavior? Building a gym and yoga studio, a common guise for companies claiming they support wellness programs is not enough. Employee assistance websites and discounted gym memberships look great in a handbook. As most cynics argue, it would be nice to "step away" in theory, but will you have a job when you return?
What cannot be emphasized enough is that there must be top-down buy-in from management. As The Energy Project, and The Society of Human Resource Management continue to aggregate results concerning employee engagement and increased retention, there is hope. The Energy Project, has an impressive roster of clients, including Google and Apple that have achieved measurable results.
The good news is that The Third Metric is starting to resonate in organizations; Google has appointed Chade-Meng Tan as head of mindfulness training. Google, once again, on the path to redefining the way we live, encourages mindfulness and compassion among employees, how about your organization?