Recently I began to do additional research into the heroic White Rose resistance movement. They were a group of young people who denounced the evils of Nazism through a series of leaflets and paid dearly for it.
Several of them were captured, interrogated, and beheaded by the Nazis. While numerous people were involved, most of the historical attention has fallen on two siblings: Hans and Sophie Scholl.
Before the war Hans had been a member of a non-Nazi youth group. Such groups were seen as potential breeding grounds for anti-Nazi activity. What wasn't controlled by the state was a threat to the state. In December 1937 the 19-year-old Hans was arrested and confessed to a gay relationship three years earlier with another young man from the group. Hans said he had no idea such things were illegal. With no indication of treason, all that was left to prosecute Hans for was being in violation of the anti-gay Paragraph 175.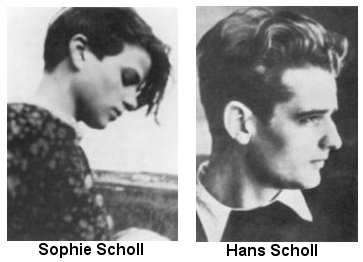 Hans was convicted, but a lenient judge felt it was merely youthful indiscretion and spared him the concentration camp. This experience, however, awakened Hans to the evils of Nazism. His sister Sophie, upon her later arrest for treason, said that "the most important reason" for her anti-Nazi activity was what her brother had endured when arrested for homosexuality.
A query I received about the White Rose movement sent me to our research library in order to provide some references. Inge Scholl, another sibling, though not a White Rose member, authored the book I had. Hers is a deficient book, as she tried to hide certain facts, such as the reason for her brother's first arrest. This didn't greatly concern me; I knew the book was written when such things were not discussed. I wanted the precise date so that I could point this out in my reply.
I opened to the copyright page and saw that it was originally published in 1952. I also noticed an inscription that I hadn't really paid attention to previously. It was dedicated "with respect and love" to Helen Joseph. Turning to the front inside title page, I noticed an owner's signature. The flowery handwriting could have been read as any number of names. But now, knowing it was dedicated to Helen Joseph, the signature was obvious.
Suddenly this book about the White Rose and resistance to Hitler took on new meaning. Joseph, born in England in 1905, moved to South Africa in 1931 and became a vocal opponent of apartheid. Like the Scholls, she was considered an enemy of the state. In 1956 she was put on trial for treason, along with Nelson Mandela. In 1962 she was the first person placed into house arrest under the Sabotage Act and escaped several assassination attempts over the years. Though childless, she was known to care for the children of others, including Mandela's daughters. She died in 1992.
Joseph's opposition to apartheid took place decades after the Scholls lost their lives and half a world away from Nazi Germany. But, in essence, hers was the same battle for which Hans and Sophie had died. While the magnitude and urgency of this battle varies from age to age, and place to place, it is still being fought to this day -- even in this country.
Sometime after Joseph's death, her library must have ended up in one of the numerous used bookstores I frequented in Johannesburg. At that time I was the publisher and editor of a gay newspaper and active in the anti-censorship movement. I know what is like to have apartheid police ransack my home, or have them sit outside in an unmarked car to see who was visiting. I remember the "bomb threat" the security forces invented as a ploy to evacuate an anti-censorship conference at the University of Witwatersrand in order to record our faces as we evacuated.
Three different eras and three different battles, melded together in this book that I was holding. The fight against censorship, of which I was just a small part, was nothing compared with the other two. It was less significant, and I never felt that it directly endangered me; the one attempt on my life was clearly criminal in nature, not political.
During that period I found the White Rose movement a source of inspiration -- even though the gay connection had yet to be revealed. It was for that reason that I bought the Inge Scholl volume when I saw it. Now, years later, while the battle I fight -- for marriage equality -- is very different, I suddenly discover the book's link to Helen Joseph and her fight for justice. To me this book has become a symbol of the singular nature of the fight for freedom. It has done something no e-book will ever accomplish: it made physical the unity of these diverse causes.
Across the eras, on every continent, for a multitude of causes, the words that Hans Scholl said as he was being led to guillotine should remain our inspiration: "Long live freedom." The fight for freedom is one fight, no matter who fights it, no matter where it is fought, no matter the circumstances. This one thread of individual liberty unites us all.
Calling all HuffPost superfans!
Sign up for membership to become a founding member and help shape HuffPost's next chapter