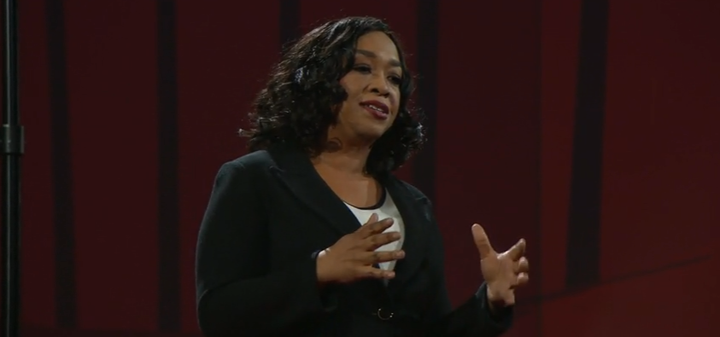 In her new book Year Of Yes, Shonda Rhimes writes about how saying yes to everything changed her life. In a TED Talk published Wednesday, the "Grey's Anatomy" and "Scandal" showrunner spoke specifically about how the tiny word transformed how she thought of herself as a person. 
"A crazy thing happened," Rhimes said in her TED Talk, speaking about her year of saying yes. "The very act of doing the thing that scared me undid the fear, made it not scary… It's amazing the power of one word: 'Yes' changed my life, 'yes' changed me."
Watch Rhimes' full TED Talk below. 
Between "Grey's Anatomy," "Scandal," "How To Get Away With Murder" and her new show "The Catch," Rhimes said she's responsible for almost 70 hours of TV each season. "I'm a titan… I create television, I executive produce television, I make television -- a great deal of television," she said. 
Rhimes said she once took great pride in calling herself a "titan" because she works so incredibly hard -- and she loves it. "When I am hard at work, when I am deep in it there is no other feeling," she said. "For me, my work is at all times building a nation out of thin air. It is manning the troops, it is painting a canvas, it is hitting every high note, it is running a marathon, it is being Beyoncé. And it is all of those things at the same time."
Unfortunately, the term "titan" can also be synonymous with "workaholic," Rhimes pointed out. And at some point all workaholics burn out -- and hers came when she no longer felt her internal "hum," the intangible thing that drives her creative spirit. 
"What makes it [work] so good is the hum. There's some kind of shift inside me when the work gets good," Rhimes said. "A hum begins in my brain and it grows and it grows and that hum sounds like the open road and I could drive it forever… The hum is action and activity, the hum is a drug, the hum is music, the hum is light and air, the hum is God's whisper right in my ear."
Her hum, however, was broken: "The more I work to be successful, the more I need to work," Rhimes said. "... Overworked, overused, burned out -- the hum stopped." 
But then, her daughter asked her to play. And that little word -- that "yes" word -- changed everything. "Play is the opposite of work. And I am happy," Rhimes realized after taking the time to be with her daughter. "Something in me loosens, a door in my brain swings open and a rush of energy comes... I feel it, a hum creeps back -- not at full volume, barely there. It's quiet and I have to stay very still to hear it but it's there." 
Work doesn't work without play.

Shonda Rhimes
She says she's become reenergized and while the hum isn't there, "a hum" is. "Now I feel like I know a very magical secret. Well, let's not get carried away it's just love. That's all it is. No magic, no secret -- it's just love. it's just something we forgot."
Rhimes said it's not just about playing with your kids, it's simply about playing. "It's about joy, it's about playing in general... Find what makes you feel good. Just figure it out and play in that arena." 
She left off on the perfect note, reminding the crowd: "Work doesn't work without play."
PHOTO GALLERY
11 Reasons To Get On Board With Shonda Night
REAL LIFE. REAL NEWS. REAL VOICES.
Help us tell more of the stories that matter from voices that too often remain unheard.