Bertolt Brecht's "The Threepenny Opera," directed by Eric Hamme for the Garage Theatre IN COLLISION WITH Alive Theatre, offers a rambunctiously cynical look at London's demimonde, at the corporatization of its street beggars, at the doings of its criminal underworld. It's also a love story, of sorts. Mostly, though, exquisitely staged and acted, it's a hoot.
Jonathan Peachum (Mark Piatelli) has a monopoly on London's beggars. He's not so much corrupt as he's oppressive. Poor little Filch (Lysander Ruesehk), for instance, has to fork out half his earnings as well as pay for the rags he wears. Jonathan's married to Celia (Ellen Warkentine), his equal in cold calculated shrewdness. Their daughter Polly (Ashley Elizabeth Allen) isn't so hard-nosed and capitalistic. She's in love with Macheath (Robert Edward), the lord of London's criminals. Macheath is arrest-proof. He was an Army chum of Tiger Brown (Thomas Amerman), London's chief of police. Macheath claims to be in love with Polly. Of course, he said the same thing to Tiger's daughter Lucy (Sarah Chaffin). And he's got a thing with Low-Dive Jenny (Dana Benedict). After a wedding that is more of a garage sale, poor Polly has to navigate through her parents' wrath, their desire to see her beloved hang, and his philandering ways.
Brecht wrote "The Threepenny Opera" to indict capitalism. You can see the indictment in the story's treatment of the beggars and in the collusion of the police and the criminal underworld. But Hamme didn't focus on the criticism. He focused on Polly's lovely but misguided affection for Macheath. It's an atmospheric production. It's sultry and passionate, conniving and innocent. Sometimes it's melodramatic. It's like standing around at 2am in a dive bar that suddenly comes to life as a stage production. You get the sense that the actors put everything into it because, one way or another, this could very well be the last show on Earth. Heck, perhaps it is.
As a spectacle, it's magnificent. From the band (let's name them: Warkentine, Jorge Martinez, Sumner LeVeque, Sally Nguyen, Matthew Proffitt, Daysmel Muniz, Benedict, John Robertson, and Alanah Ntzouras) to the costumes (Lizzie Stride) to the sets (Staci Walters and Jeffrey Eisenmann), the production sustains a just-right pitch of tawdry, rhythmic grandeur. Given Hamme's gyroscopic direction, there's no way, to paraphrase Abraham Lincoln, that this opera of the poor people, by the poor people, for the poor people could ever fail.
As it's Polly's story, you pay attention to Allen's enthusiastic, at times acrobatically moshing, at times fey performance. Her movements, her songs, and her hilarious jealous tantrum at the jail are beguiling and spirited. They confirm her genuine affection for the duplicitous Macheath. Edward's Macheath is an imperious, charming rogue. Between the two of them, you can see the source of attraction. He's too bad for her; she's too good for him. Chaffin's Lucy and Benedict's Low-Dive Jenny are perfect as the Other Women. And Piatelli's Jonathan and Warkentine's Celia are so well cast as two peas in a pod that you have to wonder how they could have had a daughter like Polly. Mostly, though, I'm amazed at how Warkentine, who also provided musical direction, played the piano, the harmonium, and the clarinet, could be in so many places, doing so many things so well, all at the same time.
Performances are 8pm, Thursday, Friday, and Saturday. The show runs until August 30. Tickets are $15 - $20. The Theatre is located at 251 E. 7th Street, Long Beach. For more information, call (562) 433-8337 or visit thegaragetheatre.og.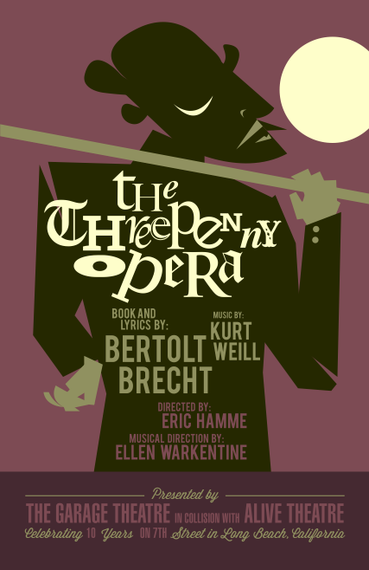 REAL LIFE. REAL NEWS. REAL VOICES.
Help us tell more of the stories that matter from voices that too often remain unheard.