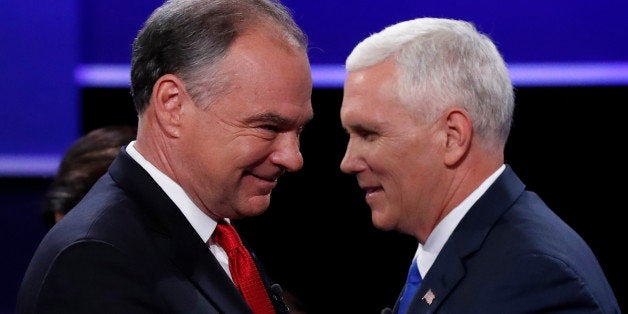 The frenzied media build-up and record-setting audience for the initial Presidential Debate between Donald Trump and Hillary Clinton brought back memories of the first Muhammad Ali vs. Joe Frazier match in 1971 that was billed as The Fight of the Century. It had the entire country buzzing with excitement and anticipation, although in boxing terms, Trump/Clinton I was hardly an epic battle. Trump did have Clinton on the defensive early on, but from that point on, she dominated the action. While there were no official knockdowns, Clinton was clearly the winner on points, as Trump exhibited lackadaisical training, amateurish technique and insufficient "stamina." Despite his continuing claims of I Am the Greatest, Trump neither floated like a butterfly nor stung like a bee.
Now let's talk about Tuesday night's undercard between Governor Mike Pence and Senator Tim Kaine. The Vice-Presidential debate was a peculiar exhibition of political pugilism, as each participant hammered away at the opposing presidential candidate, rather than sharing his own views on the issues. Just imagine Pence and Kaine furiously operating a pair of Clinton & Trump Rock 'em Sock 'em robots.
Kaine came out at the bell like he'd washed down some Adderall with a triple espresso. Aggressive and pugnacious, he went on the attack only to be stymied by Pence's unruffled rope-a-dope strategy, where he would put up his gloves, slip punches and deny the truth about what Trump has publicly stated. While Kaine shook his head and frowned in exasperation, Pence remained smooth and unruffled, appearing far more presidential than his own candidate.
Clearly, Kaine's strategy was to land a relentless series of Trump-said-this jabs and body punches to wear down his opponent, but Pence managed to deflect these assaults by ducking the questions or denying the facts, even when Kaine said "just go to the tape." The Indiana Governor answered questions about Trump by counterpunching on Clinton and landed a damaging blow regarding her calling Trump supporters a "basket of deplorables," although Kaine slugged back with "at least she apologized."
Meanwhile, both men steamrollered moderator, Elaine Quijano, who gamely tried, but couldn't get them to stop interrupting and talking over one another. She seemed more intent on getting through her list of questions than maintaining order in the ring by yelling "break!" when the participants got entangled. While a moderator shouldn't be held to the role of a fact checker, he or she should insist that each candidate answer the question before moving on to the next subject. To her credit, she did ask both participants to stop speaking at the same time and challenged Pence once after he blatantly switched subjects. But when Kaine landed haymakers about Trump not releasing his tax returns or asked how could Pence defend Trump's extremist positions, rather than let Pence answer, Quijano quickly moved on. It was a thankless job for any referee, but she lost control of the fight early on and never got it back.
Unfortunately, instead of a serious discussion on the issues, the contest consisted mostly of accusations, arguments and crosstalk, leaving many viewers frustrated by the lack of honest dialogue and open debate. The one revealing moment came during the question about the role of faith in their lives, which led to each of them explaining their individual positions on abortion. Both Kaine and Pence responded deeply and sincerely without interruption, reminding us of their humanity, even while engaging in a brutal public sport.
In my mind, the bout ended in a split decision. Pence won on style, but Kaine was the victor on substance. What's interesting is that afterwards, many GOP supporters wondered out loud why Pence isn't at the top of the ticket and in fact, post-debate polls show both Kaine and Pence to be more appealing than their respective candidates. The big question now is if Trump will modify his own strategy for the upcoming debate on Sunday because if he loses Trump/Clinton II badly, the election is over by a knockout and the Republican Party will have to look ahead to 2020. And Trump may already be wondering if by refusing to defend his own candidate's positions, Pence is already looking to salvage his own career.
There's an old axiom in politics that says there are ten reasons you choose a Vice President: the first is to help you win and the other nine don't matter. With an inexhaustible 24/7-news cycle, this match-up will quickly fade in memory, but the fact remains, especially with the first and third oldest candidates ever running for Commander-in-Chief, either Kaine or Pence will be a heartbeat away from the presidency. While neither may win any contests based on charisma, Americans need to know that behind this election's winner, stands a man who can fight the good fight.

Dave Spencer is the Founder of Practically Republican and a Member of the Executive Committee of the California Republican Party
Calling all HuffPost superfans!
Sign up for membership to become a founding member and help shape HuffPost's next chapter