History has always been a fascinating subject to me, because it is a collection of stories. Stories of war, revenge, violence, power, greed, love and fear are what make up the best history lessons. The past helps us understand the present, and what better way to do that than through theater?. The Marquis De Sade, one of the most notorious men in history, also wrote a number of plays. They were so controversial during the time he wrote them that he was even arrested for a few of these plays. The Marquis De Sade, where the term "sadism" comes from, was an intense fellow to say the least.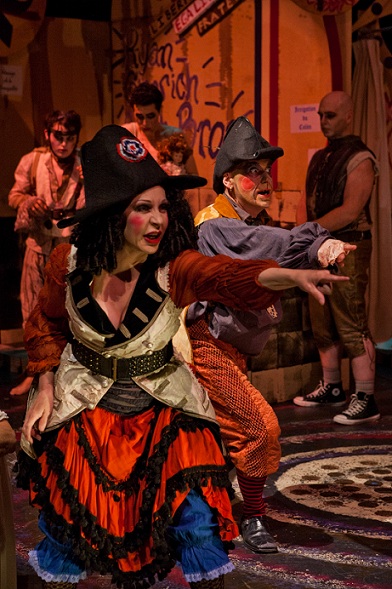 Connie Champage and Tom Orr
He spent time in the Bastille when he was alive; he was also incarcerated in the Asylum Charenton for his controversial ideas and sex crimes. Time in the asylum seemed to be good for Sade, because he wrote some amazing plays. Yes, you guessed correctly: Sade put on plays while he was in an insane asylum. His works included The Persecution and Assassination of Jean-Paul Marat, as performed by the Inmates of the Asylum of Charenton, under his direction. It was so good we still put on that very same play today. Well, kind of.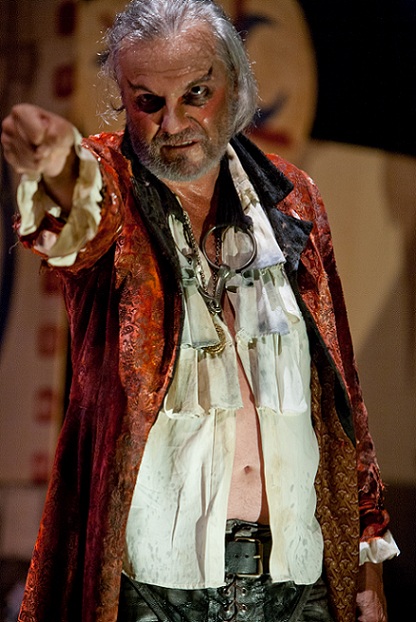 The Marquis De Sade, played by Jeff Garrett
In 1963 Peter Weiss re-vamped the play and called it Marat/Sade, and it was originally written in German. Thrillpeddlers a local theater company is doing the Marat/Sade production at Brava Theatre, located at 2781 24th St, San Francisco 94110 (at York St.) Not only was the play appropriately timed for Bastille Day, it is perfect for this time in our world. This is a time in our country when many things are talked about and discussed; healthcare (Obamacare), unemployment, and the feeling that an elite few get to speak for the good of all. This is a tenuous time, where it feels as if more and more big brother is watching and controlling.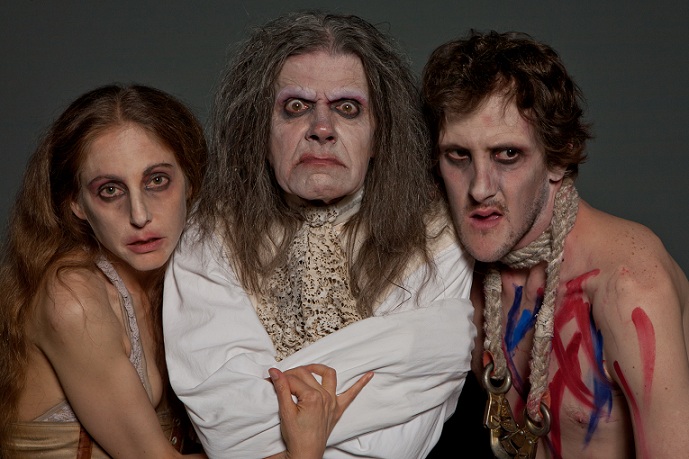 The Inmates
The Thrillpeddlers did an amazing job of capturing the feel of an insane asylum. The makeup on the characters is maddening and bizarre. You can feel the conditions of dirt mixed with sadness and anger. The actors do a remarkable job of involving you in the play, from the look of them to the behavior that is truly that of the psychologically disturbed. The attention to detail in this play was apparent, and you could see it all over the set. Our narcoleptic murderess and main character Charlotte Corday, played by Bonni Suval, is intoxicating. Her eyes have gauntness to them, yet her voice is nothing short of spectacular.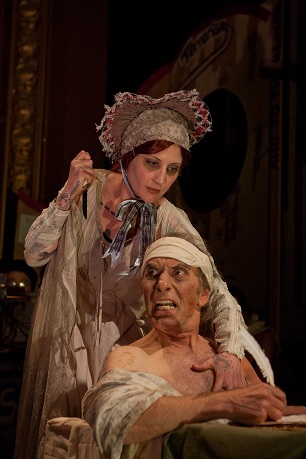 Charlotte Corday and Jean-Paul Marat, played by Bonnie Suval and Aaron Malberg
The Marquis De Sade(Jeff Garrett), Jean-Paul Marat (Aaron Malberg) and Jacque Roux (Rumi Missabu), were also sheer perfection to watch. Every person in this play was spot on and captivating. All of the inmates expressions, hand motions and banter was mesmerizing. I never once found myself bored or tempted to check my phone, and that says a lot. It is a story of class wars and revolution. It is a story that is remarkably close to our current world, where our own classes seem to be evaporating to only create the super wealthy and the impoverished. Cheers to Thrillpeddlers for putting on one hell of a show. The play runs until July 29th, and it is a must see, especially for us political San Franciscans.
REAL LIFE. REAL NEWS. REAL VOICES.
Help us tell more of the stories that matter from voices that too often remain unheard.