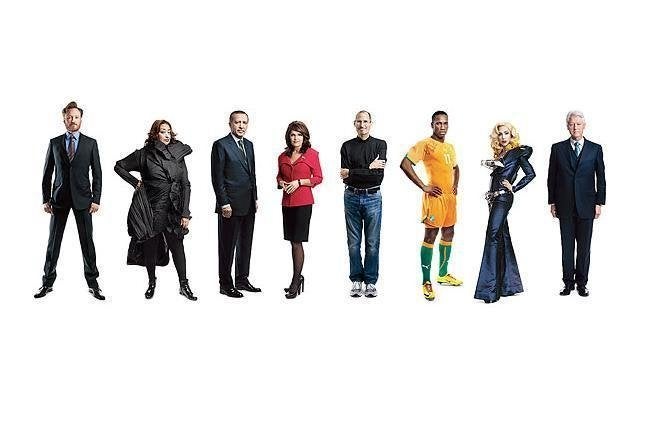 It's Time 100 time again! Each year, Time magazine makes a huge list of all the people in the world that they have heard of, and then they winnow that list down to the one hundred people who are best equipped to sell an issue of Time magazine.
Oprah Winfrey continues her dominance of this list, making her eighth appearance (she hasn't missed the cut since 2004, and was a "20th Century" honoree, as well). Other returning veterans include Obama, Bill Clinton, and Apple CEO Steve Jobs. I'm a little surprised that Hillary Clinton -- a five time honoree doing some of the most substantive work of her career -- didn't make the list. On the other hand, I'd bet that Pope Benedict XVI is pretty happy to have not made a fourth appearance. He's kind of having a down year!
Thirty-one women made the list this year, up from last year's twenty-nine.
It's often just as interesting to see who the honorees draw as the authors of their Time 100 write-ups. This year, filmmaker Michael Moore does the honors for Brazilian President/Paul Krugman lookalike Luiz Inácio Lula da Silva. Hillary Clinton talks about Nancy Pelosi and health care reform, saying "The passage of the historic health care reform bill is simply the latest example of her leadership, savvy and unwavering commitment to improving the lives of Americans everywhere." Ted Nugent says of Sarah Palin, "If [she] played a loud, grinding instrument, she would be in my band," marking the first time ever that Sarah Palin has been glancingly compared to Styx's Tommy Shaw.
Palin returns the favor by saying, of Fox News's Glenn Beck, that he was "like the high school government teacher so many wish they'd had." You just let that sink in for a minute. Juuuust let that marinate.
At one point, she also uses the phrase: "kicking it old school." I know, I know. You're going to need another couple of minutes.
Time readers took to the polls to put Iranian dissident leader Mir-Hossein Mousavi (who made the editor's list as well, with a write-up from one of my personal favorite human beings, actress Shohreh Aghdashloo) atop their list of influential people. A substantive pick! Then, they turned around and put South Korean pop star in fourth place. Sorry, Stephen Colbert!
Popular in the Community