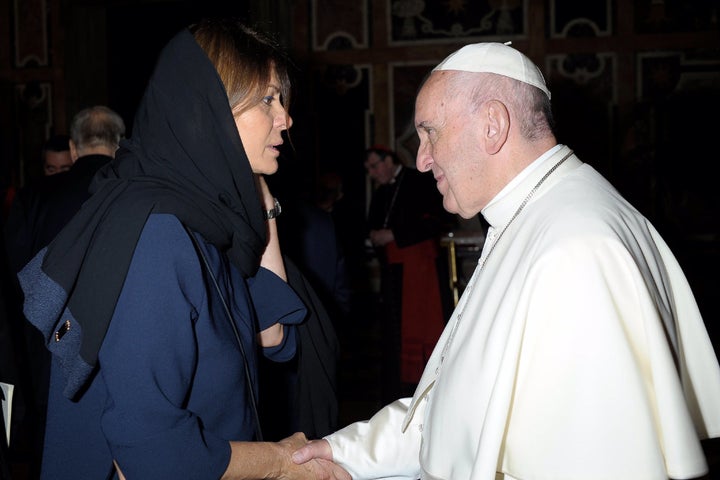 The past few weeks have been the worst for the Syrian people. While the Assad regime and Russia prepare for their final attack on Aleppo, emboldened by an astonishing indifference on the part of the international community, airstrikes have been increasing and the siege on the city has been completed.
When I called Mohamad, an old student of mine who resides in Eastern Aleppo to check on him, he told me the people there are left with little food or medical supplies, only a few hospitals are still being operated by the seven doctors left in the area while bombs are raining down every other hour.
When Marlene, a distant relative of mine, called me few days ago she told me life in Western Aleppo does not fare any better. There is no electricity, people live in fear especially knowing that their neighbours for thousand years are getting killed by Russian and regime jet. She told me on Skype: "All Syrians are affected by this civil war that has gone on for too long".
When I met Pope Francis last week – as part of a KAICIID interfaith conference in The Vatican - I told His Holiness about the daily horrors of indiscriminate attacks, starvation, torture and death the Syrian people are enduring. Pope Francis asked that we pray together for all Syrians - women, children, elderly and men. We prayed for their protection, regardless of their ethnicity, religion or political views. I cried when I was praying remembering all my friends and family in Syria, whether they are in the regime control area or liberated area, they are all Syrians, and they deserve to live safe under the sun.
The protection of civilians remains paramount to ending this crisis. As a member of the High Negotiations Committee I strongly believe in the political solution, and front and center of our vision for a future Syria is the protection of civilians, including all minorities in Syria. There is a myth that the Assad regime is the 'protector' of these minorities.
As a Christian, let me be clear that many of the young men in the Syrian Christian community have fled Syria seeking a refuge in Europe simply because they don't want to fight for a tyrannical regime. An old student of mine, a teacher from the Christians valley, called me from Berlin recently. He told me how he needed to leave Syria to avoid being taken to the front line and ending up in a coffin like so many other Christians. But he hoped to see his family back in a free and democratic Syria one day soon.
As I discussed with Pope Francis there are currently 300,000 civilians in Aleppo that are trapped and targeted daily by the Assad regime and Russia. Civilians in Aleppo and across Syria are all suffering the same destiny. I received recently a distressing call from Janette, a friend in Western Aleppo, as she watched over her dying husband in hospital while her children already left Aleppo. She pleaded that I urge the international community for protection of civilians, East and West, she cried, we are all paying the price of this proxy war.
Syrians have been waiting too long for a strong US leadership to stand up to Russia and the Assad regime and to bring about an end to the Syria crisis. President-elect Trump provides the opportunity for a new comprehensive approach that addresses the root causes of the Syrian crisis, namely to stop the indiscriminate attacks against civilians which has fueled the refugee crisis and been a key recruiting tool for the extremists. This comprehensive approach must start through the deterrence of indiscriminate killing of civilians, not through alliances with brutal dictators and war criminals . The failure on part of the international community to stop Assad massacres is to blame for the rising of ISIS, as well as the groups linked to Al Qaeda and the sectarian militias. These groups are responsible for some of the worst war crimes committed in Syria, even if not comparable to those committed by the regime, and their sole objective is to divide the Syrian people.
Europe cannot take a backseat in this approach. European leaders should not forget that it is Europe that has the highest stake in the Syria crisis. They should not wait for a move on the part of the US. Instead European leaders should take the lead by creating the necessary conditions for this new comprehensive approach. This means taking a moral and practical stand to protect humanity, human rights and international law. They have to stand up to save lives and for the future of Syria – and crucially – for the security of Europe.
His Holiness Pope Francis has been a champion for protection of civilians in Syria. He represents a strong moral leadership that can show the way forward to others, and particularly to Europe. His Holiness has illustrated the path to world leaders: a path that is based on protection of defenseless civilians and a rightful future for Syria. For me, I pray every day for all the civilians in Syria, in East and West Aleppo, from Raqqa to Sweida and Daraa, and from Damascus and Zabadani to Deir Zor and Hassake, for Mohamad, Marlene and Janette. They are all Syrians and they all are paying a high price for an ugly proxy war under the watch and the indifference of the World .
Related
Popular in the Community