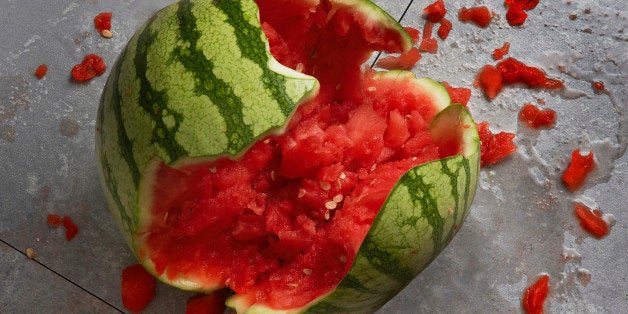 My childhood Halloween memories are filled with cool evenings and other neighborhood kids. It was a much simpler time and our parents let us roam the neighborhood -- free of adults -- in groups of our friends until late into the night. (Or, at least until 9 p.m., which, when you're a kid, seems like FOREVER.) Halloween always seemed chilly back then. However, that didn't stop us from sweating under those plastic masks of some character held to our head by a flimsy rubber band that broke after a few hours as we ran from house to house.
I remember one year I was with some neighbor girls, the three of us trick-or-treating alone because the older brothers were too cool to hang with us by then. I must have been 7 or 8 years old, maybe 9. I can't remember what costume I was wearing that year, but I remember that I carried an empty white pillow case as my trick-or-treat bag. Back then, we didn't buy cute pumpkin-shaped containers or pre-decorated trick-or-treat bags. We used brown bags from the grocery store or pillow cases. Of course, pillow cases were the "bag" of choice; they didn't get wet and they held A LOT of stuff. That was always the challenge, who could get the most stuff. (It was like the triple dog dare of the Halloween season.)
On that night, the three of us trick-or-treated our way down the road, snaked around a side road and then back up what we called "the second road." It was a road that was the middle one between our street and the first street of the neighborhood. It was a breezy Halloween and leaves blew across our path while porch lights shone brightly into the night. After trick-or-treating at several houses, we stopped at a house where we didn't know the owners. It was a rarity in those days in a small neighborhood, because most everyone knew everyone else (and everyone else's business).
It was also a time and place where we listened to adult neighbors. If they told us to go home, we went home -- no back talking, no sassing, no ignoring and certainly no cursing. We did it without question. So it was unusual not to know who lived in a particular house and that night, we had no idea who lived in this dark house.
At this stranger's house, I remember a short, balding man opening the door. He was a little creepy (even to a young girl) and had a goatee surrounding an unusual mouth of teeth. He first gave the oldest girl in our group an apple, and then also slipped one into her younger sister's pillowcase. As the youngest, I had to go third and last. (It was unspoken childhood hierarchy.) When I approached the door, the man held up his empty bowl.
"I'm all out," he said with a shrug.
Despite the fact that it was an apple (akin to brussel sprouts to a kid on Halloween), I was still disappointed. He must have read that disappointment on my face, because he carefully considered me for a moment before he held up his finger.
"I'll be right back," he said with the slam of a screen door.
The three of us looked at each other, wondering if we should stay or go. Just as we were leaving, the man came back and slipped a small, oblong-shaped watermelon into my pillow case bag.
"You win the prize!" he proclaimed. And, I really did feel like I had won a prize.
We ran all the way back to my house the next street over, that heavy watermelon bobbing in my arms. We burst breathlessly through the door where I yelled, "Mom! I got a watermelon!"
However, my mom wasn't quite as excited as me. This was the time of razor blade apple stories, Pop-Rock explosion myths and tainted Tylenol. I wanted to cut that watermelon immediately, but my mom took it from me and sat it on the washer in our small utility closet off of the kitchen before she shooed us out into the dark again. A few days later, the watermelon was forgotten -- replaced by all-too-important other kid stuff. It's probably a good thing, because I'm pretty sure that my mom pitched it the very next day.
I never asked my mom what happened to that watermelon, but I'll never forget that Halloween. The Halloween where I won "the prize." I mean, seriously? Who the hell gets a watermelon for Halloween? This girl right here, that's who.
This post originally appeared on Jacqueline's blog.