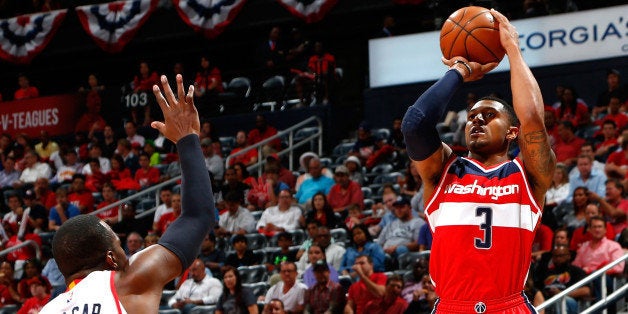 Bradley Beal isn't a household NBA name. But with ailing teammate John Wall -- along with Washington's season -- hanging in the balance, the time to become one is now. Beal, the third overall selection in the 2012 draft, is a splendid blend of scoring prowess and lockdown perimeter defense, which I noted three years ago. Most impressive is his prodigious shooting ability, at just 21 years old. In this is third season as a pro, Beal converted 41 percent from 3-point territory during the regular season, reaffirming his position as one of the most feared snipers in the league after fracturing his wrist in October. But his inconsistent play, and occasional lack of aggression, has been perplexing.
Wall reflected on this in February, when he caught up with The Huffington Post. "When you're a great jump shooter, you can attack the basket a lot," Wall said. "That's the thing he should improve on, is getting to the free-throw line more."
Wall has become one of the premier point guards in the game today because of his dynamic open floor talent and drastic improvement in pick-and-roll. Meanwhile, part of the issue for Beal actually stems from the fact that he's such a proficient perimeter jump shooter. Moreover, he tends to settle. In fact, the 6-foot-5 combo man only attempted 2.6 free-throws per game this year, slotting him a measly 18th among qualified shooting guards. That number doesn't need to rise to James Harden territory, but Beal's robust offensive ability would be maximized with a more aggressive approach.
We got a taste of that approach in the Wizards' Game 3 win over Atlanta, where Beal produced a game-high 28 points and 8 assists. Then again, in Game 4 with Wall once again sidelined from injury, Beal was sensational, totaling 34 points (a playoff career high) and 7 assists.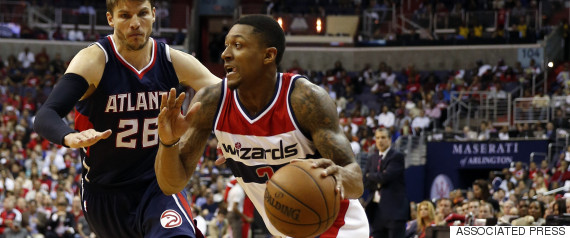 "I have to grow up," Beal said afterward. "I can't make any excuses. I have to lead the team as best as I can."
Let us also not forget about Beal's phenomenal individual defense on Hawks sharpshooter Kyle Korver, who this season nearly became the first player ever to shoot 50 percent from the floor and from 3, while also connecting on 90 percent from the free-throw line. Despite playing 37 minutes in Game 3, Korver attempted just five total shots, mostly because of Beal's hounding efforts. For the series, Korver is shooting a measly 27 percent from three while averaging just eight points. As my recent profile on the Hawks' offense demonstrates, this is no small feat by Beal.
Korver's regular-season adjusted field-goal percentage, which accounts for the extra point earned on three-point shots, is 67.1 percent. That's just behind Los Angeles Clippers center DeAndre Jordan, who finished the year with an adjusted field-goal percentage of 71.1. To put things in perspective, league MVP Steph Curry finished the season at 59.4 percent.
"I guard him differently every time," Beal noted. "Just give him different looks. After the Game 4 loss, he added: "I hate when he touches the ball, period. It's not just me. Even if he passes it, I hate when the ball is in his hands, period."
Beal's ability on both ends of the floor makes him a very special prospect and the perfect running mate with Wall. He can do so many different things on the floor, and he can do them with ease. Whether or not he takes the next step seems inevitable, but when that step occurs will determine the fate of the Wizards.
REAL LIFE. REAL NEWS. REAL VOICES.
Help us tell more of the stories that matter from voices that too often remain unheard.